WIEGO et ses partenaires ont travaillé proche des travailleuse·eur·s de l'économie informelle pour mener une étude en 12 villes : la crise de la COVID-19 et l'économie informelle. Les voix de ces travailleuse·eur·s nous aident à décortiquer les contraintes et les injustices dévoilées par la COVID-19, ainsi que les possibilités de transformation au sein de notre système économique.
---
Villes à l'étude :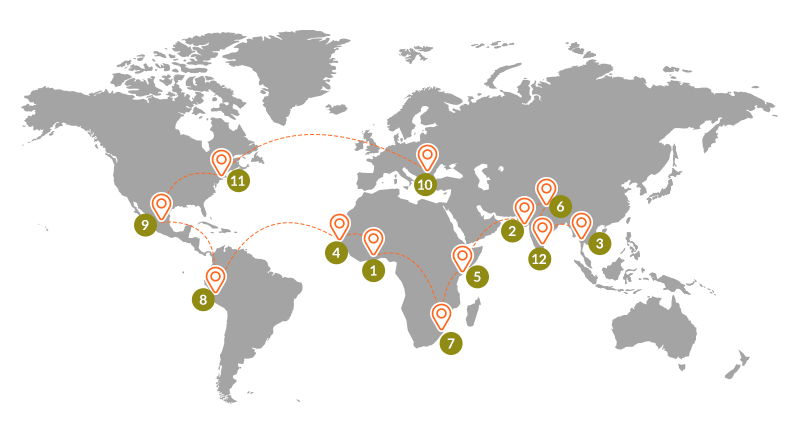 1- Accra (Ghana)
2- Ahmedabad (Inde)
3- Bangkok (Thaïlande)
4- Dakar (Sénégal)
5- Dar es Salaam (Tanzanie)
6- Delhi (Inde)
7- Durban (Afrique du Sud)
8- Lima (Pérou)
9- Ville de Mexico (Mexique)
10- Pleven (Bulgarie)
11- New York (États-Unis)
12- Tiruppur (Inde)
Cette étude, effectuée en deux phases, vise à saisir les changements au long des différentes étapes de la crise pendant le deuxième et troisième trimestre de 2020, et la manière dont les travailleuse·eur·s de l'informel s'adaptent au contexte pendant le premier trimestre de 2021. Ce travail crée une plateforme pour que les expériences et la voix de ces travailleuse·eur·s soient en tête des priorités politiques, pour que les décideuse·eur·s de politiques voient, entendent et ressentent ce qui ne va pas à la base de la pyramide économique – et ce que nous pourrions commencer à bien faire –. Cette étude est financée par le Centre de recherches pour le développement international (CRDI).
---
---
Demandes médiatiques :
Général : media@wiego.org  
Contact (anglais): Nicole Pryor, nicole.pryor@wiego.org ou +64 27 239 2575 (NZT)
Contact (espagnol): Graciela Mora, graciela.mora@wiego.org ou +506 8358 5592 (UTC/GMT -6 heures)
---
Partenaires et organisations ayant collaboré à l'étude
Asiye eTafuleni; Asociación La Parada; Bokk Diom; CETRAFOR - Central Única de Autoempleados de La Victoria, Rumbo a la Formalización; CONFIAR - Confederación de Instituciones de Ambulantes y Afines de la Región Lima y Callao; Conservation, Hotels, Domestic, Social Services and Consultancy Workers Union (CHODAWU); Delhi Roundtable of Waste Pickers (DRT); Federation of Informal Workers Thailand; FENAREP - Federación Nacional de Recicladores del Perú; FENVENDRELP - Federación Nacional de Vendedores de Diarios, Revistas y Loterías del Perú; Frente Nacional de Recicladores Ambientalistas del Perú; Greater Accra Markets Association (GAMA); HomeNet Thailand; Informal Hawkers and Vendors of Ghana (IHVAG); IPROFOTH - Instituto de Promoción y Formación de Trabajadoras del Hogar; Jan Pahal; Kayayei Youth Association; Kpone Landfill Waste Pickers Association; RENATTA - Red Nacional de Trabajadoras y Trabajadores Autoempleados; Self Employed Women's Association (SEWA); SEWA Delhi; Sindicato Nacional de Trabajadores y Trabajadoras del Hogar (SINACTRAHO); SINTRAHOGARP - Sindicato de Trabajadoras del Hogar del Perú; SINTTRAHOL - Sindicato de Trabajadores y Trabajadoras del Hogar de Lima; Social Awareness and Voluntary Education (SAVE); Street Vendor Project; Sure We Can; The Bulgarian Trade Union of Self-Employed and Informal Workers (UNITY); Trabajadores Voluntarios y Desempleados de la Ciudad de México (TVDCM); Unión de Aseadores de Calzado de la Ciudad de México (UACCM).