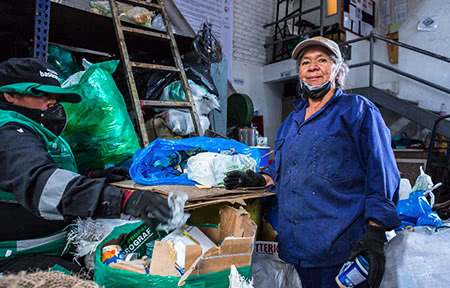 Income Security for Older Workers is a pillar of work for the Social Protection Programme. WIEGO focuses on older informal workers--people who are contributing to household incomes and to care work, rather than as the unproductive elderly who need to be cared for.
We are interested in learning more about the cross-generational patterns of social protection – finding out what older people are doing know and what they did in the past to best ensure their income security. We are developing this pillar of work with an initial institutional mapping and policy scoping.
See Francie Lund's presentation Informal Workers Growing Older in the Changing World of Work, given at the British Society of Gerontology Conference: "Ageing in an Unequal World" Manchester, 5th July 2018.
---
Workers' Health Media and Resources
Podcast: Social Protection Needs For Older Informal Workers, with Aura Sevilla
In this episode, we explore the issue of the social protection needs for older informal workers. In the context of a growing aging population also in the developing world, the debates around schemes to guarantee access to these informal workers to healthcare and to income security has become increasingly important. To help us understand more about the fundamental concepts, debates and trends around the social protection for older informal workers, in particular in Southeast Asia, we invited Aura Sevilla. Aura is a specialist and an advocate on issues related to dignifying aging policies in Southeast Asia and in the Phillipines, in particular, where she is based. She's currently an affiliated at WIEGO as the Programme Consultant in Southeast Asia and Older Workers.