by Avi Singh Majithia 
May 4, 2020
(Photo: Bal Vikas Dhara staff distributing food ration kits to waste pickers in a Delhi Slum. Credit: Debendra Baral)
Waste pickers historically have been essential workers in maintaining public health and hygiene in our cities. In this new time of COVID-19,the impact on waste pickers has been swift and graver than expected due to the conditions they live and work in.
Waste pickers in Delhi are often the poorest of the poor. They live on the edges of society, shunned due to a perceived lack of cleanliness and hygiene, stemming not just from their work but the implication of their lower caste status. The crisis has laid bare the absolutely critical nature of the services they provide. They are at the front lines, collecting waste and keeping the streets clean. With an increase in household trash with whole families at home, the work of informal waste pickers is especially essential, in collecting waste from all types of households, not just gated residential societies.
Despite the essential nature of their work, waste pickers are at an increased risk of exposure during this pandemic. Waste pickers often lack protective safety gear, which is particularly dangerous in the current health crisis, given the risks of handling potentially infected materials. Additionally, many waste pickers are not being allowed to work due to the strict lockdown measures in Delhi, and no occupational identification, recognising them as waste pickers.
Sadly, waste pickers do not have the luxury of missing work. They rely on the daily earnings to provide for their families and from the sale of recyclables they collect. During the current lockdown, junk dealers and collectors have shut down their shops and the sale of recyclables has ground to a halt. With the restrictions of collecting waste, the waste pickers of Delhi are finding themselves in a very precarious position.
In the face of this crisis, the Delhi Roundtable on Solid Waste Management (DRT) immediately jumped into action to address the needs of waste pickers. The immediate need that waste pickers, like other informal worker groups, identified was to address hunger. In response, the organisations of the DRT are providing relief kits of different types to address the varying needs of waste picker communities.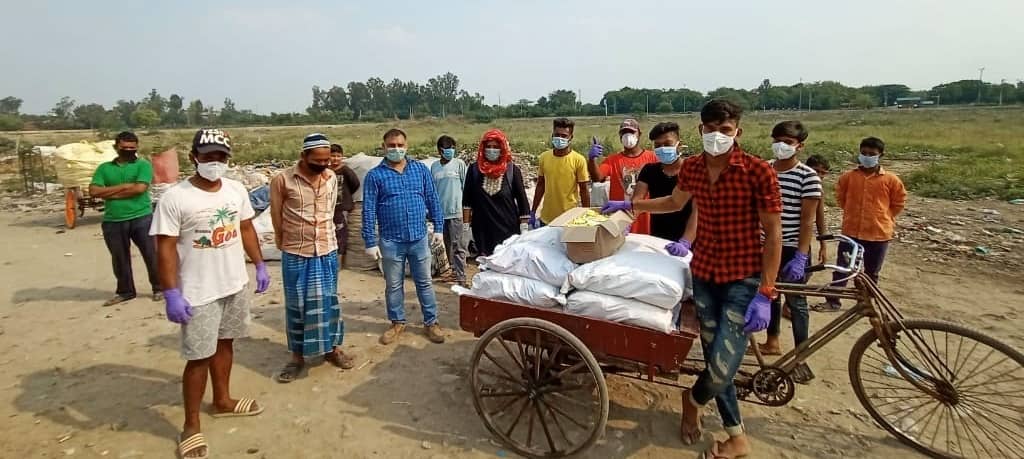 All organisations that are part of the DRT are providing relief kits of food and dry rations to waste picker families unable to access government relief due to a lack of required documentation.
Additionally, many waste pickers also expressed the need for protective equipment as they are still going out to work. Bal Vikas Dhara (BVD) and Indo Global Social Service Society (IGSSS) provided masks and gloves for the same.
Some waste picker families also asked for some provision for cooking fuel due to neighbouring shops closing down and Safai Sena is providing small cooking stoves and gas cylinders.