Millions of informal waste pickers globally contribute to the conservation of natural resources and energy while reducing air/water pollution and greenhouse gas emissions through the reuse of materials. They also save cities money by decreasing the amount of material disposed of in landfills.
Around the globe, waste pickers are organizing and fighting for recognition of their significant environmental contributions.
WIEGO has developed the first methodology and calculator to estimate the amount of greenhouse gas (GHG) emissions that waste picker groups prevent. Here are initial findings from the tool, which is being tested by waste pickers organizations and will be released to the public later in 2020.
WIEGO is a partner in the Global Alliance of Waste Pickers, which brings waste pickers from Latin America, Asia and Africa together with support organizations and environmentalists to offer real solutions for climate change mitigation and waste management.
Collective Action
Since 2009, waste pickers have been taking the global stage at climate change talks, with WIEGO's support, to voice their issues and emphasize how recycling is part of the climate solution.
2019
In December 2019, waste pickers joined other climate activitsts at the People's Summit and other alternative events to the 25th United Nations Climate Change Conference (COP25). COP25 was originally planned for Santiago, Chile, but relocated to Madrid, Spain due to political uncertainty in the country.
WIEGO and GlobalRec -- the global alliance of waste pickers -- sent a delegation to the People's Summit for the Climate in Madrid where a side event featured showcased how waste picker organizations around the globe are organizing to stop incineration threats and highlight greener alternatives.
WIEGO created two publications on incineration to be shared at the event:
RedLacre, the regional network of waste picker organizations in Latin America, hosted events in both in Cerrillos, Chile and Quito, Ecuador. Learn more.
Previous years
Bonn Climate Change Talks, June 2009
The United Nations Climate Change Conference in Copenhagen, COP15, December 2009
World People's Conference on Climate Change and the Rights of Mother Earth, Cochabamba, April 2010
Tianjin Climate Change Conference, October 2010
The United Nations Climate Change Conference in Cancun, COP16, December 2010
The United Nations Climate Change Conference in Durban, COP17, November-December 2011
Rio + 20 and The People's Summit, June 2012
At the 17th United Nations Climate Change Conferences in Durban (COP 17, 2011) and Cancun (COP 16, 2010), waste pickers played an active role, garnering media attention at their press conferences, speaking engagements, demonstrations and events.
As they had at COP 15 in Copenhagen (December 2009), they advocated for alternative funding mechanisms to support fair and just solutions to climate change. At a panel meeting with key climate change negotiators, including the Clean Development Mechanism (CDM) board, they voiced their core demands:
recognize the crucial role the informal recycling sector plays in climate change mitigation and a healthy economy
approve a Global Climate Fund to invest in resource recovery programs that will ensure decent livelihoods for all workers, and that are directly accessible by waste pickers and other informal economy groups
exclude waste disposal technologies (such as incinerators) from the Clean Development Mechanism (CDM) and other climate funds, as these destroy valuable reclaimable materials and take income from workers
Follow the ongoing activities of waste pickers on the world stage at www.globalrec.org.
Just Recycling: Watch the good that waste pickers do
In the News
From COP21: Effort Not Wasted as City Ragpicker Bags UN Award. Times of India (2 December 2015)
A Waste Picker From Bengaluru Will Speak At A UN Conference In Paris. How Cool is that? StoryPick.com (30 November 2015)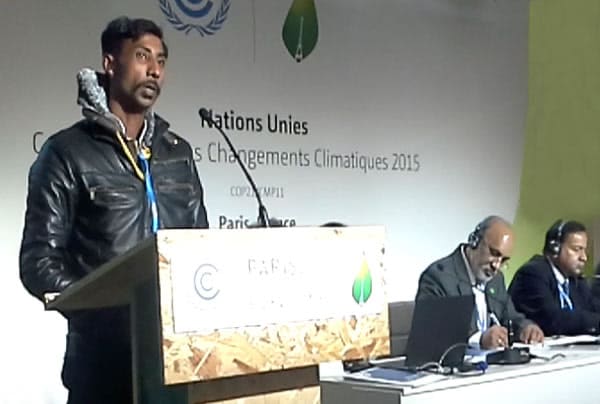 Mansoor, a waste picker from Bengaluru, India, shared the story of his work and reforms in waste management, from segregation at source to setting up of recyclables, inorganic and inert waste aggregation centers. He talked about everything in a side event hosted jointly by Indian Youth Climate Network, CAN South Asia and Development Alternatives. He also explained how incineration plants are being proposed to manage waste, which will harm both environment and livelihoods of wastepickers. The panel which he was part of was themed on climate resilience in South Asia and included representative from Madhya Pradesh Government, President of Development Alternatives and Senior Executives of International organisations Saleemul Huq and Dr. Ali Taqueer.     - Kabir Khan
Featured Resources and  Publications
ARB: Fighting for an Inclusive Model for Recycling in Bogota (Case Study)
summary  | download publication
Respect for Recyclers: Protecting the Climate through Zero Waste by Neil Tangri – "Reducing, reusing, and recycling municipal waste is one of the easiest and most effective means of reducing greenhouse gas emissions. It also provides gainful employment to millions of people in the developing world, mostly in the informal sector ('waste pickers')."
summary | download publication
español: Respeto a los recicladores: Protegiendo el clima a través de Basura Cero |  descargar publicación

Cooling Agents: Analysis of Greenhouse Gas Mitigation by the Informal Recycling Sector in India by Chintan Environmental Research and Action Group, Safai Sena and the Advocacy Project (2009) – "Intuition and common sense suggest that recycling waste mitigates greenhouse gases. Now, data from all over the developed world shows this to be true. But what about the developing world? .... The aim of this report is two-fold: to establish the relationship between municipal solid waste and greenhouse gases, and to undertake a first attempt at quantifying the emissions reductions attributable to the informal recycling sector through the case study of Delhi, India."  download publication
Technical Briefs

Waste Pickers and Carbon Finance: Issues to Consider - This Technical Brief clarifies the requirements for carbon finance mechanisms to provide an assessment of whether informal waste picker membership-based organizations (MBOs) in the global South can reasonably meet these requirements and the potential investments needed to successfully secure carbon financing. summary  |  download publication

Paying Waste Pickers for Environmental Services: A Critical Examination of Options Proposed in Brazil - summary  |  download publication
español: Remuneración a los recicladores por servicios ambientales: un examen crítico
resumen  |  descargar publicación
Partners in Supporting Waste Pickers