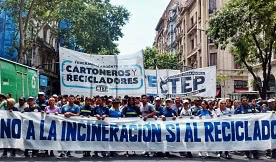 5 December 2019 - 10 December 2019
Santiago, Chile and Madrid, Spain
Photo: waste pickers protest in Buenos Aires in 2018
During the 25th UN climate negotiations (COP25), waste pickers and WIEGO Network members joined climate justice activists at alternate events.
In Santiago, Chile
WIEGO team members supported RedLacre, the network of informal recyclers (La Red Latinoamericana y del Caribe de Recicladores) at these events:
December 5 - Reciclaje sin recicladoras es basura (Recycling Without Women Waste Pickers is Garbage) book launch
2:30 p.m.
University of Santiago Art School
Ecuador Ave 3659
Metro USACh
Reciclaje sin recicladoras es basura premiered at a waste pickers' event in September in Quito, Ecuador. The book explores the lives of over 30 female waste pickers in Colombia and Ecuador from an ethnographic and ecofeminist perspective.
December 6 - Assembly of Latin American waste pickers
December 7 - People's Climate Summit event
Workshop for Waste Pickers: Protecting the Climate through Zero Waste
1 p.m.
Macarena Valdés Auditorium
Tío Lalo Parra Cultural Centre
Cerrillos
December 8 -  WIEGO Waste Picker Workshop on Threats to Livelihoods
In Madrid, Spain
WIEGO and GlobalRed -- the global alliance of waste pickers -- sent a delegation to the People's Summit for the Climate (see https://cumbresocialclima.net/) in Madrid, and participated in this side event:
Monday, Dec. 9 – Don't Burn our Future: Waste Pickers' Struggles Against Incineration
Organized by WIEGO, GlobalRec and Association des Marchés Economiques Locaux Individuels et Organisés de la Récupération, this event detailed how waste picker organizations around the globe were organizing to stop incineration threats. Greener alternatives to incineration were highlighted.
Learn more
WIEGO Technical Brief: Waste Incineration and Informal Livelihoods: A Technical Guide on Waste-to-Energy Initiatives by Jeroen IJgosse (2019) 
Reducing Greenhouse Gas Emissions through Inclusive Recycling: Methodology and Calculator Tool