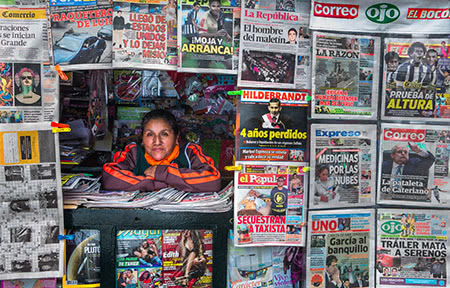 Since 2010, WIEGO has implemented several initiatives in Lima, Peru, creating a critical mass of work on informal employment issues. In Lima, WIEGO works with seven sectors of informal workers: street vendors, market vendors, waste pickers, domestic workers, newspaper vendors, market porters and shoe-shiners. Despite the size of the informal economy in this large capital city, informal workers' issues have not been widely discussed or understood, and informal work has not been reflected in statistics.
WIEGO is working to raise the visibility of informal workers and their representative organizations, and to equip them with research, statistics and findings needed to speak to the press and negotiate with governments.
Since starting work in Lima, WIEGO has engaged in advocacy efforts, together with membership-based organizations (MBOs) of informal workers, for more equitable policies, social benefits and sustained processes for dialogue with city authorities, among other things. Specifically, WIEGO activities in Lima have included:
Capacity-building with workers in areas such as: policy advocacy, communications, leadership, governance, regulatory and legal frameworks and occupational health and safety.
Supporting MBOs in engaging in dialogue and negotiations with city and national public officials to provide input on laws, regulations and social policy.
Supporting MBOs in raising the visibility of their sectors and demands, including through creation of collective platforms of demands for political advocacy and engagement with the media.
Notable Gains
A new street vending ordinance - When street trader organizations advocated for an ordinance favourable to informal workers in 2014, WIEGO's research served as an important tool. The new ordinance has a pro-poor approach, approves licenses for a period of two years, promotes formalization and growth of the business of the vendor, and seeks to build capacities of vendors while protecting also their health. Underlying the licensing regime is a commitment to encouraging vendors to save money and move toward formalization of their businesses over time, helping them achieve increased economic security. The City Council developed the ordinance through a participatory consultation process with more than 150 street vendors' federations. At the consultation workshops, the draft ordinance was shared and comments and suggestions were taken to improve the text and its content.
Read more about the ordinance, and other related street vendor activities in Lima.
Safer working conditions for market vendors - Lima was one of the four cities targeted by WIEGO's Occupational Health and Safety (OHS) project. The project included research with informal workers on work conditions, a national workshop (jointly hosted by WIEGO and the Consortium for Health the Environment and Development) and dialogues and seminars with policy makers.
Read more about OHS work in Lima.
Legal empowerment - WIEGO worked in partnership with the Instituto Sindical de Cooperación al Desarrollo (ISCOD), to develop legal resources for informal workers. The two teams conducted consultations with domestic workers, market porters, street vendors, and waste pickers to get a sense of their needs and priorities. Subsequently, they developed and implemented training modules and courses to support workers in understanding their legal rights. A compilation of laws for each sector was made available in Spanish on a dedicated website for use by the workers and their representative organizations.
See the full compilation of legal resources in English.
Domestic worker campaign - In 2016, WIEGO facilitated a "mesa" where government officials and national federations of domestic workers came together to collectively develop a pioneer campaign to increase social benefits for domestic workers. The campaign encouraged households in the district of San Borja to register their domestic workers with the tax office, and to start the payments of health and pension benefits that the law grants them. At the close of the campaign, over 5,500 domestic workers were registered in Metropolitan Lima. Although not all registrations may be directly attributable to the campaign, there was no other effort that took place at the same time. The Social Security department will now use the WIEGO campaign materials for continuous dissemination nationwide. There are also plans with the Ministry of Labor to take the campaign to a national scale.
Additional Resources and Publications
---

WIEGO Organizing Brief No. 1. Street Vendors Organising: The Case of the Women's Network (Red de Mujeres), in Lima, Peru. Roever, Sally. and Lissette A. Linares. 2010. (also in Spanish)
---

Lima, Peru was chosen as one of ten cities for  WIEGO's Informal Economy Monitoring Study (IEMS), an action research initiative that aimed to evaluate the realities, constraints and contributions of informal workers.