Desde WIEGO, junto a nuestros socios, estamos escuchando con extrema atención a las personas trabajadoras en empleo informal a través de nuestro estudio llevado a cabo en 12 ciudades: La crisis de la COVID-19 y la economía informal. Sus voces nos están ayudando a desentrañar las dificultades, las injusticias y las posibilidades de transformación en nuestro sistema económico, puestas en evidencia por la COVID-19.
---
Ciudades en las que se llevó a cabo el estudio: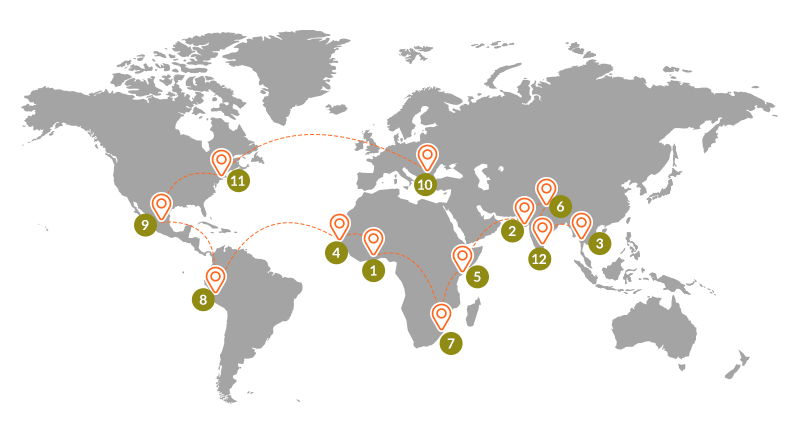 1- Accra (Ghana)
2- Ahmedabad (India)
3- Bangkok (Tailandia)
4- Dakar (Senegal)
5- Dar es Salaam (Tanzania)
6- Delhi (India)
7- Durban (África del Sur)
8- Lima (Perú)
9- Ciudad de México (México)
10- Pleven (Bulgaria)
11- Nueva York (EE. UU.)
12- Tiruppur (India)
Este estudio, llevado a cabo en dos fases, muestra los cambios que se sucedieron a lo largo de las distintas etapas de la crisis durante el segundo y el tercer trimestre de 2020, y cómo las trabajadoras y trabajadores se están adaptando durante el primer trimestre de 2021. Se constituye como una plataforma de experiencias y voces de personas trabajadoras en empleo informal con el objetivo de obtener visibilidad en la agenda de políticas, para que las y los formuladores de políticas vean, escuchen y sientan todo lo que funciona mal en la base de la pirámide económica —y lo que podríamos empezar a hacer bien—. Este estudio es financiado por el Centro Internacional de Investigaciones para el Desarrollo (IDRC).
---
---
Organizaciones socias y colaboradoras
Asiye eTafuleni; Asociación La Parada; Bokk Diom; CETRAFOR - Central Única de Autoempleados de La Victoria, Rumbo a la Formalización; CONFIAR - Confederación de Instituciones de Ambulantes y Afines de la Región Lima y Callao; Conservation, Hotels, Domestic, Social Services and Consultancy Workers Union (CHODAWU); Delhi Roundtable of Waste Pickers (DRT); Federation of Informal Workers Thailand; FENAREP - Federación Nacional de Recicladores del Perú; FENVENDRELP - Federación Nacional de Vendedores de Diarios, Revistas y Loterías del Perú; Frente Nacional de Recicladores Ambientalistas del Perú; Greater Accra Markets Association (GAMA); HomeNet Thailand; Informal Hawkers and Vendors of Ghana (IHVAG); IPROFOTH - Instituto de Promoción y Formación de Trabajadoras del Hogar; Jan Pahal; Kayayei Youth Association; Kpone Landfill Waste Pickers Association; RENATTA - Red Nacional de Trabajadoras y Trabajadores Autoempleados; Asociación de Mujeres Autoempleadas (SEWA); SEWA Delhi; Sindicato Nacional de Trabajadores y Trabajadoras del Hogar (SINACTRAHO); SINTRAHOGARP - Sindicato de Trabajadoras del Hogar del Perú; SINTTRAHOL - Sindicato de Trabajadores y Trabajadoras del Hogar de Lima; Social Awareness and Voluntary Education (SAVE); Street Vendor Project; Sure We Can; The Bulgarian Trade Union of Self-Employed and Informal Workers (UNITY); Trabajadores Voluntarios y Desempleados de la Ciudad de México (TVDCM); Unión de Aseadores de Calzado de la Ciudad de México (UACCM).