Informal workers are integral to Dakar's urban economy. Everyday in Senegal's capital city, vendors in the historic Sandaga market provide low-cost goods to city residents, laundresses offer cleaning services on street corners, and waste pickers take recyclable materials out of the country's largest dump, Mbeubeuss.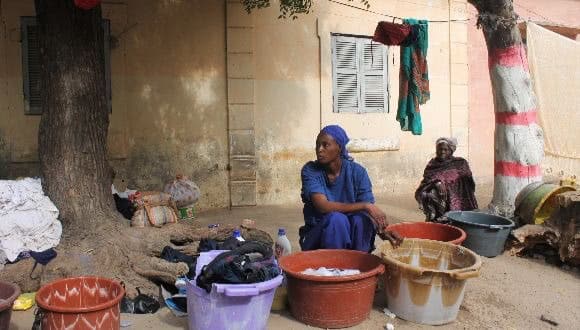 SPECIAL: Measures put in place by the government of Senegal to control the spread of COVID-19
Senegal´s president declared a state of emergency on March 23 to manage COVID-19. The decree mandates law enforcement agencies to take all necessary measures to restrain public liberties in order to control the spread of the infection. While no mandatory lockdown is in place, the public is encouraged to stay inside and some public and meeting spaces have been closed, as have schools. Travel between regions is prohibited and many state services and businesses are limiting hours. The number of passengers in public transport is reduced to the strict minimum and taxis cannot carry more than 2 or 3 passengers depending on the type of vehicle
Early in April, the government enacted a new law that will allow for the extension of the state of emergency for up to 3 months; it gives unilateral powers to the executive branch of government to act in all pertinent domains — including economic, budgetary, social, sanitary and security measures — without seeking approval from the National Assembly to make decisions.
Senegal has also announced an emergency relief programme of 1000 billion FCFA, funded by the state and private donations, to support businesses and loss of income. This includes:
support for poor households, including waiving of electricity and water payments for two months, and food assistance
various supports to larger companies to protect employment and to guarantee at least a 70% level of salaries (employers are being asked to save jobs and put workers on leave rather than firing them)
support to SMEs.
However, the focus seems to be on formal businesses. No direct reference was made to supports for those in informal employment, which comprises 87% of total non-agricultural employment in the country (ILO 2018).
Responses have been organized at the community level since the outset of the emergency, and vouchers for foodstuffs and other products were distributed.
About Focal City Dakar's Work
Informal workers make up the majority of Dakar's workforce. Data from 2001-03 showed informal employment accounted for 80 per cent of total employment in the city.
In 2017, WIEGO chose Dakar as a Focal City, an approach that intensifies activities in a city. WIEGO's work supports membership-based organizations (MBOs) in their efforts to improve outcomes for urban informal workers in many occupational sectors. Focal Cities build the capacity of informal worker leaders and their organizations, and foster dialogue between informal workers and municipal authorities.
Working in Dakar
In Dakar, WIEGO has been expanding the scope of activities as MBO partners gain strength and connect across sectors. The initial phase of work focused on providing accompaniment and technical support to groups of informal workers at different stages of organization. 
Ongoing goals include: 
Facilitation of platforms for ongoing consultation between authorities and informal workers' organizations as a way to ease tensions, build mutual understanding and exchange around more inclusive policy and practice
Increasing informal workers' access to public services and social protection through research and advocacy
Promotion of the development of more inclusive legal and regulatory frameworks for informal work through analysis of administrative law principles and network creation with allied lawyers
Ongoing capacity-building with workers in areas such as: collective bargaining, governance, regulatory and legal frameworks and social protection.
WIEGO works with MBOs of street and market vendors, fish mongers, taxi drivers, laundresses, domestic workers, women producers, food vendors, carpenters, and waste pickers. 
Several membership-based organizations (MBOs) of informal workers in Dakar have formed a consultative council for dialogue and coordinated action. FC Dakar consults with the council, as well as with individual MBOs, in planning and implementing its work in the city.  
Current and Recent Activities 
Exposure Dialogue Programme with Law Programme and meetings of allied lawyers
The Dakar team hosted a legal Exposure Dialogue Programme (EDP), together with the Law Programme and with participation from Urban Policies. Participants included lawyers from a range of groups (including trade unions and a group of women lawyers) and a few select municipal officials. Hosts were street vendors and waste pickers. Following the three-day event, the Dakar team has continued to engage with participants. They convened a meeting in late June to formalize the allied lawyer's network and to start to create a plan for supporting organizations of informal workers in advocating for their rights in the context of a highly punitive legal framework.
Inclusive waste management at Mbeubeuss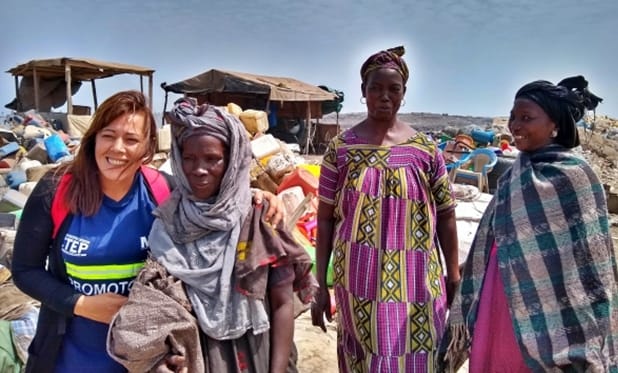 FC Dakar supports Bokk Diom, an association of waste pickers at the Mbeubeuss dump, in strengthening their internal organization. In 2018 it was revealed that Mbeubeuss will be closed and a sanitary landfill will be built in its place. WIEGO is supporting the efforts of Bokk Diom to produce research about the waste pickers at Mbeubeuss and to advocate for their inclusion in the dump re-structuring process.
See WIEGO's Position on Dump Closures.
Bokk Diom is a partner in WIEGO's Reducing Waste in Coastal Cities project, which is helping strengthen and build the organization. During the COVID-19 crisis, Bokk Diom has supported members, including by distributing masks bought with the association's funds (shown in this Wolof language video).
Reducing Waste in Coastal Cities Project Summit Meeting in Dakar
Dakar hosted the back-to-back Reducing Waste in Coastal Cities (RWCC) Strategic Planning Meeting and the West African Wastepicker Workshop on Inclusive Solid Waste Management in April 2019. The workshop, which included a field visit to Mbeubeuss dump, brought together women waste pickers from multiple West African countries to learn about global trends in waste modernization and to discuss gender dynamics in the waste sector.
Related reading:
Mbeubeuss : Les femmes dans la récupération de déchets - Since its opening in Malika in the early 70s, the Mbeubeuss dumpsite has been the subject of many studies. Almost 50 years later, as a result of the continuous pressure imposed by ecological groups, community organisations and the Senegalese people, the government is now faced with the decision of whether to close the landfill or restructure it. In this article, Dakar Focal City interns Papa Alassane NDOYE and Nogaye BA take a look at the women who work at the Mbeubeuss dumpsite.
Health-Related Practices and Perceptions Among Waste Pickers: The Case of Mbeubeuss Waste Dump in Senegal - This dissertation by Marine Vasina analyzes the situation of waste pickers in Mbeubeuss and their perceptions about their health, as well as the difficulties they face in accessing health care.
First formal meeting of network of allied journalists
In recent years, the Dakar team has been working to build a network of allied journalists who are informed about the informal economy. In May 2019, the group was convened so the Dakar team could inform them about a baseline report and what it reveals about informal workers in Dakar. The report quotes Senegal's national statistics agency figures from 2011, which found that informal employment represented more than 60 per cent of non-agricultural employment and estimated that the non-agricultural informal sector alone contributed 41.6 per cent of the gross domestic product (GDP).
After the meeting, a participating journalist wrote an article in a local publication. 
Laundresses and social protection
Laundresses are one of the most vulnerable groups of informal workers in Dakar: their tasks are physically difficult, they are hired on a daily basis and may have no source of earnings during periods when there is no demand for their services. They most often work in the street due to a lack of space in their clients' houses; as a result they run a constant risk of eviction. Faced with a lack of child care options, most laundresses must bring their children to work with them. Children either stay on their back while they clean, bend, scrub, wash, twist and dry cloths – which increases their effort and the risk for injuries for both the laundresses and the children – or stay next to them in streets that are often crowded and dangerous.
Over the first year of FC Dakar work, multiple exploration visits have been conducted to meet laundresses in the city, learn about the challenges they face, and support organizing efforts started by a local women's rights organization, AFEME (Association des Femmes de la Médina). In early 2018, the laundresses decided to form a union, and FC Dakar plans to support their efforts to engage with local government around health and child care, in addition to other priorities.
Defending the rights of street vendors to public space
FC Dakar works to strengthen street vendor MBOs in Dakar to defend their right to public space in multiple ways. In March 2018, FC Dakar facilitated a consultation between street vendor organizations and public officials to discuss inclusive management of public space in the context of the recent decentralization act in Senegal. 
Legal empowerment of informal workers
Also in 2018, FC Dakar plans to collaborate with WIEGO's Law Programme to implement a series of activities relating to administrative law – including an analysis of the legal framework in Dakar and rights awareness trainings with workers. In addition to activities oriented towards supporting workers in defending their rights, FC Dakar also plans to work with lawyers to support them in better understanding the realities of informal workers through exposure dialogues. Eventually FC Dakar would like to facilitate the formation of an allied lawyers network that would provide advice and guidance to MBOs. 
Articles, Publications and Resources
French
English
Events
French
English
Media Presence
French