COVID-19 Impact on Workers in the Informal Economy in Dakar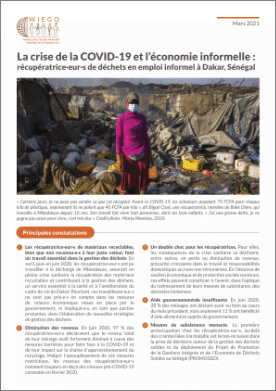 The COVID-19 crisis has hit Dakar hard, and informal economy workers have been hit the hardest. Many of these workers –who represent more than 90 per cent of the labour force in Senegal– lost their livelihoods completely during the country's initial lockdown and since then, earnings have been slow to recover:  a fact recognized by the Senegalese authorities. WIEGO's team in Dakar conducted research on the impact that COVID-19 had on waste pickers working in the Mbeubeuss dumpsite. Read more about COVID-19 and waste pickers in Dakar and the results of the study here (French only).
Read more on WIEGO's blog about the experiences of waste pickers and what they need from their governments here:
---
The Work in Dakar
Dakar Team
Adama Soumaré, Dakar Focal City Coordinator
Maguette Diop, Project Officer, Reducing Waste in Coastal Cities Project
Building on previous interventions with Bokk Diom, the organization of waste pickers in the Mbeubeuss dump, in 2017, WIEGO began working in Dakar under the initiative of Focal Cities. The goal is to ensure informal economy workers´ livelihoods and recognition of their legal status. To do this, WIEGO Dakar promotes the development of spaces of dialogue and negotiation between workers and the authorities to obtain binding agreements. Our team works with several sectors, particularly waste pickers and workers in public spaces, including street vendors, market traders, food vendors and laundresses.
WIEGO's work in Dakar includes:
Facilitating regular spaces for dialogue between authorities and informal economy workers to develop mutual trust and promote exchanges on inclusive practices and policies
Advocacy for access to public services and social protection for informal economy workers 
Development of action research and analysis to support the advocacy objectives of informal economy workers´ organizations
Capacity building and leadership of women workers as a cross-cutting theme
Blog: Read about women workers´ leadership stories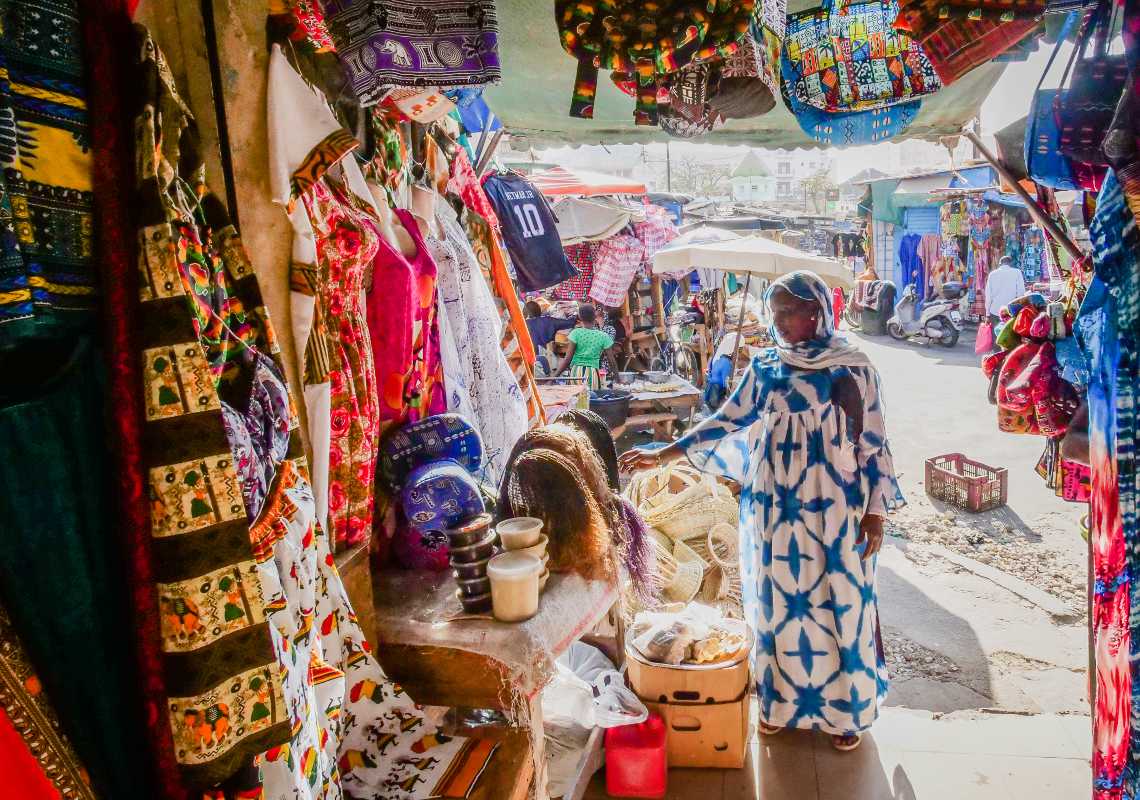 What Are We Working to Achieve?
Participation in the Recovery Through Social Dialogue
The informal economy in Senegal represents 41.6 per cent of the national GDP (ENSIS 2011). Initiatives to reactivate the economy need to address the situation and needs of workers in the informal economy. The extension of social protection and labour rights in the discussions on economic recovery, in particular through the participation of workers' organizations in institutional spaces, is a priority for WIEGO Dakar. Work in this area will focus on strengthening strategic links between informal economy workers' organizations and trade union federations, to advocate for their needs/demands and enhance the role of women leaders in this process. As part of this objective, WIEGO Dakar and the National Confédération de Travailleurs du Sénégal (CNTS) will collaborate on a capacity building project for women leaders of workers' organizations and unions.
Securing the Livelihoods of Waste Pickers
Waste pickers from the Mbeubeuss dumpsite play an important role in climate change mitigation by recovering 55,055 tonnes of recyclable materials, through which they help prevent the emission of 100,987 tonnes of CO2. Moreover, these workers have been, and continue to be, essential during the COVID-19 pandemic: ensuring with their work the well-being of Dakar residents, even if they have to assume additional risks.
---
Watch this video to learn more about the support initiatives of Bokk Diom, the waste picker organization at the Mbeubeuss dumpsite, for its members and vulnerable people in the dumpsite during the pandemic (in Wolof)
---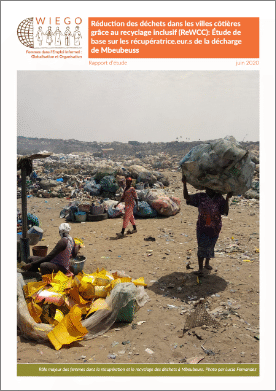 However, waste pickers´ role in waste management is not recognized and their livelihoods are threatened by plans to restructure the dump.
Learn more about waste pickers working at Mbeubeuss and their work at the dump site
Through the Reducing Waste in Coastal Cities Project, and in collaboration with the Urban Policy Programme, WIEGO Dakar aims to include waste pickers into waste management systems. To do so, it co-produces research and analysis for the safeguarding and identification of alternative livelihoods for waste pickers; builds the capacity and provides ongoing support to Bokk Diom – particularly to women waste pickers; promotes exchanges between workers and authorities; and shares good practices in the closure of dumps in the framework of participatory processes.
Read the joint statement from WIEGO and CNTS including recommendations for an inclusive restructuring of the Mbeubeuss dump (French only).
Blog: A reflection on how the livelihoods of waste pickers at Mbeubeuss can be safeguarded in the process to restructure the Mbeubeuss dump.
Legal Empowerment of Informal Economy Workers
Administrative justice is an avenue for workers´ organizations to defend their rights. In collaboration with WIEGO´s Law and Organization and Representation Programmes, WIEGO Dakar works to build the capacity of organizations of workers in the informal economy who work in public spaces – mainly street vendors, market traders and prepared meals vendors – to challenge local authorities´ decisions that act in violation of the principles of administrative justice, including the responsibility to behave lawfully, reasonably and fairly.
This intervention includes:
Research and analysis of the legal framework regulating informal economy workers´ activities in public space
Development of awareness-raising activities with workers, lawyers and public officials about the legal framework and administrative law, and exposure and dialogue initiatives for lawyers and public officials to aid their understanding of the situation of workers in the informal economy
Establishment of institutional linkages with pro-bono lawyers who could assist organizations
Capacity-building for advocacy directed at workers´ organizations (for example in collective bargaining)
Organization of policy dialogues
---
Publications and News
Publications
News
---
Top photo: A woman waste picker, member of Bokk Diom, working at the Mbeubeus dump. Credit: Marta Moreiras.