Photo by Juan Arredondo, Getty Images Reportage
Waste pickers are facing specific risks in this pandemic — from handling contaminated materials to losing essential daily earnings when governments order work stoppages and tell people to stay home. Their organizations are stepping up to help and to advocate for them.
Waste pickers — also known as reclaimers, catadores in Portuguese and recicladores in Spanish — provide essential sanitation and solid waste management services. They contribute to local economies, to public health and safety, and to environmental sustainability. 
But gathering, collecting and sorting what others throw away puts them at risk in this pandemic. Their work entails high exposure to germs and high proximity to other people — for example, waste pickers handle materials, including medical waste, that may be contaminated with coronavirus.
Yet these workers depend on their essential daily earnings. Stopping work to stay at home could move their households into extreme poverty. Plus, they often live in informal, crowded settlements that lack running water and sanitation. 
For the good of these workers and their communities, governments must make it possible for waste pickers to follow public health guidelines. Income support, access to water/sanitizer and provision of protective gear are crucial right now. So is access to health care and social protections.
Public messaging about the need for proper segregation of household medical waste to keep any contaminated material from being collected with recyclables is crucial to reduce risk of exposure for informal waste pickers (and all waste workers). This is especially important because the virus can live on some materials for days.
SHARE THESE SAFETY TIPS on reducing risk for waste pickers (multiple languages)
To find practical and appropriate interventions, national and local governments must work together on a coordinated response plan that involves waste picker organizations and cooperatives.
Reports examine impacts of COVID-19 on inclusive recycling
We need a daring redesign of inclusive recycling that endorses a platform of decent work, say Sonia Dias, Ricardo Abussafy, Juliana Gonçalves and João Pedro Martins in Impacts of the COVID-19 Pandemic on Inclusive Recycling in Brazil. Totally reshaping our systems of inclusive recycling is important if we take into consideration that waste pickers are an essential part of the economy, providing and sustaining the recycling market in Brazil. The report is summarized in a briefing and both are available in Portuguese. A follow-up comparative analysis, Inclusive Recycling in Waste Picker Cooperatives in Brazil: Impacts of COVID-19 Comparative Analysis 2020-2021, was done and the findings are published in full and brief form in English and Portuguese.
What waste picker organizations are doing
South Africa
Reclaimers in South Africa have been organizing and negotiating with governments for years to be officially integrated into solid waste management systems (see WIEGO's WISA project). However, when South Africa imposed one of the toughest lockdowns in the world in March 2020, waste pickers were left with no earnings and no support. They were not recognized as an essential service. As Melanie Samson wrote in The Maverick: 
"Government's failure to recognise that reclaimers are part of essential waste management services is placing additional strain on waste management at a time when we need waste removed as efficiently as possible. It is also having devastating consequences for reclaimers."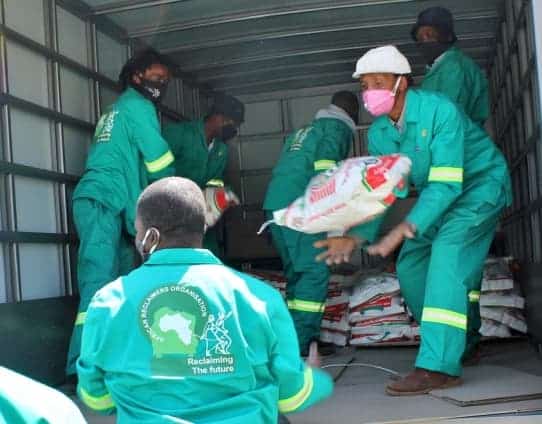 Luyanda Hlatshwayo, a reclaimer and organizer in Johannesburg, told Kim Harrisberg how the lockdown affected these informal workers: 'How are we meant to eat?': A South African waste picker on life under lockdown (April 7, Thomson Reuters Foundation).
And then the alliances that their membership-based organizations had been building began to pay off. The South African Waste Pickers Association (SAWPA) and the African Reclaimers Organization (ARO) negotiated with the national government to have reclaimers were included in the country's Solidarity Response Fund, which provided emergency food parcels during the lockdown. ARO was given permission to deliver 2,000 food packages in association with the Department of Environment and Coca-Cola South Africa, while the relationships ARO had built with Johannesburg residents drew significant donations that funded relief efforts. 
By the end of September, ARO had given out 4,700 food parcels funded through its crowdfunding initiative, and distributed another 650 in partnership with an NGO called Gift of the Givers.
ARO Chairperson Eva Mokoena, a reclaimer herself and member of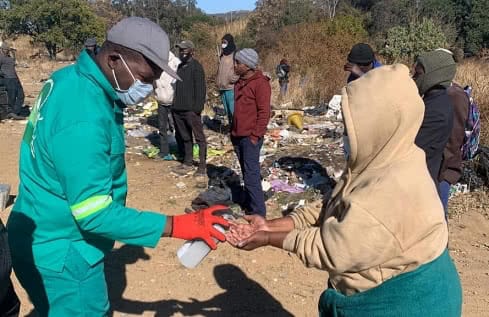 SAWPA, explained that providing help to reclaimers does not depend on their nationality or whether they are ARO members. "When we see a need, we go," she said.
Meanwhile, residents associations began calling ARO when their city-contracted recycling companies stopped picking up as global recycling prices collapsed. To manage the reclaimers' risk of contracting the coronavirus from contaminated waste, ARO arranged to pick up trash from the residential areas and transport it to a centralized drop-off spot. The material was allowed to sit for a few days before reclaimers gathered to sort it. At the site, team leaders communicate the risks and share prevention strategies such as social distancing. Hand sanitizer and personal protective equipment (PPE) are provided.
---
Mexico 
Campaign launched April 13 in Mexico City: Thousands of people work daily keeping Mexico City clean, collecting waste from residents and recycling reusable materials. This work is essential to maintaining a healthy city, especially during the COVID-19 crisis. Los Rifados de la Basura Campaign calls on the public and the authorities to take steps to help these waste workers and recognize their contributions.
Brazil
WIEGO's Cuidar Project has developed materials, including this poster, to help waste pickers reduce risks. A technical note, Recommendations for the prevention of Coronavirus (COVID-19) among solid waste workers was also developed. Português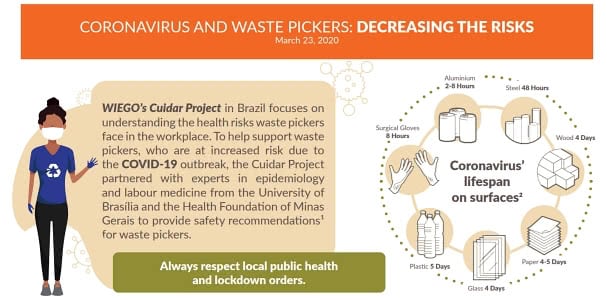 WIEGO, working with public health experts and partners at UnB, AMUR and University of Brasilia, developed guidelines for waste pickers, their organizations and sanitation agencies to help prevent the spread of the disease. A poster was distributed in Portuguese as was information on how long the virus can last on different materials. A technical brief is now in translation into multiple languages to inform waste pickers around the world.
 
WIEGO has worked with a partner organization Pimp my Carroça. Talks started early last week to discuss support measures to street waste pickers. Information sharing with organizations across the country is happening through a WhatsApp group and solidarity campaigns are being devised.
 
Cooperative pickers hired by municipalities report difficulty finding sanitizer and masks; there are worries about contamination since people treating the virus at home discard contaminated waste that might come to the cooperative sorting centres, even in places where there is segregation at source (especially where residents do not follow procedures to segregate them).
 
Through the Observatory for Inclusive Recycling, waste pickers organizations have been having virtual meetings to discuss a national coalition of organizations to jointly design measures for all waste pickers, not only cooperative members. 
---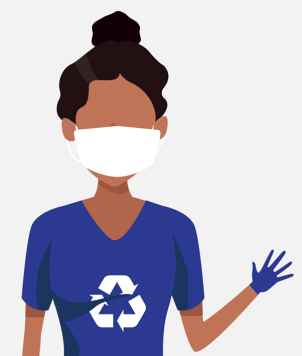 The Global Alliance of Wastepickers has developed recommendations for waste pickers based on information from health experts and from waste picker organizations worldwide. In March, they put out a call to learn what was happening in the field and gather recommendations. Here are just some of the many responses.
Ghana
By the end of March, waste pickers were being prevented from working and the Kpone landfill in Accra was closed. Kpone Waste Picker Association leaders recommended that their members stay home as they monitored the situation and risk of contagion. A few, however, stayed at the site to provide security and support services for members, some of whom have kept working in order to earn an income.
Waste picker leaders also purchased soap and hand sanitizer with personal funds and delivered these to members, both on site and at home. They continue to engage in preventing spread of the virus among waste pickers and their families and offering education. They are also engaging other pickers to speak with one voice in calling on the government to remember the informal sector.
In June, media in Accra reported that the Kpone landfill will be closed imminently. Despite government assurances that waste pickers' livelihoods would part of solutions, they were not consulted. JUNE 16 PRESS RELEASE: Ghana waste pickers say closure threatens survival and demand government support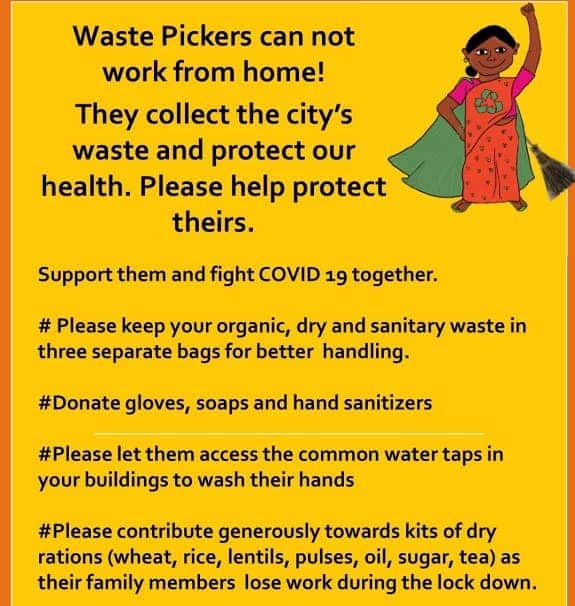 India 
The Alliance of Indian Wastepickers asked India's Prime Minister for support, including emergency basic income of INR 10,000 per month per household. 
Read: Essential services, expendable lives (People's Archive of Rural India) - "For us, every day is risky. Not only now because of this corona, but [it's been like this for us] from many generations..."
---
Colombia
The national association of recyclers, ANR, offered recommendations to prevent the spread of the coronavirus while continuing the public service provision of recyclables management, within the framework of the Public Waste Management Service in Colombia (Spanish). ANR has asked:
that the government does NOT ban recycling and recognizes that waste pickers are on the streets as service providers 
inform citizens through user databases and other channels about the urgency of separation at the source, at least the identification of waste bags that may contain coronavirus from those who are sick at home
that waste pickers must have access to personal protective equipment and hand washing and soap every hour (the recicladores have installed gallons of water and soap in the vehicles) but they are running out; ARB in Bogota has made a request to the recyclable materials industry to support the organizations in providing this equipment.
Fortunately for waste pickers in Colombia, recycling was declared an essential service and they can continue to work during quarantine. Organizations are taking protective measures to lessen the risk of exposure to the virus in waste handling.
In Antioquia, collection routes were stopped, so waste pickers experienced a dramatic drop in earnings.
---