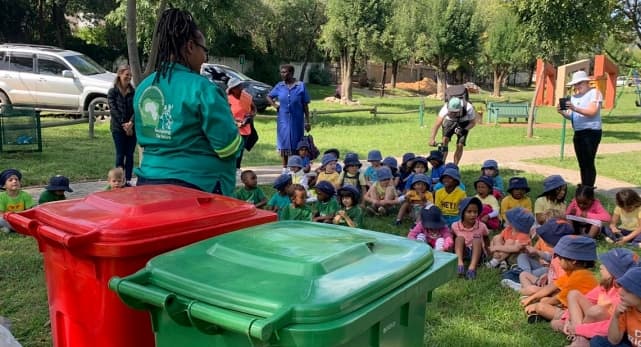 Strengthening the Role of Informal Waste Pickers
Informal waste pickers play an integral role in South Africa's waste industry. For generations, these men and women—known locally as reclaimers, waste pickers or bagerezi—have earned income from collecting, sorting and selling recyclable discards. They remove tonnes of waste from city streets and keep it out of municipal landfills. Their work is key to South Africa's impressive recycling rate of 57 per cent.
Yet these workers remain vulnerable and poorly compensated actors in a highly profitable industry.
The South African government has estimated that as many as 90,000 people rely on waste picking to earn a living. These informal workers provide a valuable service to municipalities and must be recognized and compensated for this work.
NEWS
2019
In May 2019, Johannesburg's informal reclaimers marched in a large-scale protest, organized by the Association of African Reclaimers (ARO), against the city's refusal to recognize them, answer their demands and offer fair treatment and compensation. While these informal reclaimers are responsible for diverting massive amounts of recyclables out of the city's waste stream, their livelihoods are threatened by privatization and a lack of engagement from the city. Read the letter ARO sent to a municipal authority.
Despite the valuable service reclaimers provide, they are stigmatized - on the street and at home. The Thomson Reuters Foundation interviewed more than 10 reclaimers across Johannesburg: Living off trash: South Africa's waste pickers reclaim the streets
LISTEN: "Tensions between waste pickers and Johannesburg municipality escalate" (radio broadcast June 4, 2019)
PODCAST: Commonwealth Voices - Waste Picker Rights (May 2019)
READ: "Reclaimers progress towards formal inclusion in waste collection system" (Creamer Media's Engineering News, 5 June 2019))
WISA Project
In consultation with the South African Waste  Pickers Association (SAWPA) and the environmental justice organization groundWork, WIEGO has established a project called Waste Integration in South Africa (WISA).
WISA is assisting waste pickers through policy research, organizing, and worker education and training in negotiation skills. The goal is to build the capacity of waste picker organizations to effectively negotiate with city authorities for the integration of waste pickers into formal recycling and waste management systems.
Between 2016-19, the project will operate in Johannesburg, Tshwane and Sasolburg municipalities. The three cities were chosen based on WIEGO's research into the organizing potential of waste pickers and the size of the waste economy.
Vanessa Pillay, Programme Officer with WIEGO's Organization & Representation Programme, is part of the WISA team. "Without structured forums for negotiation, the city has developed projects and programmes that endanger waste pickers' livelihoods. City officials claim that they cannot consult them because they are not organised," Pillay wrote in "Amplifying voice, visibility and validity: Waste pickers in Joburg city" in the South African Labour Bulletin.
Making Progress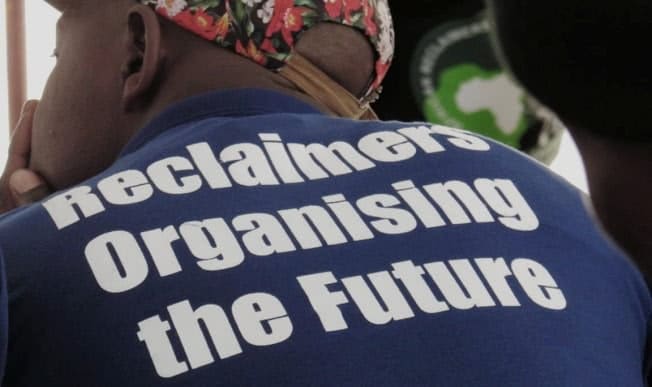 Organizing and worker training has already helped waste pickers make progress.
In 2017,  livelihoods were threatened by new private recycling contracts in Johannesburg. Waste pickers came together, making their demands public through media and public demonstrations. They scored a victory.
Read Joburg's Reclaimers Win Important First Victory in Fight Against Privatization.

The city began discussions with the Interim Joburg Reclaimers Committee to develop a framework for the integration of waste pickers. Waste pickers have made their demands clear: These include:
Recognition as workers, forums for collective bargaining and consultation on all issues that relate to the terms and conditions of their work.
Protection against harassment by authorities and the public, who often view the workers as criminals.
Health and safety and measures, including access to regular health checks, personal protective equipment safety, the need for safe storage space for their materials.
Sorting and storage facilities with decent infrastructure (e.g. decent toilets, showers, and clean drinking water).
Registration of individuals and cooperatives in a database to facilitate programmes, training, fair treatment and equitable opportunities.
Progress is also happening nationally. South Africa's Department of Environmental Affairs' is developing national guidelines for municipalities and industry on the integration of waste pickers. One goal is to improve working conditions. Three representatives from the WISA project have been chosen by the Interim Johannesburg Reclaimers Committee to represent their interests on the working group, giving waste pickers a voice in the national policymaking process.
Learn more