Hero Image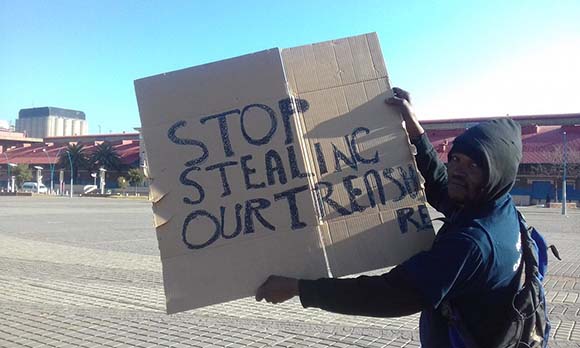 On July 13, hundreds of Johannesburg's informal waste pickers (known locally as "reclaimers") — men and women who have been collecting, separating, and selling the city's reusable discards for generations — took to the streets to protest a municipal decision that could put them out of work essentially overnight. 
The march was in response to a move by the state-owned Pikitup, the official waste management service provider for the City of Joburg, to contract out the separation of recyclable waste-at-source services to private recycling companies. The new separation-at-source contracts came into effect on 1 July 2017, with no consultation along the way. Reclaimers responded with a campaign, including public protests and media appearances, to bring attention to their struggle.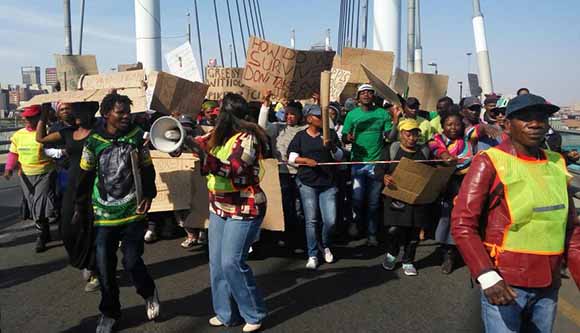 Joburg reclaimers march in protest of municipal recycling contracts that don't include them. Photo: WIEGO
Their efforts paid off. Last week, Joburg's reclaimers scored a big win in their fight: Pikitup's managing director, Lungile Dhlamini, put a halt to signing any new contracts and acknowledged waste pickers as principle stakeholders in the city's waste economy. He has also proposed to establish a waste picker forum under Pikitup and scheduled an initial workshop on 10 August to begin the process of structured engagement. In fact, the managing director himself will be leading the workshop. The turnaround left Joburg's reclaimers feeling vindicated in their struggle for recognition as waste recycling industry pioneers.
A long struggle for recognition
Waste pickers have been appealing to Pikitup and the City of Johannesburg since last September. That's when they learned that a tender was issued to appoint private companies to do separation at source in high-income areas. Supported by WIEGO and South African Waste Pickers Association (SAWPA), the reclaimers wrote letters to Pikitup, asking them to disclose and discuss with them their intentions.
Lacking a response, Joburg's reclaimers organized in the streets and on the landfills. They held mass meetings to elect a representative committee that could continue the appeal to the city to suspend the appointment of private companies. They also devised a list of demands that includes a call for their right to work, suspension of private contracts, inclusion of their needs in future planning, and implementation of facilities to effectively carry out their services. The full list of demands follows:
Registration: Waste pickers want to be registered in a database to be recognized and protected against harassment by authorities and the public, who often view them as criminals.
Safety and Security: Personal safety is a concern, as well as the need for safe storage space for their materials.
Dignity and Respect: Waste pickers' work needs to be valued and respected by all stakeholders.
Transparency: All city projects, programmes, and service provider changes need to be discussed openly.
Sorting and Storage: Facilities with decent infrastructure, such as decent toilets, showers, and clean drinking water, are needed.
Exclusion of waste pickers from the process of recycling runs counter to national government policy and contradicts commitments made by the city. By giving recycling contracts to private companies, the city is intentionally opting for a private system, when a less costly, more socially responsible and environmentally friendly solid waste management programme that includes reclaimers is possible.
Inclusive waste management models exist
Increasingly, waste pickers' livelihoods across the Global South have been under threat by privatization, despite the benefits they bring to cities. Waste picking provides jobs in areas where unemployment rates are high (in South Africa, for example, unemployment is at a staggering 27 per cent). The work waste pickers do in collecting, painstakingly sorting, and recycling trash makes cities cleaner and greener, as well. A UN-Habitat study acknowledges that waste pickers' labour has resulted in higher recycling rates in more developing countries than it has in western, industrialized ones.
Joburg reclaimers appeal to the municipal government for recognition of their contribution to the city's waste management. Photo: WIEGO 
Importantly, waste pickers can actually keep money in the municipal coffers. A decision like the one in Joburg will likely cost cities more than working with waste pickers, especially given the profiteering motives of big companies. Initiatives such as the SWaCH Coop in Pune, India, and inclusive recycling efforts in Belo Horizonte, Brazil, show that there are ways forward that work with waste pickers. In the coming months, Joburg has an opportunity to discuss how the city can be more inclusive in its planning and pave the way for South Africa to pioneer new models of waste management that include these valuable workers.
Listen to a radio interview with Vanessa Pillay of WIEGO, Eva Mokoena from Orange Farm, and Steven Leeu from Newtown on the situation in Joburg.
Read more about inclusive waste management models.
Top photo: A Joburg reclaimer holds up the sign he made for the protest. Photo: WIEGO
Related Posts
Informal Economy Topic

Occupational group

Region

Language
Wiego on Twitter