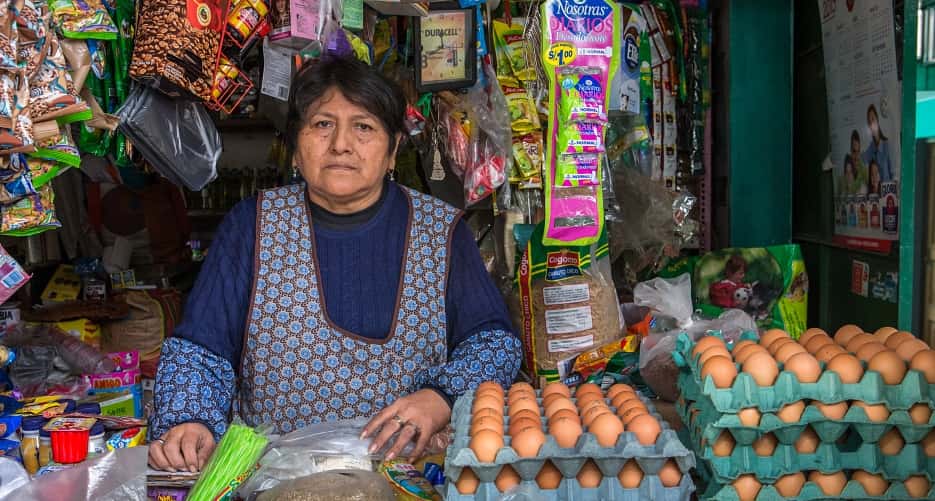 Pandemic adds to informal vendors' challenges
Street vendors, market traders and market porters provide necessary goods and services, especially to those who must buy life's necessities in very small quantities at affordable prices. Those who sell food—both fresh food and prepared food—are an essential part of urban supply chains. They embody food security for a wide swath of people who cannot afford modern supermarkets.
Research unequivocally shows that the informal economy is absolutely critical to food security, particularly in lower-income communities. 
Caroline Skinner, WIEGO's Urban Research Director, quoted in City Metric in this article.
In this must-hear interview, Caroline Skinner explains the urgent need to unlock the informal food system — "the system works!" — and calls for countries to provide water and sanitation and for enforcement agencies to stop harassing these important workers. And she calls for direct income support. Food Security and Street Vendors during COVID-19 
Challenges street vendors face
Street vendors, market traders and market porters earn their incomes in public, often crowded spaces. In this Radio-France International piece, WIEGO's Dorcas Ansah, coordinator for Focal City Accra, explains the impossibility of implementing physical distancing when there is no space to move.
Also impossible is frequent hand washing and other hygiene if the infrastructure isn't there. Recent research shows that many have inadequate access to water, sanitation, and hygiene, so telling them to wash their hands is futile unless municipal authorities provide the means to do it.
COVID-19 HEALTH GUIDELINES
FOR INFORMAL TRADERS
As Sally Roever writes in this blog, street vendors have always faced onerous regulations and punitive measures by authorities, including confiscation of goods and arrests—but now, the imposition of local and national lockdowns to contain the spread of COVID-19 is threatening not just the livelihoods but the very survival of informal vendors and their families in some places.
Local and national governments must find ways to meet the urgent financial and health needs of these workers. The best way to find practical and appropriate ways to do this is for decision-makers to work with street vendor organizations, associations and cooperatives. These grassroots groups know best what is needed. 
Impact on vendors and responses in select countries
India
An abrupt and complete lockdown in India on March 24 sent the country into chaos and  sparked a humanitarian crisis. Informal markets and vending sites were closed and wholesale markets only available for a few hours, and transport was disrupted. Within days, the Self-Employed Women's Association (SEWA) was working with the Municipal Corporation of Ahmedabad to help secure the food chain. As Marty Chen explains in a WIEGO blog, "Vegetables on Wheels" began delivering fresh vegetables and milk to curfew wards of the city using electric rickshaws. The initiative brings together informal food sellers and informal transport drivers to provide an essential food security service.  
South Africa
In an open letter to South Africa's government days before the country imposed a nationwide lockdown Rosheda Muller, President of South African Informal Traders Alliance (SAITA), said: "Any halt or suspension of trade would be catastrophic to the livelihoods of thousands upon thousands of informal workers and their families."
After SAITA, WIEGO and others advocated for the government to include informal vendors in the Disaster Management Regulations, the spaza shops and informal food traders were given permission to operate as essential services - if they had municipal authorization. When municipalities balked, saying they were closed, the government told them to open (again, a result of advocacy) and ensure traders could do the essential work of making necessary food and basic items available. 
In Durban, WIEGO partner Asiye eTafuleni (AeT) is working with health professionals and WIEGO in Durban, South Africa to develop interventions to support informal workers to avoid transmission of COVID-19. Physical Distancing Bibs & Protective Masks were made in Warwick Junction (a large informal market where AeT works). "After the lockdown, South Africa is not going to simply return to 'normal'," writes AeT's Sarah Heneck. "If the informal economy is not supported, there will be devastating consequences for countless people living in this country, most viscerally in terms of food security."
Peru
A month-long, full-country lockdown was declared on March 16 with less than 150 cases registered at the time. The government announced that a one-time cash grant of USD 110 (380 soles) would be made available to vulnerable families, and on March 26 extended that to informal workers. However, there is concern that the high population of vendors will not be registered to receive the grant.
Early in March, street vendors in Lima were interviewed about what a quarantine would mean for their livelihoods.
Market porters in the Santa Anita wholesale market have been classified as essential workers and continue working. However, they need access to more hand washing stations and provision of gloves and masks they have been asked to wear. (Their Federation purchased masks with their own funds but still don't feel protected, especially after some vendors have fallen sick with COVID.) The Federation is negotiating with a government agency to get access to tests and protective gear. Many porters are not coming to work for lack of protection; local distribution networks are already being affected.
Market vendors are also working but with limited protective gear. Only those vendors who sell essential goods have been allowed to stay. 
Newspaper vendors (canallitas) have the support of the national police to go to work as an essential service, however many of them are staying home for lack of protective gear. Distribution centers, seeing a reduction in the volume of paper sales, did start to give out some protective equipment to the canallitas. Meet  canallitas and hear their challenges in this blog:  Informal workers on the frontlines of COVID-19: Providing critical services without adequate protections and pay (April 7).
In late April, Lima's informal worker associations launched a campaign to highlight how the COVID-19 crisis is affecting them, share information about our needs and make sure authorities hear their requests. They stress they want to be part of the solution in defeating the virus and want to follow the measures recommended by the government—but they need income and social protections to survive. Learn more on the Focal City Lima page.
Ghana 
Street vendors were already suffering from reduced demand from customers afraid to purchase from them for fear of contagion. There was a brief bump in sales after the quarantine order was announced in March as the public rushed to purchase food. Now, only those vendors selling fresh fruits and vegetables are allowed to remain. Of these, some have been blocked from selling because they do not have ID cards that prove they are food vendors.
Vendors who continue to work report a shortage of hand sanitizers and water in the markets.
Most kayayei (market head porters) are now out of work. In the wake of the ban many kayayei attempted to go back to rural areas in the north, where they are from. At least some of their transports were apprehended and turned back.
In this Radio France International article, Focal City Accra coordinator Dorcas Ansah and local street vendors explained the challenges in Accra's crowded markets as authorities try to impose conditions that are unworkable. 
United States 
Street vendor organizations from across the USA have created a united platform of demands. It centres on their immediate socio-economic needs and looks toward a just economy that recognizes the value of street vendors and the contributions of their enterprises. The coalition, which involves vendors from Chicago, New York City, Los Angeles and Washington DC, launched the National Agenda for Street Vendor Justice on May 13 in a live Facebook Event.
COVID-19 has hit New York City hard, with high rates of infection, overwhelmed hospitals and makeshift morgues highlighting the horrible outcomes. Even before the virus had such a tragic foothold, New York's Street Vendor Project detailed the immediate needs of street vendors and the broader demands for the health and safety of frontline communities. At the end of March, they launched an emergency GoFundMe campaign for members.
Earlier in March in Portland, Oregon on the west coast, which was hit first by the virus, informal newspaper vendors were paid to deliver information and hygiene kits to folks living on the streets.
Mexico
The Washington Post (April 18) offers this photo essay on how market traders in Mexico are coping: "Until We Are Shut Down, We Are Here."
Thailand
In Bangkok, where street vendors were already fighting sweeping evictions, earnings are down due to COVID-19 by up to 80% since a partial lockdown began in mid-March, according to Poonsap Tulaphan, director of HomeNet Thailand. "Street food vendors are still able to sell food for takeaway, but there are fewer customers," she told Reuters in this article. "Prices of commodities are also much higher but they can't raise prices."
According to the 2017 Thailand Labour Force Survey, there were almost 144,000 street vendors in Bangkok, and the vast majority of these sell food.
Turkey
The Global Street Economy Platform produced a pamphlet that offers facts and figures on the informal economy in Turkey, and explains why those who work in public should be treated not as a problem but as part of the solution in crises like COVID-19.
Ecuador
Some 90,000 food kits will be delivered in Quito to self-employed traders who live from day to day, but because of the health emergency and the state of emergency, they have not been able to go out to work. In the capital, there would be 22,000 self-employed vendors, according to the city hall, who hopes to reach 200,000 kits to be distributed.
Source: Quito Informa.
Related Publications
External OpEds, Blogs & Articles
By
Social Science in Humanitarian Action