COVID-19 Situation and Activity
On March 24, with just four hours notice, India went into a 21-day lockdown. The abrupt lockdown triggered a massive humanitarian and migration crisis as workers scrambled to get home. The lockdown has led to a massive loss of livelihoods with no informal workers in Delhi – street vendors, domestic workers, carpenters, autorickshaw drivers, etc. – allowed to work. Police patrol the slums to ensure people stay inside and there have been reports of arbitrary police harassment, including of shopkeepers selling essential goods and services.  
More about the situation in Delhi for informal workers, and the response
Street Vending in Times of Covid-19: A Manual and Posters for Street Vendors in Delhi
Home as place of work: Locating the home-based workers of Delhi
Waste Warriors of Delhi: Locating waste picker communities across the city
Building Savda Ghevra: A story of resettlement in Delhi
About Focal City Delhi 
WIEGO's Focal City Delhi (FCD) project seeks to improve outcomes for urban informal workers in three sectors: home-based workers, street vendors, and waste pickers. 
NEW WIEGO Statistical Briefs provide data on informal workers in Delhi and across India:
We regularly post about workers and their issues in the Delhi Diary.
Objectives of Focal City Delhi
Increased visibility for informal workers: Through a broad-based communications strategy, FCD increases public awareness about the civic, economic and environmental contributions of informal workers and the informal economy in New Delhi.
Improved legal and policy frameworks: FCD supports workers' groups to advocate for the effective implementation of supportive laws and policies, such as the Street Vendors Act, 2014 (Protection of Livelihood and Regulation of Street Vending), and waste management rules (The Solid Waste Management Rules 2016 and the Plastic Waste Management Rules 2016).
Inclusion of livelihood issues in urban discourse: FCD supports informal workers to represent themselves in urban policy arenas regarding issues such as: inclusive housing policy for home-based workers; inclusive solid waste management policy for waste pickers; and access to social protection and land rights for those living and working in slums.
Recent and Current Activities
Master Plan Coalition
In 2021, a new Master Plan for Delhi will come into force that will determine the broad parameters of city development for the next two decades. In a unique initiative, Focal Cities Delhi put together a broad-based coalition of groups and individuals to demand that issues of livelihood, gender and habitat for the urban poor are adequately addressed in the plan.
The Delhi Master Plan Coalition has defined a platform for taking the effort forward. Partners decided to open up the process more broadly in the hopes of building a larger grassroots movement. Community meetings, crowdfunding and a campaign—"I Too am Delhi"—are part of the plan. The campaign's core message: "The aim is to speak about the whole city and all urban issues, even as we remain rooted and focus on our core issues of workers and those excluded from the current imagination of urbanization."
Focal City Delhi will work with its partners to influence the urban agenda for Delhi and the Master Plan Campaign. Read why Delhi's Master Plan matters to informal workers.
Workshop for Sharing and Capacity Building of Waste Pickers in Delhi
Over the past two years, WIEGO has helped develop and support a platform of waste picker organizations from across Delhi called the "Delhi Roundtable on Solid Waste Management". In 2018-2019, the platform conducted a city-wide campaign for recognizing waste pickers and providing them with identity cards. Community meetings and a public hearing were held.
The Delhi Roundtable on Solid Waste Management has nine organizational members and aims to strengthen their organizing capacity. In March 2019, a learning exchange brought together 80 waste pickers and 20 organizers from four organizations across Delhi. Waste pickers raised their issues and worked together to plan for 2019-20. In the next year, the Roundtable will expand the scope of grassroots organizing work through field visits and learning meetings among its members. They will also hold more community meetings on the solid waste management rules established in 2016 and to engage in research and publicity to gain attention for their issues and demands.
Raising Awareness
FCD works to build the knowledge base about urban informal employment at both the local and global levels.
In 2016, this included a collaboration with the Harvard South Asia Institute on several initiatives, including a booklet and two webinars on home-based workers: Home-based Workers, Invisible and Voiceless and Cities and Home-based Workers".
Shalini Sinha, (WIEGO's India Country Representative) hosted a 13-episode radio programme on the informal economy in 2017, called "Kal ki Subah Humari Hai" (Tomorrow is Ours). Learn more and listen to episodes.
In early 2018, the Informal Workers' Narratives were hosted by Working Peoples' Charter (WPC), and co-curated by the Alliance of Indian Waste-Pickers (AIW) and FCD. Held across two events, a panel of workers from different trades, including domestic workers, waste pickers, street vendors, and home-based workers spoke of their work and their challenges. The events shed light on the role of the informal economy in the city, and how informal workers continue to be marginalized. 
Stakeholder Engagement and the Urban Informal Sector
In 2018, FCD – in collaboration with the National Institute for Urban Affairs (NIUA) – organized a 2-day workshop: "Making Cities Work for All: Integrating the Informal Economy". 
FCD is also seeking to stimulate a dialogue around the upcoming Delhi Master Plan (2021-41) by bringing together urban planners, activists and worker groups, in order to place the issues of informal workers at center stage.
Child Care for Informal Workers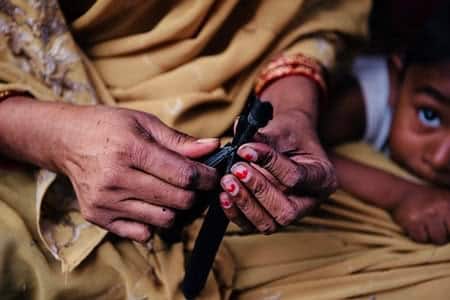 In 2017, FCD organized a city-level workshop on Child Care for Informal Workers. In 2018, FCD is partnering with FORCES Delhi on a city-wide child care campaign aimed at increasing focus on the child care needs of informal workers. The campaign promotes public investment in quality child care services through engagements between MBOs, child care coalitions and local and state governments. 
Informal workers, who are over 90% of the workforce, live and work in vulnerable conditions and lack social protection, good health care and access to sanitation infrastructure and decent work. These vulnerabilities have all been exacerbated due to the pandemic. In many ways, the COVID-19 pandemic is a triple crisis. At its origin it is a public health crisis; lockdowns, and social distancing have led to an inevitable economic crisis. With the closing of creches, anganwadis and schools, there is care crisis. The triple crisis has multiple impacts which will be felt for a long time, and across many generations of informal women workers' and their children. In fact, the COVID-19 crisis has had a disproportionate gendered impact on the livelihoods of informal economy workers and has increased the care burden of these workers.
On September 15, 2021, the Campaign for Quality Child Care for all Workers (India) organized a webinar to highlight the critical importance of childcare for the economic recovery from the COVID-19 pandemic and for enabling women workers to re-enter the workforce, and to put forth key demands relating to the child care needs of informal women workers. Read the webinar report here and the policy brief here.
Sectoral Work
Waste Pickers
In 2018, FCD, in collaboration with the Alliance of Indian Waste pickers (AIW) and the Indo-Global Social Service Society(IGSSS), created a platform for waste picker organizations called the "Delhi Roundtable on Solid Waste Management". The goal is to advocate and organize around the Solid Waste Management Rules (2016) and work towards inclusion of waste-pickers in the waste management systems of the city.
Street Vendors
Following the implementation of the Street Vendors Act (Protection of Livelihood and Regulation of Street Vending), 2014; the city of Delhi has recently held elections for Town Vending Committees (as prescribed in the Act). FCD is working with the National Association of Street Vendors in India (NASVI) to build capacities of street vendor members of the TVCs. 

Related reading:
Home-Based Workers
In 2017, FCD, in partnership with the Institute of Social Studies Trust (ISST) and Friedrich Ebert Stiftung (FES) India, conducted a scoping study in four locations in Delhi to estimate the extent of home-based work, their status in employment, the nature of their activities and products, and the related issues and challenges they face. In 2018, a 2nd round of study is planned in two additional locations.
Related reading:
More Publications and Resources
Nohn, Matthias. 2011.
Mixed-Use Zoning and Home-Based Production in India
WIEGO Technical Brief (Urban Policies) No. 3