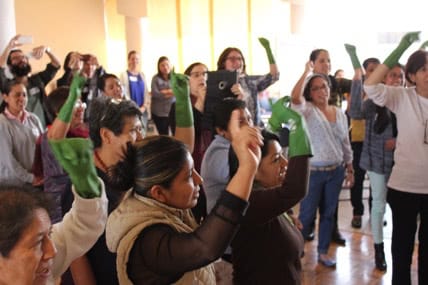 In Mexico, more than half the country's employed population works informally. In Mexico City (CDMX), 23 per cent of economically-active people are informally employed, while 24 per cent are in formal employment (53 per cent are not employed).
Mexico City with its new, progressive Constitution (which includes the concept of the right to the city and recognizes non-salaried workers as workers), presents unique opportunities to mobilize informal workers in diverse occupations around their needs.
NEW: Victories for Domestic Workers in Mexico in December 2018
In 2017, Focal Cities CDMX began working with a variety of groups in the city – including research institutions, activists and membership-based organizations (MBOs) of informal workers. The occupational groups WIEGO works with in CDMX include (but are not limited to): street vendors, market vendors, recyclers, domestic workers, mariachi musicians, artisans and shoe shiners. The current work builds on WIEGO's "Voice Project" (2011-13), which aimed to foster dialogue between workers and government officials.
VIDEO (March 2019):  Primer Congreso de Tesistas en Trabajo no Clásico: On 8 March 2019, Tania Espinoza Sánchez, WIEGO's Focal City Co-ordinator for Mexico City participated in a Seminar on Work and Equality at El Colegio de México (Colmex). Tania's presentation highlighted challenges faced by informal workers in Mexico. 
VIDEO (October 2018): Exposición Trabajadores Invisibles en la CDMX (Invisible Workers Exhibition at the CDMX, video in Spanish): On September 25, 2018, the exhibition "Invisible Workers" opened at el Museo de Memoria y Tolerancia (the Museum of Memory and Tolerance) in Mexico City. This photographic exhibition reveals the precarious working conditions in which the informal waste pickers who clean Mexico City work.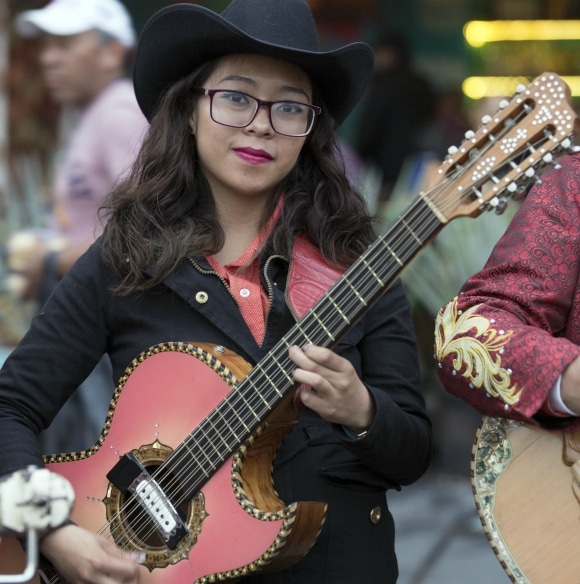 Goals in Mexico City:
Building capacity of informal workers and their organizations in areas such as: advocacy for policy change, collective bargaining and negotiation, and legal and regulatory frameworks.
Supporting informal workers and their organizations in the development and dissemination of platforms of demands and/or recommendations on inclusive planning and regulatory frameworks in Mexico City.
Supporting MBOs to establish and engage in dialogue and negotiations with city and national public officials to promote mutual understanding and to allow workers to provide input on laws, regulations and social policies that directly affect their livelihoods.
Current and Recent Activities
Public image campaign
WIEGO's Mexico City team and its partners are working with the Council to Prevent and Eliminate Discrimination in Mexico City (COPRED) to conduct a positive image campaign on informal workers. The campaign uses the hashtag #TrabajoInformalEsTrabajo (Informal Work Is Work).
The campaign is a huge step forward in raising public awareness about the contributions of informal workers in Mexico City. It grew out of the 2018 initiative by a cross-sector group of informal worker leaders to develop a platform of demands. After workers took part in a week-long series of activities and workshops, COPRED compiled an updated, more detailed platform for inclusion in Mexico City and worked with Focal City CDMX to create a positive image campaign.
The campaign kicked off with a press conference on May 6, 2019, where the platform was disseminated. Plans include a series of videos, a social media campaign and a photo exhibition to be displayed at COPRED headquarters and potentially at other locations throughout the city. (Photo credit: Lorena Reyes)
Launch of workers' proposal for a modified regulation on non-salaried work
The Focal City team has been meeting with the mesa of non-salaried workers on a weekly basis for over a year to discuss and revise, article by article, the existing regulation for non-salaried workers (in place since 1975). The team initiated this work (with support from WIEGO's Law Programme) with the mesa, anticipating that the adoption of a new Constitution would be followed by the development of secondary legislation at the city level to translate Article 10 into law.
In April 2019, the congress of Mexico City announced that they would be opening public consultations to source citizen input on the impending secondary legislation, with the aim to have a legislative proposal ready for a vote in the Mexico City congress in September of this year. Because of ongoing work over the past year, they are ready to participate in the consultative process, with a fully developed proposal. The proposal maintains many aspects of the existing regulation but expands on and modifies it in two significant areas: eliminating discriminatory elements, and extending social protection.
The mesa representatives, accompanied by the FC Mexico City team, presented the proposal to the public during a press conference on April 30. Workers expressed to the government that they are prepared and expecting to be engaged in the consultations. As they explained: "We received the invitation, we did our homework and we are ready to participate."
"Dialogues on Public Space: Informal Work and Mobility"
Held in June 2018, this event created a space for dialogue and discussion between informal workers who perform their activities in the public space and activists of groups of pedestrians and cyclists whose mobility agendas sometimes clash with the right to work in public space. Workers from various occupational groups, such as street-vendors, shoeshiners, organ-grinders, waste pickers and tianguistas (market vendor) met with different groups representing pedestrians and cyclists.
Highlighted Resources & Blogs
WIEGO Publication Series:
WIEGO Resources
News articles:
Articles on waste pickers in Mexico City written by Focal Cities Coordinator Tania Espinosa (all in Spanish):
Videos (Spanish only):