Reshaping Urban Planning and Practice to Include Informal Workers
Across the Global South, most urban workers make their livelihoods in the informal economy. The Urban Policies Programme (UPP) strives to transform urban systems so informal workers have higher and more stable incomes, secure places to work and live and the capacity to negotiate sustainable gains in urban policies and practices.
---
Goals
To secure the inclusion of informal workers in cities, UPP provides tactical information, hard evidence, appropriate tools and participation opportunities for membership organizations, sympathetic policy makers, urban practitioners and engaged scholars.
Our goals and five pillars of work are:
Changing dominant narratives that perceive the urban informal economy as small, unproductive and comprised of tax and regulation evaders.
Maintaining constant visibility of the contribution of the urban informal economy but also urban and formal economy practices that generate exclusion.
Securing participatory governance and implementation of inclusive approaches to planning, design and sector support.
Developing a new cohort of urban practitioners and advocacy researchers that work alongside worker movements to secure inclusionary approaches.
Securing recognition of the contribution of urban informal economy and inclusionary urban practice in global urban policy – notably realising the Sustainable Development goals, the New Urban Agenda and the Right to the City.
We work alongside membership-based organizations of informal workers and WIEGO's Focal Cities teams. Our work focuses on three of WIEGO's four worker groups – home-based workers,street vendors and waste pickers.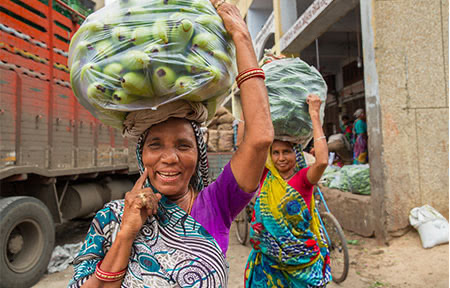 ---
Activities
Demonstrating the contributions of the urban informal economy
Key to securing appropriate interventions are accurate statistics that reflect the size and contribution of the informal economy, including at a city level. Given the diversity within the informal economy, statistics for groups within it – home based workers, street vendors and waste pickers – are also critically important. UPP has long worked alongside the Statistics Programme in generating estimates – see WIEGO Statistical Briefs. A theme within this work is the gender, racial and class structure of the informal economy – see for example Rogan and Alfers, 2019.
The critical role of the informal economy in food security is an additional area of focus – see for Q&A: Feeding cities: Informal retailers play crucial role in urban food security. The work is done alongside urban food security experts at the African Centre for Cities.
Securing tax justice for informal workers
It is a myth that informal workers are tax evaders, yet there are ongoing efforts by national governments and multilateral organizations to bring them 'into the tax net'. Trying to tax the informal sector on this premise is detrimental to livelihoods as well as to efforts to combat poverty and inequality. There is also very little evidence that adding to the existing tax burdens of these workers is an effective way to raise government revenues. Overtaxing workers has been shown to be costly and ineffective and it creates unfair and regressive tax systems which, as a result, tends to endanger the livelihoods of the most vulnerable workers. See Rogan's review of tax justice debates.
This work aims to improve the evidence base on the taxation of informal workers, in order to inform the design of fair and effective tax policies. A fair tax regime includes key principle such as:
Transparency: ensuring that workers understand where their tax contributions go
Participation: ensuring that informal workers are involved in tax policy design
Fairness: promoting progressive tax structures that protect the most vulnerable workers
Assessing the impact of crises on urban informal workers
Measures to prevent the spread of COVID-19 have had a disproportionately negative impact on informal workers. The WIEGO-led 12 city longitudinal study assesses the impact of the COVID-19 crisis on specific groups of informal workers and their households – see Policy Insights and City Fact Sheets as well as Blogs reflecting the study findings. We are also monitoring impacts in Brazil and South Africa.
This builds on earlier multi-city studies – the 10 city Informal Economy Monitoring Study and the Global Economic Crisis Study. In all three studies, WIEGO has conducted research alongside partners, interviewing workers at two points in time. These studies reflect the grounded reality of home-based workers, street/market traders and waste pickers, and how governments and other players help and hinder their work. It supports advocacy efforts both in cities and globally. This work is supported by our monitoring of global trends – for example for street vendors and waste pickers.
As part of raising the profile of informal work and shaping policy and discourse, we are committed to academic publishing – see for example the Environment and Urbanization's Special Issue on Urban Livelihoods. UPP researchers have also contributed to an edited volume on the informal sector in South Africa.
Strengthening inclusionary governance
UPP works with WIEGO's Focal Cities Initiative in Accra, Ghana; Dakar, Senegal; Delhi, India; Lima, Peru and Mexico City, Mexico. WIEGO's Focal City initiative supports organizations of workers to secure more inclusive laws and regulations, improved urban services and a voice in urban planning and policy-making processes.
We provide direct support to participatory initiatives and work to promote inclusive planning and practices. Highlights include:
Support to city government on inclusive approaches to and monitoring of impacts of dump closure processes, as in the closure of Estrutural dump in Brasília, Brazil.
Efforts to recognize and remunerate waste pickers in Colombia as recycling service providers – see Parra and Abizaid.
Asiye eTafuleni's work on inclusionary urban design and management for street traders in inner-city Durban – see Working in Warwick.
Mahila Housing Trust's work securing access to housing for slum dwellers in 34 cities across 8 states in India.
A key component of this work is documenting and disseminating examples of inclusionary approaches, for more see WIEGO Briefs.
This work aims to provide activists, advocates, urban practitioners and researchers with tools to support their work. An important audience is the next generation of urban planners. We have supported the African Association of Planning Schools in curriculum development – see Informal Economy Toolkit for Planning Educators.
This work also feeds into academic reflections on the challenges informality poses to urban planning theory and practise – see part V in The Informal Economy Revisited: Reflections on Academic and Policy Debates.
Developing tools for the integration of waste pickers, street vendors and home-based workers into urban systems
This workstream aims to ensure that informal workers and their allies have the resources needed to secure their livelihoods, including guidelines on livelihood sensitive approaches.
During the COVID-19 crisis, a key focus has been developing resources to minimize health risks – see for waste pickers and informal traders. This work was done alongside public health experts: Workplace Health without Borders and the University of KwaZulu-Natal.
---
Waste pickers
Dump closures, waste to energy schemes and extended producer responsibility policies pose threats to waste pickers' livelihoods. UPP has developed a range of resources on all of these topics:
Occupational health and safety issues for waste pickers has been a key area of work. The Cuidar Project examines the health risks faced by waste pickers and worked alongside worker-based movements to reduce these. Drawing on all this content, the CataSaúde Viraliza is an online capacity building project for waste pickers. The training has concentrated not only on how to reduce health risks but also strategies to respond to economic and other risks.
In addition, we focus on documenting and disseminating cases where waste pickers have been included in municipal waste management schemes. Notable cases include Colombia, Brazil and Pune, India. For more, read here.
This work is done alongside our membership-based organizations of waste pickers, notably: MNCR, Redesol, Cataunidos, and Catavales.
---
Street vendors and market traders
Trading in the informal economy is a key source of livelihood for millions of people, especially for women and migrants. These traders provide affordable goods and services at convenient locations to often low-income urbanites. Despite these contributions, local authorities seldom provide enough, appropriately located, space nor infrastructure and services to maximise livelihood opportunities. UPP has a long history of work on street vending contributions, trends (see for example but Street Vendors and Cities) and also documenting inclusive practises.
Highlights include:
We have developed resources for informal traders, local government officials and policy makers - see Public Space for All.
This work is done alongside our membership based organisations of street vendors, notably StreetNet International.
---
Home-based workers
For many, their homes and workplaces are one and the same. UPP's work on this issue concentrates on the need of home-based workers for de facto tenure and basic infrastructure services and mixed use zoning regulations for their homes-cum-workplaces and on the intersection between informal work and informal housing and settlements. Highlights include:
This work is done in close collaboration with the Self Employed Women's Union and Mahila Housing Trust.
Together these activities and outputs reflect the "art of the possible," demonstrating that inclusive approaches are achievable.
Strengthening the position of women waste picker leaders
To gain insight into the gender dynamics and sexual division of labour in the waste picking sector, and to bring gender consciousness to the forefront of discussions among women waste pickers, WIEGO undertook a Gender and Waste Project in 2012-2015 in Minas Gerais, Brazil. It sought to provide women waste pickers with a clearer understanding of the practical tools they need to challenge entrenched gender hierarchies present in their own lives at home, at work and in the movement. From 2019-2020, the Gender & Waste Project organized workshops on communications and leadership skills, feminism, and public policies. They drafted a strategic gender action plan (2021-2023).
The key outputs of this participatory, workshop-based project were:
For more on the project see Gender & Waste.
In all of our work, we challenge mainstream knowledge generation norms. Using research methods that privilege the experiences and perspectives of informal workers, produce grounded theoretical and practical knowledge from the global South, challenging North-centred approaches.
Putting the informal economy on the global urban policy agenda
UPP has long engaged in the global urban policy processes. As a result of the collective efforts of WIEGO and allies during the Habitat III process, the New Urban Agenda contains strong and positive language on the informal economy. It establishes commitments to recognizing the contributions of the working poor in the informal economy, enhancing their voice and representation, and preserving their livelihoods during the process of transition to the formal economy. This echoes commitments made in the International Labour Conference Recommendation 204 - Transition from the Informal to the Formal Economy. UPP members were also part of the campaign that secured Sustainable Development Goal Goal 11 - Make Cities and Human Settlements Inclusive, Safe, Resilient and Sustainable. Our focus is now on holding governments to account for commitments made to include urban informal workers in these international agreements.
We are a lead partner in the World Urban Campaign and active participants in World Urban Forums.
UPP works with a range of allies outside the UN system. We are active on the Global Platform of the Right to the City and share many of Slum Dwellers International's concerns, and collaborate with them in international advocacy processes. We are also members of the Cities Alliance.
In our waste work we work closely with Ocean Plastic Networks (OPLN), Water Aid/ILO/WHO on sanitation workers health and safety, and Women of Waste - ISWA.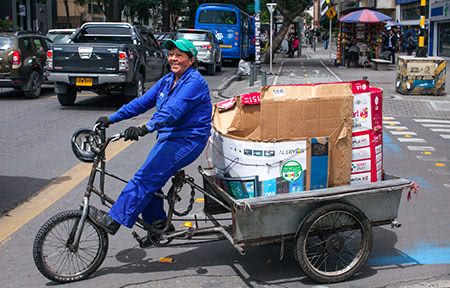 ---
---
UPP Team
Caroline Skinner
Programme Director
Olga Abizaid
Dakar Focal City Advisor / Urban Policy Analyst
Sonia Dias
Sector Specialist, Waste Pickers
Jenna Harvey
Focal Cities Coordinator
Ana Carolina Ogando
Research Associate
Shalini Sinha
Home-based Work Sector Specialist & Asia Strategic Lead
Michael Rogan
Research Associate
---
Top photo: A female waste picker with a coop in Brazil. Credit: WIEGO.