COVID-19 Impact on Informal Workers in Accra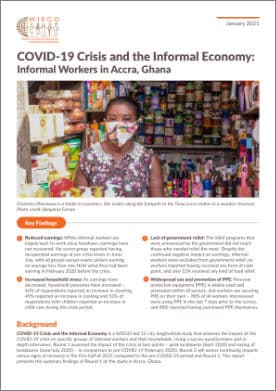 The COVID-19 crisis has hit Accra hard, and informal workers have been hit the hardest. Many of these workers lost their livelihoods completely during the country's initial lockdown and since then, earnings have been slow to recover. WIEGO's team in Accra conducted research on the impact of the COVID-19 lockdown on four sectors: street vendors, market traders, waste pickers and kayayei. Read more about COVID-19 in the city and the results from the study here.
Read more about the experiences of informal workers during COVID-19 and what they need from their governments in these blogs:
The Latest Statistics on Work in the Informal Economy in Accra
WIEGO does groundbreaking statistical work to visibilize the size and characteristics of the informal economy in cities across the world. Here is the latest from Ghana: Informal Workers in Ghana: A Statistical Snapshot, 2020. 
---
The Work in Accra
Accra team:
Since 2010, WIEGO has been working with a local network of membership-based organizations (MBOs) of informal workers, including street vendors, market traders and waste pickers, to advocate with local and national governments for the recognition of workers' contributions and supportive policies.
The work of Focal City Accra involves:
Research and knowledge generation: Coordinating or supporting research, statistics and good practice documentation to ensure MBOs of urban informal workers have a strong evidence base to support their advocacy.
Capacity building and organizational strengthening: Training, coaching and providing overall support to membership-based organizations of informal workers in priority areas.
Policy advocacy:

Co-creating proposals for policy change with informal workers, based on their lived experiences and technical knowledge of their sectors.
Convening formal platforms for dialogue and negotiation between workers and government authorities to advocate for necessary changes to support the informal workforce.
---
What are we working to achieve?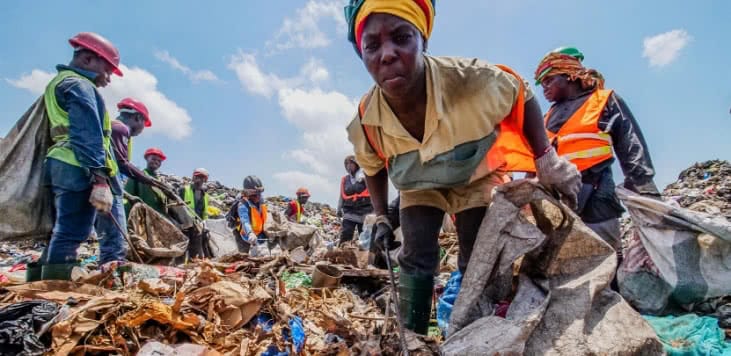 Waste picker integration into solid waste management systems
In the midst of the COVID-19 pandemic, the Ghanaian government began the decommissioning of Accra's Kpone landfill site, thereby displacing the over 300 workers who pick waste there to an alternate site with less viability for waste collection and sale over the long term. This action was not only detrimental to waste pickers, but also the environment – prior to their displacement, Kpone waste pickers were removing about 800 tonnes of recyclable material from the landfill annually and prevented the emission of 24,371 tonnes of eCO2 in 2019.
WIEGO has been supporting the Kpone Landfill Waste Picker Association in advocating with the government for livelihoods safeguarding (support for livelihoods lost in the decommissioning) and for integration into the formal solid waste management system. This has included running door-to-door waste collection pilots in under-serviced coastal communities, where waste pickers could benefit from government contracts for service provision and the communities could benefit from service collection. Read more.
See WIEGO's position on dump closures.
Watch Feeding Families: Meet Grace from Ghana (2 minutes).
Child care for women informal workers
Women informal workers are often faced with the difficult task of caring for their young children while trying to earn a livelihood, with little or no options for child care support. This challenge has been exacerbated by the COVID-19 pandemic, with many schools and child care centers closed. WIEGO has been working in Accra to bring together women worker leaders with government officials to develop a set of national child care guidelines that would respond to the needs of women in the informal economy. This process also involves securing support and resources from the government for safe, affordable and inclusive child care centers within marketplaces.
Infrastructure improvements in Accra's famous markets
Since the beginning of WIEGO's work in Accra, a primary focus has been supporting street vendors and market traders in coming together to make demands for infrastructure improvements to Accra's famous markets – including electrical improvements, more modern drainage systems, more water points and more. This has led to concrete improvements in the occupational health and safety of markets, but much work remains to be done. These upgrades have become even more critical in the COVID-19 context. When a new government administration was installed in January 2021, WIEGO supported the Greater Accra Markets Association (GAMA) and Informal Hawkers and Vendors Association of Ghana (IHVAG) in once again calling for improvements through a consolidated set of demands, leading to a meeting with government officials to discuss how to deliver on the new administrations' promises to improve markets.
Read more about past impact of Accra Focal City project.
---
News and Publications
News
Int'l Waste Day: Waste pickers demand share of Covid-19 relief package: The Kpone Waste Pickers' Association reiterated the myriad of challenges confronting waste pickers in Ghana and lamented the total disregard of support to them, despite the diverse contributions they make to the management of solid waste and environmental services.
Traders Demand Support and Safety: The Informal Hawkers and Vendors Association of Ghana (IHVAG) and the Greater Accra Markets Association (GAMA) are calling on the government to urgently provide safe and secure working environments for traders, following a series of fires that have devastated the livelihoods of our members.
Waste Pickers Need Recognition: WIEGO said about 88 percent waste pickers do not have personal protective equipment on their own although their activities are essential services.
Publications
Accra, Ghana was one of ten cities studied in WIEGO's Informal Economy Monitoring Study (IEMS), an action research initiative that aimed to evaluate the realities, constraints and contributions of informal workers. Full report. Executive summary. Policy recommendations. 
The Ghana National Health Insurance Scheme: Barriers to Access for Informal Workers WIEGO Working Paper by Laura Alfers.
Perceptions of Costs and Benefits of Informal-Formal Linkages: Market and Street Vendors in Accra, Ghana WIEGO Working Paper  by Nana Akua Anyidoho and William F. Steel.
Informal Economy Budget Analysis: Accra Metropolis WIEGO Working Paper by Nicholas Adamtey.
---
Photo: Kayayei in Accra, by Jonathan Torgovnik, Getty Images Reportage