(Photo: Kayayei in Accra, by Jonathan Torgovnik, Getty Images Reportage)
COVID-19 Situation and Activity
On March 30, with 152 confirmed cases, the President of Ghana announced a two-week lockdown (described as a partial lockdown - stay at home orders exclude a list of exempted services that is more expansive than just medical and food; public transport is also allowed to operate but with reduced volumes) for the Accra and Kumasi metropolitan areas.
Impact on Informal Workers
For weeks Ghana focused on a strategy of containment and contact tracing. During the first weeks of March, the Accra Municipal Association (AMA) consulted closely with market traders on their needs, and subsequently equipped Accra's markets with water (Veronica) buckets and hand sanitizers. However, a lack of consultation with IHVAG (street vendors organization) and misinformation circulating posed a challenge for market workers – the government announced spraying to disinfect the markets but some traders were led to believe that the markets were then COVID-free. 
Since then, the spread has continued and Accra and Kumasi now have mandatory orders to restrict movement to essential services only.
All workers along the food value chain, including street and market vendors and fisherfolk, were classified as essential. However, some of these essential workers are being blocked by authorities, who ask for documentation to provide their occupation, which they cannot always provide. Within the restriction orders, formal sanitation and waste related activities are exempted, but informal waste pickers are not. 
In this Radio France International article, Focal City coordinator Dorcas Ansah and local street vendors explained the challenges in Accra's crowded markets as authorities try to impose conditions that are unworkable. 
On March 30th, the Finance Ministry produced a proposal on cash grants for informal workers (see page 14 here). Until the quarantine orders on March 30, the impact on workers was, as we understand it, mostly manifesting for street vendors (reduced demand, lack of required materials - face masks and sanitizers), while other groups carried on more or less as normal. The quarantine order drastically changed the situation.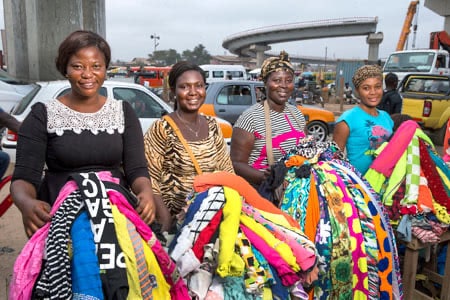 Kayayei (head porters): One of the most vulnerable groups, the kayayei are now out of work. In the wake of the ban many kayayei attempted to go home to rural areas in the north. We know that at least some of their transports were apprehended and turned back. 
Street vendors: Vendors were already suffering from reduced demand from customers afraid to purchase from them for fear of contagion. There was a brief bump in sales after the quarantine order was announced as the public rushed to purchase food. Now, only those vendors selling fresh fruits and vegetables are allowed to remain. Of these, some have been blocked from selling because they do not have ID cards that prove they are food vendors. For vendors that are continuing to work, there is a shortage of hand sanitizers and water in the markets. 
Waste pickers: Waste pickers are not allowed to work. We are exploring the impact on their sector now. Leaders of waste pickers at Kpone are recommending their members to stay home as they monitor the situation for some few days and many want to stay home for fear of contagion. A few, however, are staying at the site providing security and support services for members, some of whom do keep working. Waste picker leaders are purchasing soap and hand sanitizer with personal funds for members. 

Business Ghana article: Stakeholders urged to support and protect waste management actors amidst COVID-19
The Work in Accra
WIEGO's work in Accra began with a mapping exercise that explored spatial, political and economic aspects of the informal economy. It identified 16 hawking streets, 29 formal markets and 37 informal markets -- and found that no single public department is responsible for the informal economy.
In 2012, WIEGO's Informal Economy Budget Analysis found that, although informal workers generate a significant share of the city's revenue, the city was spending almost nothing from its budget on informal workers (for more, read WIEGO Budget Brief Number 5).
Since then, WIEGO has been working with a local network of membership-based organizations (MBOs) of informal workers, primarily street/market vendors and head porters, and an increasing number of waste pickers.
WIEGO's efforts in Accra are coordinated by Dorcas Ansah, who works to build the advocacy capacity of MBOs and to support them in demanding accountability from authorities. The work entails:
Capacity-building with workers in areas such as: policy advocacy, communications, leadership, governance, regulatory and legal frameworks and occupational health and safety.
Supporting MBOs in engaging in dialogue and negotiations with city and national public officials to share their issues and discuss policies.
Supporting MBOs in raising the visibility of their sectors and demands, including through creation of collective platforms of demands for advocacy and engagement with the media.
2019 Update on Activities
Engagement with lawyers and the city's Mayor
A legal engagement between street vendor and waste picker representatives and lawyers was held in May. Organized jointly with Advocates for Community Alternatives (ACA), which coordinates a network of West African public interest lawyers, the dialogue was a continuation of the Law Programme's work in Accra under the Administrative Justice Project. Workers spoke about their experiences with the law, and both lawyers and workers reviewed the current by-laws (issued 2019) that govern work in public space. The finding: that most of these by-laws criminalize informal work through a range of overlapping restrictions. This galvanized interest among the workers to learn more about by-laws that impact their work. A few concrete opportunities to collaborate with lawyers were identified.
Focal City Accra and the Law and the Urban Policies Programmes will take this work forward.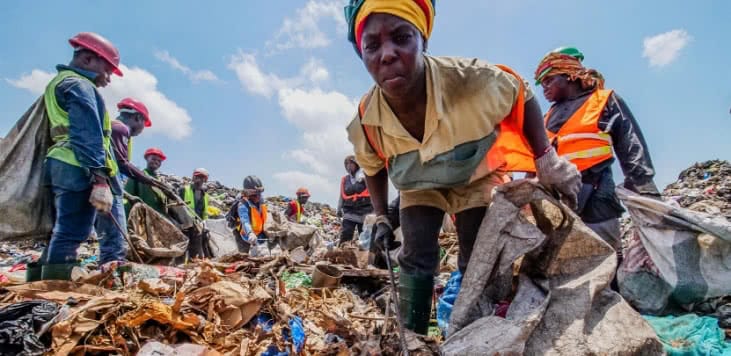 Watch Feeding Families: Meet Grace from Ghana (2 minutes).
The Kpone Landfill is slated to be closed. The Accra team has been working with waste pickers as they re-imagine their role within the solid waste management system and new ways they could be integrated if the landfill closes. At a workshop in June, waste pickers articulated several ideas for alternative forms of integration, including door-to-door collection. See WIEGO's position on dump closures.
Child care project with World Health Organization (WHO)
The Accra team worked with the Social Protection Programme through a WHO-funded study on breastfeeding and child care practices among women informal workers in Accra. Research is gathering baseline information for a project proposal that WHO intends to present to the Children's Investment Fund Foundation, which includes WIEGO as a key partner along with AeT, KENASVIT and IIHS.
A preliminary study of 42 women who work as kayayei, vendors and waste pickers found that the majority returned to work when their children were infants due to financial pressures. Waste pickers and kayayei said they provide most or all of the income to meet their families' needs. For those who worked in markets (vendors and kayayei), most must take their small children to work with them because there is no quality child care. While the waste pickers said children are not allowed on the landfill, some said they sneak their children in because they have no choice—this exposed children to hazards. All groups of workers said they lose income due to child care responsibilities, and most indicated they would be willing to pay a small amount to have nearby child care while they earned their livelihood. More about Child Care and Informal Workers.
Notable Gains
Negotiating for improved working conditions and social benefits - In 2011, through a multi-stakeholder workshop, informal workers engaged in negotiation with city and national government representatives for improved occupational health and safety (OHS) in informal markets. Negotiations focused on the provision of fire extinguishers in publicly owned markets, improving waste management, and on the clearing of clogged drains in and around market areas. Concessions from government included: fire extinguishers for public markets, clearing of a clogged drain, and the establishment of a monitoring committee to evaluate the effectiveness of private waste management companies. 
More about OHS gains in Ghana.
Health care access for head porters - In 2012 WIEGO facilitated a health policy dialogue between head porters, (known as kayayei in Ghana) and representatives from the National Health Insurance Authority and the Ghanian Ministry of Health. At the dialogue the kayayei shared their frustrations at the difficulty they faced in accessing health services due to high premiums and lack of clear information. Two important commitments emerged from the discussions: the NHIS agreed to a negotiated reduction in the annual premium (down to $2.50), and the NHIS agreed to hold a designated registration for the kayayei. During the registration over 1000 kayayei were registered. Read more about the health policy dialogue.
Dialogue between municipal authorities and street traders - In 2013, WIEGO facilitated a policy dialogue between informal street traders and officials from the Accra Metropolitan Assembly (AMA) and the Ga East Municipal Assembly.
Read more about how street traders made their concerns heard by municipal officials.
Advocacy to abolish the toll on kayayei - in 2016, MBOs met with representatives from all political parties in a town hall policy meeting. At the meeting, the candidates presented their proposals for policies and programs supportive of the informal economy. The MBOs responded by outlining their own proposals and concerns: chief among them, a toll imposed on kayayei by the Accra municipality. The toll assumes these workers are self-employed, when they are actually wage workers hired by market traders and customers. The New Patriotic Party (NPP) committed to abolishing the toll. During the meeting, the NPP also outlined additional proposals meant to benefit informal workers, which included a capacity-building project for market porters, development of funds for delivery of credit to market vendors, upgrades and improvements to market infrastructure, and the development of insurance policy schemes.
After the NPP was elected in 2016, kayayeis initiated a process of engaging with the new government to remind them to make good on their promise to abolish the toll. One of their first actions was to organize a victory march (in video below). The efforts of the market porters paid off. The new Finance Minister announced on March 2, 2017 that the toll would be abolished.
Resources and Publications
Accra, Ghana was one of ten cities studied in WIEGO's Informal Economy Monitoring Study (IEMS), an action research initiative that aimed to evaluate the realities, constraints and contributions of informal workers.
WIEGO Working Paper (Social Protection) No. 30. The Ghana National Health Insurance Scheme: Barriers to Access for Informal Workers (2013) by Laura Alfers.