Subtitle: WIEGO Technical Brief No. 10
Although informal workers make up the broad base of the work force in many countries, legal frameworks often fail to protect and support them adequately. Many informal workers operate within complex regulatory regimes, which are typically inconsistent, vague, and enforced by state officials in ways that are unlawful and procedurally unfair. This is particularly the case where the provisions in question afford officials wide discretionary powers. When state officials exercise these powers and/or duties in relation to informal workers, administrative law generally applies. Administrative law governs the daily business of government: typically, the application or implementation of policy after its translation into law.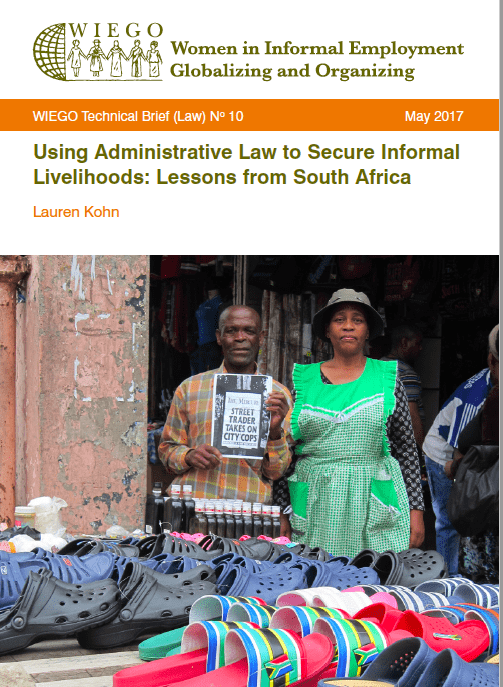 Street vendors and waste pickers work in public spaces that are managed by local authorities. As a result, the actions and decisions of local authorities directly influence their working lives. This document outlines the principles of general South African administrative law and the protections that it offers. It outlines how street vendors and waste pickers can use administrative law strategically in their dealings with the state. To this end, this brief provides examples of court decisions and other practical examples to show how street vendors and waste pickers can use administrative law to challenge decisions and actions that negatively affect them. This brief presents learnings from South Africa which may serve as a useful resource for informal workers in other countries with similar principles of administrative law.
This brief is part of the WIEGO Publication Series.
View list of all WIEGO briefs.