WIEGO's Organization & Representation Programme (ORP) helps informal workers' organizations build their organizational and leadership capacity, connect to each other, and align with allies as they fight to improve the working conditions and livelihoods of their members.
 

WIEGO Specialists

Jane Barrett
Director, Organization & Representation

Karin Pape
Deputy Director, Organization & Representation

Vanessa Pillay
Programme Coordinator for Africa 

Laura Morillo
Programme Officer (Home-based Workers), Latin America

Federico Parra
Regional Coordinator, Waste Pickers Latin America

Lucia Fernandez
Waste Pickers Global Coordinator

Taylor Cass-Talbott
Reducing Waste in Coastal Cities Project Officer

Katia Araujo
Programme Advisor (home-based workers)

Amira el-Halabi
Africa waste picker coordinator

 
---
Stronger Organizations Give Workers Voice
Workers in the informal economy – especially women – are the least able to make their voices heard by policymakers, governments, employers, international agencies and others with the power to affect their lives. Collective voice is key to improving the income, working conditions and status of women and men in the informal economy.
Strong, democratic membership-based organizations (MBOs) are the most effective way to create positive change because MBOs are created and controlled by the workers, rather than on their behalf.
Through MBOs, informal workers gain knowledge, skills, confidence, and solidarity, and can pool their resources. They can voice their demands to governments, companies, employers and other negotiating counterparts. Ultimately, they can fight for their rights as workers – rights to legal and social protection, to trade rights and financial services, and to resources, land and urban space.
WIEGO's Organization & Representation Programme helps build the capacity of MBOs, and in particular to support their national, regional and international networks. It helps to increase strategic linkages with the trade union and co-operative movements, the International Labour Organization (ILO), and other important allies.
We also conduct research into informal workers' organizations and into organizing and collective bargaining in the informal economy. And we create resources and worker education and advocacy materials that MBOs can use.
Helping women leaders gain the necessary confidence and skills to be effective is a high priority in all our work.
Goals & Activities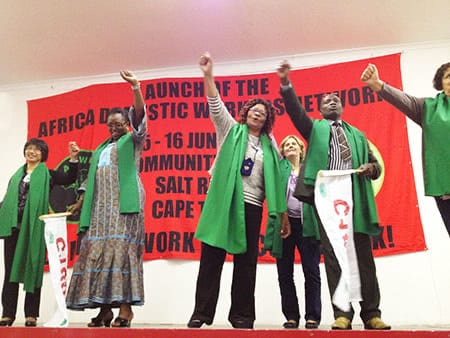 Most of our current work builds on past work and achievements.
Strengthening Organizations, Building Networks
Around the globe, informal workers are forming organizations and making progress. Small, localized associations are uniting into larger alliances in cities, countries, regions and internationally. WIEGO has played a role in building and facilitating these networks, helping to raise funds and providing capacity-building and technical support.
Domestic Workers: The programme provides ongoing support to the International Domestic Workers Federation (IDWF) as it coordinates with local organizers to see the international Convention on Decent Work for Domestic Workers (C189) ratified and implemented in countries around the globe. WIEGO also offers technical support and training to national and regional organizations. For example, Karin Pape, our Europe Advisor, acts as the IDWF's Regional Coordinator. Also, ORP provides ongoing support to the development of the African Domestic Workers' Network, including by facilitating strategic planning sessions to define goals and objectives for the burgeoning network. This work builds on the Domestic Workers' Leadership for Empowerment project.
Home-Based Workers: MBOs, groups of home-based workers and supportive NGOs have joined together to form national and regional HomeNet organizations. ORP offers ongoing organizational development and capacity-building assistance to the regional HomeNet organizations and their affiliates – HomeNet South Asia, HomeNet Southeast Asia and HomeNet Eastern Europe – and has historically played a role in establishing some country networks (e.g. HomeNet Thailand and HomeNet Pakistan).
WIEGO mapped home-based workers and their organizing activities in Africa and Latin America. Regional workshops have been held for home-based workers and support groups in these regions. Globally, home-based workers have had an opportunity to connect through exposure visits: East Europe to India; India, Sri-Lanka, Pakistan and Nepal to Kenya. Work is ongoing to strengthen the global movement and to establish and international HomeNet.
In 2016, WIEGO has been supporting home-based workers in commemorating the 20th anniversary of the adoption of ILO Convention 177 on Home Work.
Street Vendors: ORP played a role, alongside the Self-Employed Womens' Association (SEWA), in helping establish the National Association of Street Vendors of India (NASVI). In 2014, SEWA and NASVI were instrumental in getting the Street Vendors (Protection of Livelihood and Regulation of Street Vending) Act passed, making India the first country to adopt progressive, centralized legislation in favour of street vendors.
We support the organizational development and the worker education activities of StreetNet International on request.
Waste Pickers/Recyclers: WIEGO and partners support waste pickers/recyclers to network globally through the Global Alliance of Waste Pickers, and host a website dedicated to news from grassroots waste picker groups: www.globalrec.org. We also support the development of local MBOs and national networks, including intensive projects supporting integration of waste pickers into solid waste management systems in key cities such as Pune, India and Bogota, Colombia.
WIEGO helps waste pickers develop common policy positions and represent themselves in global forums.
Linkages to the Trade Union and Co-operative Movements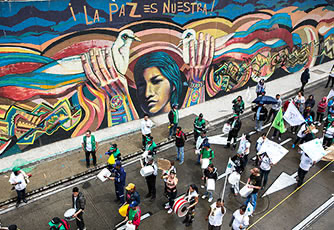 WIEGO provides technical and strategic support for promoting the organization and representation of informal workers within the international and national trade union and cooperative movements.
The trade union movement has recognized the need for informal workers to organize. In some cases, new unions of informal workers are being formed, or informal workers are joining existing unions. WIEGO works with informal workers' organizations to help them build on, strengthen and sustain these positive developments. In 2014 and 2015 WIEGO facilitated the participation of informal workers in the International Labour Conference on Transitioning from the Informal to the Formal Economy, and built links with the trade unions and the ILO through that process. Also, through WIEGO's Regional Advisor in Europe, we are working with the union movement and NGOs to encourage the organization of informal workers in Europe, especially domestic workers in West Europe and home-based workers in East Europe.
WIEGO is an associate member of the International Co-operative Alliance (ICA). ORP, along with other WIEGO teams, brought informal workers and their issues to an ICA Expo in October 2012. The delegation hosted a booth and informal worker representatives presented on their organizations. The concept of informal workers as workers is not generally part of the co-operative movement's discourse, so this event was a step towards raising awareness. Linkages have also been strengthened with the ILO Cooperative Unit.
Global Advocacy
A major objective of WIEGO is to bring informal workers' voices to the world stage. To this end, WIEGO has regularly worked to support MBOs in the development of common platforms of demands to present at international fora. For example, WIEGO and its partners hosted regional workshops in 2014 to ensure the voices of informal workers were integrated into a common Platform dealing with issues of transitioning from the informal to the formal economy. Representatives of domestic workers, home-based workers, street vendors, waste pickers, and other workers came together in Argentina, Peru, South Africa, and Thailand. The Platform was widely distributed by a delegation of informal workers/organizers, at the standard-setting discussion on the "Transitioning from the Informal to the Formal Economy" at the International Labour Conference (ILC) 2014. Read more about the process of preparing the Platform.
In 2016, WIEGO facilitated the creation of a Platform of Demands on Decent Work for Homeworkers in Global Supply Chains. The platform incorporated the inputs of thousands of home-based workers from around the globe, and was presented by home-based worker representatives during the 2016 ILC on decent work in global supply chains.
See more details on global advocacy work under Impact & Achievements, below.
A Growing Knowledge Base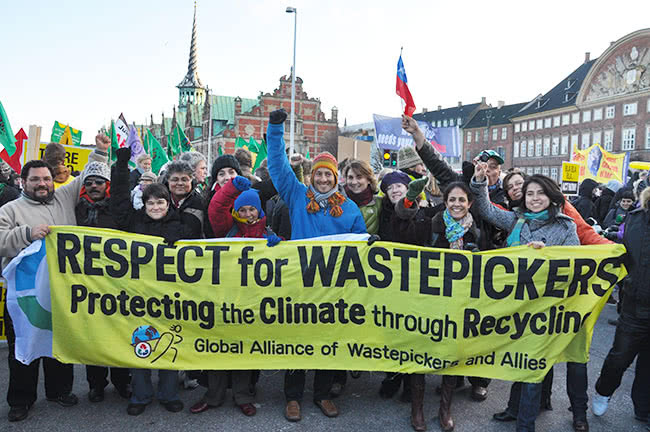 Organizing and Collective Bargaining Models and Strategies
Our research and documentation on MBO organizing models and strategies continue to expand the knowledge base and provide information for informal workers' organizations. Recent publications include:
See the Organizing Briefs section of WIEGO's Publication Series for more.
In 2012, WIEGO and the AFL-CIO's Solidarity Center in the USA collaborated on research into collective bargaining in the informal economy. Five case studies dealing with different occupational groups and regions were produced, along with an overview of the research by Debbie Budlender. In 2016, Pat Horn produced a report on collective bargaining in the street vending sector.
See Organizing and Collective Bargaining for additional information and resources.
Capacity Building and Training Materials for Workers
WIEGO helps build the organizational and management capacity of its members/partners and develop worker education materials and skills on organizing informal workers and policy issues. To access these materials, see Worker Education and Capacity Building Resources.
Notable Gains