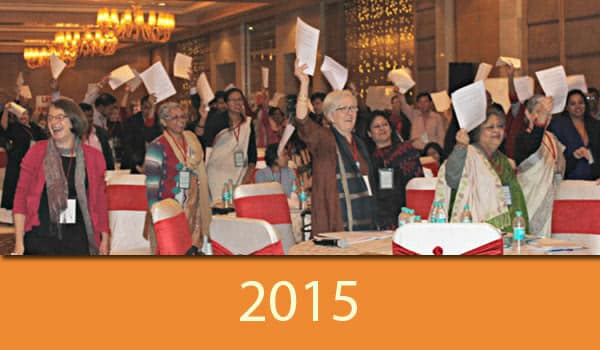 Historic Delhi Declaration of Home-Based Workers Approved
"We, the members of 60 networks, associations and trade unions of home-based workers, together with non-governmental organizations (NGOs) and researchers from 24 countries, met in New Delhi on the 8th and 9th of February 2015 at the Global Conference of Home-based Workers, jointly organized by HomeNet South Asia (HNSA) and Women in Informal Employment: Globalizing and Organizing (WIEGO)."
Read the full Declaration: English | español
Download the five-year action plan: English | español
About the HomeNets and WIEGO
HomeNet South Asia is a network of home-based worker organizations. It was established after the Kathmandu Declaration was adopted at an international conference in Nepal in 2000. The conference was supported by UNIFEM and SEWA. WIEGO provided the technical and research foundation on which the Kathmandu Declaration was based and since then has provided continued support to the movement of home-based workers across the world. HomeNet South East Asia has been active for more than 15 years. In 2013, HomeNet Eastern Europe was formally established.
The HomeNets have been particularly active in promoting the visibility of home-based workers – mainly women – within Asia and within global forums. It is hoped that these efforts to form broader global ties will encourage home-based workers to organize and develop networks in other regions of the world so their voices can be heard and their working lives improved.
Resources
The Global Conference is part of Securing Economic Rights for Informal Women Workers, a project sponsored by the Ministry of the Netherlands.