Hero Image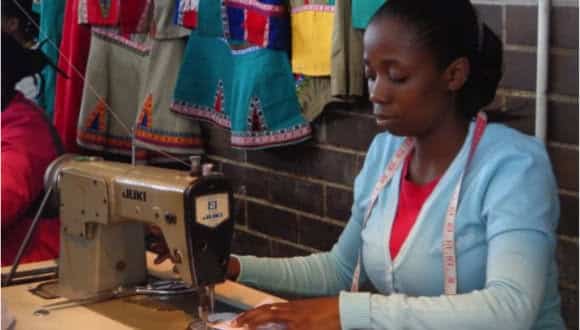 Over the last couple of weeks, we've been exploring technologies used by informal workers to improve their productivity and some of the challenges they face in upgrading this "technology" – often simple tools, such as knives, ropes and wheelbarrows. The results are based on a report conducted by WIEGO and Practical Action with support from the Rockefeller Foundation. This week, we'll look at how one worker in Durban, South Africa, uses technology to improve her livelihood.
Thirty-three-year-old Sizakele Ncube, based in Durban, South Africa, has had a passion for sewing since childhood. She began making clothes for her dolls when she was young, and today she runs a successful tailoring business in the popular Warwick Junction market. For her one-woman operation, Sizakele doesn't need much: around her small stall hang the colorful uniforms she stitches for popular African independent Church groups as well as locally purchased fabrics, an iron, a tape measure, cotton, needles, and, of course, the business' centerpiece: a Juki industrial-grade sewing machine. This technology, which Sizakele bought shortly after she took over the business in 2006, has allowed her to increase her income – though it still requires basic infrastructure (in the form of electricity) that can be challenging to access at the market.
When Sizakele took over her market stall from an elderly women, she used a standard Singer sewing machine. Two years later, she managed to buy the Juki second-hand from a factory in the area. The R2600 (USD$193) investment proved to be a worthwhile upgrade. She can sew faster on the new machine, and it produces straighter and neater lines. Now, she makes up to six garments per day and earns between R3000-R4000 (USD$222-296) per month – a significant improvement from the two garments daily she was able to produce on the Singer, which limited her income to just R1000 (USD$74) per month.
Sizakele's business has also improved because of another important piece of technology: her cell phone. With this, she can take clients' orders without having to travel, increasing the time she can be at her machine. And when orders come in from further afield, like Cape Town, she gets her clients to SMS their measurements so that she can make their garments to order, an arrangement which has enabled her to expand her client base beyond her immediate geographical reach.
Photo: A. Devenish.
Improved Technology Requires Improved Services
Better technology has certainly played a central role in improving Sizakele's livelihood. Still, these upgrades come with challenges, some of which are out of her control. The Juki requires very little maintenance – only an annual R200 (USD$15) for servicing and regular oiling – but it requires electricity to run. Basic services in the market can prove challenging. In Sizakele's area of Warwick Junction, the electricity supply regularly – about twice per week – overloads and cuts out, often for the whole day. In this time, Sizakele can only cut material while
she waits. 
The down time hurts Sizakele's business, sometimes for the long-term. If a garment is not ready for collection by the agreed upon date and time, the customer will often cancel the order all together and demand a refund. The situation reinforces the need for improved infrastructure in markets to provide increased security for vendors' livelihoods.
Another worry for Sizakele is where to safely store her sewing machine each evening. When she closes shop at 4:00 p.m., she packs up her machine, tools and stock in metal trunks and wheels them on a low trolley to a storage facility nearby. She pays R10 (USD$0.74) a week for the storage, and, luckily, her machine has been safe there.
Sizakele's Ideas for a Better Market
Sizakele knows very well how her work could be improved and better supported by authorities. Her ideas are, in fact, low-cost and doable. One suggestion is to add a specific kiosk for each of the traders where they could lock up their machinery and stock safely at the end of the day. It takes time and energy to pack up her stall and all its belongings each evening and move it all down to the locker. It would also be good, she observes, to have a designated space within her market area for dressmakers, so that their customers know where to find them.
Sizakele's story shows how informal workers take steps to improve their livelihoods while always weighing the risks that surround their workplace. Some of those workplaces – public space for street vendors, for example – carry different risks for different reasons. Sizakele thinks those risks can be reduced for her business and those of other vendors in Warwick Junction with a few simple steps. With the increased security, she would perhaps take the next leap into even better technology and, over time, steadily see an improvement in her income and business prospects.
Top photo: A. Devenish
Annie Devenish is a South African historian with a research interest in gender, development and identity politics. She currently holds a post-doc in the School of Law at the University of KwaZulu-Natal.
Related Posts
Informal Economy Topic

Occupational group

Region

Language
Wiego on Twitter