Hero Image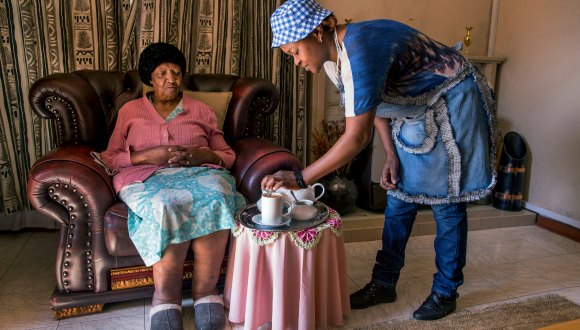 16 June 2011 was a historic day for domestic workers around the world: The Convention Concerning Decent Work for Domestic Workers (C189) was adopted during the International Labour Conference in Geneva, Switzerland. This document was the result of years of struggle by organized domestic workers and their allies at the national, regional, and international levels.
The value of C189 is not only legal, but also cultural. The recognition of domestic workers has meant that they are no longer regarded as being "like family", but as workers, which, in turn, implies the urgency of creating fairer homes.
The Genesis of C189
Although C189 was adopted in 2011, the efforts to attain it began years before. These efforts included a couple of global meetings involving regional and international organizations of domestic workers. The first one took place in 2006 in the Netherlands, and the second one in 2008 in Switzerland. During those meetings, a decision was made to create an international network of domestic workers, and a campaign was formulated to push for the attainment of an International Labour Organization (ILO) Convention that would recognize domestic workers' rights. The International Domestic Workers' Network (IDWN) was created in 2009 and spearheaded the international campaign that led to the adoption of C189.
Read about the efforts made by domestic workers to achieve the adoption of C189
According to the ILO (2013, 43), domestic workers represent between 4 and 10 per cent of the total labour force in developing countries, and between 1 and 2.5 per cent of the total labour force of developed countries. C189 recognizes the rights of this group of workers, including the right to social security, a minimum wage, a work schedule, overtime compensation, periods of daily and weekly rest, paid vacations, and the negotiation of working conditions through written contracts.
See a list of countries that have ratified C189
The Global Movement for Domestic Workers' Rights
In 2013, the IDWN took the next step as a global organization of domestic workers and became the International Domestic Workers' Federation (IDWF) in Montevideo, Uruguay. The IDWF supports national domestic workers' organizations to push for the ratification of C189 in their countries, and promotes the organizing of domestic workers in trade unions in places where they do not yet exist.
Read more about the formation of the IDWF
In 2016, the IDWF will launch the campaign "My Fair Home", which began in 2015 in cooperation with the ILO. The campaign invites employers to personally sign a commitment to fulfill within their homes the basic protections provided for by C189.
"My Fair Home" will be launched internationally on the 16th of June and will be spearheaded by several organizations affiliated to the IDWF, such as the Hong Kong Confederation of Trade Unions (HKCTU); the Conservation, Hotel, Domestic and Allied Workers Union (CHODAWU) in Tanzania; and the Centre for Support and Training for Domestic Workers (CACEH) in Mexico.
Global Campaigns at the National Level
In the case of Mexico, CACEH began to work with the employers sector in 2010 in the context of a campaign similar to "My Fair Home". As a result of this work, in 2015 they introduced "Home Fair Home", a campaign through which employers come together in one voice to promote the ratification of C189. CACEH, "Home Fair Home" and the National Domestic Workers' Union (SINACTRAHO) will join the "My Fair Home" global campaign.
SINACTRAHO and CACEH launch "My Fair Home" campaign. Photo: SINACTRAHO
Marcelina Bautista is one of the three Secretaries-General of SINACTRAHO, and she has emphasized that domestic workers do not want to be adopted by the families of the homes where they work, but rather want their rights recognized. When domestic workers are considered "like family", their rights are negated and their working conditions get subordinated to the values of the employer family or to the feelings that surround a labour relation that is not officially recognized, which in turn implies a high level of vulnerability.
It is for this reason that domestic workers are not seeking that families become "better families." Instead, they want homes to be "fairer homes"—as work places. 
Although C189 has not been ratified by Mexico, SINACTRAHO maintains a training campaign to explain the Convention—its existence, contents, and achievements—to domestic workers. It also seeks to attain compulsory social security benefits for domestic workers and to raise awareness among them about the need to understand the importance of being insured. 
Marcelina also mentions that domestic workers have learned that often there are employers who ignore domestic workers' rights. Yet, when they learn about them through the campaigns, they decide to join in the efforts to recognize those rights. However, there are often obstacles: for example, there are no non-bureaucratic ways to enroll domestic workers in social security schemes or official wage scales to determine a fair remuneration.
Employers in Mexico join the campaign "My Fair Home". Photo: SINACTRAHO
C189 has reached its 5th anniversary and in its early stages it holds enormous potential for future changes. Let's celebrate the transition that has already started, where domestic workers are emancipated from the families that employ them and consolidate themselves as what they are: domestic workers.
Recommended Reading:
Celebrating International Domestic Workers' Day with Myrtle WItbooi, Pioneering Activist for the Movement.
Top photo: Jonathan Torgovnik/Getty Images Reportage
Related Posts
Informal Economy Topic

Occupational group

Language
Wiego on Twitter