International Domestic Workers' Federation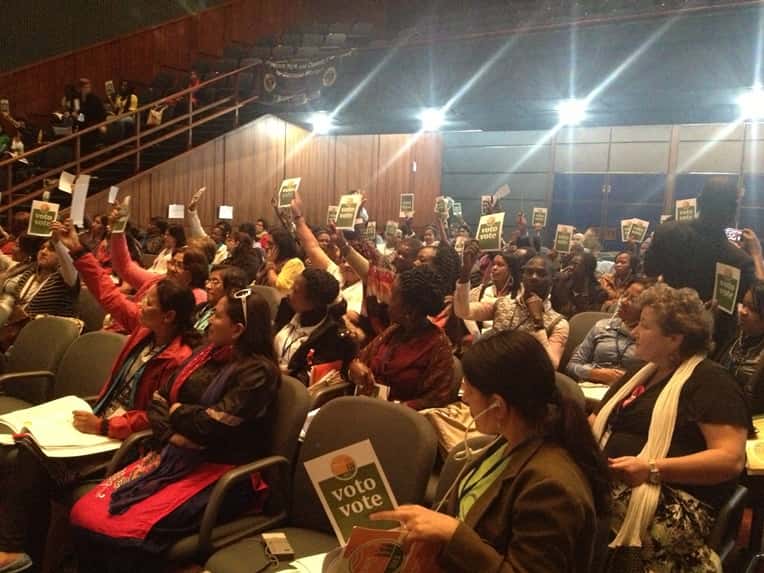 In 2013, the International Domestic Workers' Network transformed into the first global union organization run by women: the International Domestic Workers' Federation (IDWF).
The transformation occurred at a founding congress in Montevideo, Uruguay, 26-28 October 2013. On the final day, delegates from domestic workers' organizations around the world unanimously voted to create a federation. In this Global Labour Column article "Yes we did it!" WIEGO's Chris Bonner, Barbro Budin and Karin Pape capture how this was achieved, and the jubiliation that accompanied it. 
Historically, domestic workers who work in others' homes have been invisible — overlooked as workers and denied basic rights. They made great strides, however, in recent years. In 2011 they were victorious in having governments, employers and workers adopt the Convention (C189) and accompanying Recommendation on Decent Work for Domestic Workers at the International Labour Conference. By 2019, 28 countries had ratified C189.
For years, WIEGO has provided both financial and technical support to help create and strengthen an international network of domestic workers and help secure C189. See this IMPACT story for more about WIEGO's role.
The transformation from a network into a formal federation proves that all workers, no matter how isolated or overlooked, can be organized to fight for their rights.
Myrtle Witbooi, a South African domestic worker activist and former chair of the IDWN, was elected the first president of the IDWF. Elizabeth Tang became its General Secretary.  
The historic congress concluded with a visit from the President of Uruguay, Mr. José Mujica (commonly known as 'Pepe'), who made a speech expressing his pride in the progress his country has made to improve working conditions and recognition for domestic workers.
Related Reading
Yes We Did It! (written by Celia Mather and produced by WIEGO and IDWN) is the story of how domestic workers and allies achieved the C189, the Convention for Domestic Workers' rights. Read it in English or Spanish. 
Keep up with the latest news and developments at IDWF's website.