Hero Image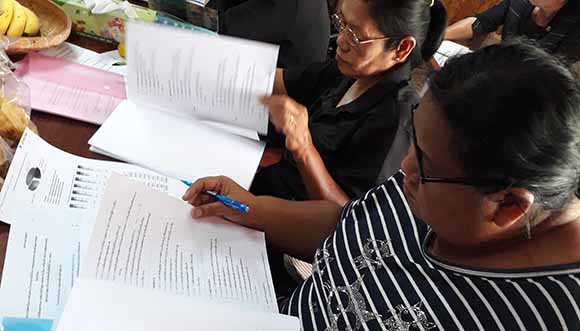 By
Chidchanok Samantrakul,
Sarah Orleans Reed,
Suntaree H. Saeng-ging
Thailand is a global innovator when it comes to health promotion and prevention practices. Its Universal Health Coverage (UHC) system was built on the principle of people's participation. Since its founding, UHC has institutionalized processes for marginalized groups to voice their health service delivery needs.
Yet one important initiative, the Local Health Security Fund, has shown that drawing up health innovations is just the first step. Ensuring they reach the people who need them most must be a greater priority – one that HomeNet Thailand has taken on with great success.
A "remarkable" mechanism to improve workers' health 
The Local Health Security Fund (LHSF) was set up to provide opportunities for a wide variety of groups and organizations – from public hospitals and primary health care clinics, to schools and community associations – to manage their own health-related initiatives. The National Health Security Office (NHSO) and municipal government contribute a budget to this fund, which is administered by local committees at the municipal or district level. Groups, including membership-based organizations (MBOs) of informal workers, can apply directly for funds from the LHSF.
For informal workers who take on the most risky, strenuous, and physically repetitive jobs in our economies, the fund opens the door for innovative, collective action. Several examples demonstrate these possibilities: A farmers' cooperative in Kanchanaburi Province has supported blood tests for group members to raise their awareness about exposure to chemical fertilizers and pesticides. Homeworker groups who produce fishing nets in Khon Kaen city and shoemakers in Surin province have used funds for occupational safety and health trainings and health check-ups. In Supanburi Province, home-based workers used the fund to host aerobics classes. This activity has not only helped to relieve work-related stress, aches and pains, it has also strengthened relationships among cooperative members and raised awareness on workplace health and safety.
In this way, the LHSF represents a remarkable, decentralized mechanism for OSH promotion for informal workers.
Who knows about it? 
But there's a hitch. In reality, few "peoples' organizations" are able to access the fund. Workers or other community leaders frequently lack awareness and information related to the LHSF, and others are just too intimidated by the application process. Municipalities are not always helpful: some officials even discourage peoples' organizations from applying. Today, these groups are the least likely to apply for or to access the fund, and a significant portion of the budget goes unspent each year.
HomeNet Thailand is seeking to bridge this gap and empower informal workers to access the fund. This year, it has trained 50 workers from 25 municipalities across Thailand's four regions on fund regulations, administration, and application procedures.
Training provides strategies in leveraging the funds
WIEGO joined a training session in Central Thailand, attended by 14 leaders of worker groups from Kanchanaburi, Supanburi, Ratchaburi, and Samut Songkram provinces. The leaders represented farmers and home-based workers engaged in leatherwork, food processing, blanket making, and seafood shelling. Thanks to their previous work with HomeNet Thailand, several groups had already diagnosed the distinct occupational safety and health (OSH) issues in their work places. These include chemical exposure (farmers and leather workers), muscle pain from extended working hours in seated positions (leather workers and seafood shellers), respiratory problems from inhaling particles (blanket makers), and burns from hot oil (food processors). 
The workers were joined by trainers from HomeNet Thailand, an officer from Nakornpathom Municipality, and a nurse from Somdej Phraphutthaloetla Hospital in Samut Songkram province. Trainers introduced the LHSF, its objectives and regulations, and examples in which worker groups had successfully leveraged it. Recipients must use funds for activities, rather than purchase of equipment or supplies. 
Understanding the fund's local administrative structure can also help workers to gain better access. The management committee usually includes representatives of communities, health volunteers, and a representative of the NHSO coordination centre. The mayor normally acts as the committee chairman. These committee members can offer valuable advice or feedback in advance of application submissions. 
But leaders can take this a step further: where there is a vacancy, workers can seek appointment to the committee and thus raise the profile of community and worker groups. As described by HomeNet Thailand's Suntaree Saeng-ging: "Being on the community health committee helps to bring good projects to our sisterhood. It may require extra energy, but seeing our sisters have a better quality of life is priceless."
Workers participate in training on accessing Local Health Security Fund. Photo: HomeNet Thailand
Workers take control of their health
During the trainings, workers sat together to list and prioritize the OSH challenges facing each of their groups. Participants were soon putting pen to paper, designing interventions geared toward their specific occupational challenges. These ideas will eventually become applications for financial support from their local LHSF committees. 
Producers of a specialty fish snack are new to OSH; therefore, group members will propose to undertake an initial diagnosis of work-related hazards. Seafood shellers are collaborating with the representative of the NHSO Coordination Centre and an OSH expert from Mahidol University to analyze their current work postures and develop new, healthier alternatives. 
Leatherworkers in Ratchaburi are concerned about chemical hazards and will propose an OSH training on the use of safety masks. Blanket makers in Supanburi will promote occupational health awareness and their workplace safety guidelines through community radio and trainings. 
Farmers in Kanchanaburi have already received support from their CHF for medical and blood check-ups aimed at detecting chemical exposure. They will organize an intensive training course for leaders to visit group members, with an additional incentive for behaviour change: presenting awards to those who most dramatically reduce their use of chemical inputs.
HomeNet Thailand is now reviewing proposals from workers, making suggestions for presentation before workers submit to their local committees. They have committed to helping participants until each proposal is finally funded.  
Ensuring progressive policies reach workers
Achieving Universal Health Care in Thailand was a decades-long struggle. It was fought by a social movement committed to creating people-owned service delivery mechanisms like the LHSF. As with any social innovation, the work goes on long after the initial achievement to ensure that people have the awareness and skills to use their new tools. 
HomeNet Thailand's members are using the LHSF exactly for what it was designed to do: creating new collective solutions to collective problems. Perhaps most importantly, they are showing – not just telling – network members how to tap into LHSF and other local funds available to communities. The result will be health solutions and interventions that begin to meet the diverse needs of workers' groups – and a model for how to integrated informal workers' health needs into local health systems.
Read "Four Lessons from Thailand's Participatory Process in Gaining Universal Health Coverage".
Top photo: Workers participate in training on accessing Local Health Security Fund. Photo: HomeNet Thailand 
Related Posts
Informal Economy Topic

Occupational group

Region

Language
Wiego on Twitter