Hero Image

Next month, we'll find out if director Alfonso Cuarón Orozco's moving portrayal of a domestic worker in 1970s Mexico will gain nods from the Academy with an Oscar. Having recently taken home "Best Picture" at the Critics' Choice Awards, hopes are high.
The movie has brought much-needed attention to this work in Mexico, where there has been a turn in public perception and related policymaking. The Supreme Court reversed an earlier decision and extended social security protection to domestic workers.
At the same time, Mexico's new president, Andrés Manuel López Obrador, declared that he would send the Decent Work for Domestic Workers Convention (C189) to the Senate for a ratification vote.
Mexican domestic worker leader Marcelina Bautista, who was invited to speak at Roma's launch in Mexico City, was interviewed by the Guardian about the movie's success. She said that the movie's release was "raising consciousness." She added, "Many domestic workers really identify with the film."
Yet before Roma brought the lives of domestic workers onto theater screens across the world, these workers have been organizing and fighting for their rights, winning victories at the highest levels. Their achievements have come through a lot of hard work, focus and persistence.
This week, we've curated a selection of articles that look back at the historic C189 victory, the situation of workers in countries across the Global South, and what is next for the movement.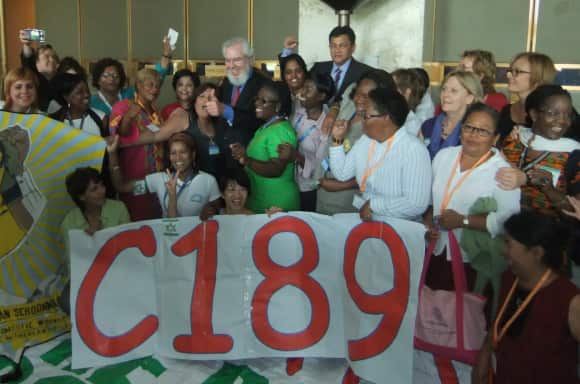 By Celia Mather
In 2011, the world's domestic workers achieved a major step forward in extending worker and human rights with the International Labour Organization (ILO) Convention No. 189 (C189) on Decent Work for Domestic Workers (or C189 for short) and its accompanying Recommendation (R201). In less than a decade, a huge momentum was built, and then a surprising and overwhelming majority of governments agreed to these global instruments. Read more about how domestic workers achieved this major victory.
By Leslie Vryenhoek
Roma brought us inside the world of Mexico's domestic workers, but our writer Leslie Vryenhoek was able to visit domestic workers in South Africa to see what their daily lives and struggles were like. She shadowed Anna Nkobele, who has cleaned, laundered and provided child care for Tineke Wulffers for 20 years. She tells us more about her life as a domestic worker.
This podcast is part of a series of interviews conducted by WIEGO's Delhi Focal Cities Coordinator Shalini Sinha. In this episode, she discusses domestic work in India's urban centres and investigates some of the challenges particular to the country and what needs to be done to improve working conditions for these invisible workers.
By Pablo Castaño
This Policy Brief explores domestic worker struggles in Bolivia. It concentrates on laws and policies applied by the government of Evo Morales (2006 - present) as well as the unfulfilled demands of the social movement of domestic workers.
by Pamhidzai H. Bamu-Chipunza
Although 16 June 2011 was a momentous day for domestic workers, has it made an impact in the every day working lives of those who toil as cooks and cleaners in private-home workplaces across the world? This article, by one of our legal experts, looks closely at how the expectations for change have played out in reality — and what is left to do.
Para leer este artículo en español, vea aquí.
Feature photo: WIEGO
Related Posts
Informal Economy Theme

Informal Economy Topic

Occupational group

Region

Language
Wiego on Twitter