Accra, Ghana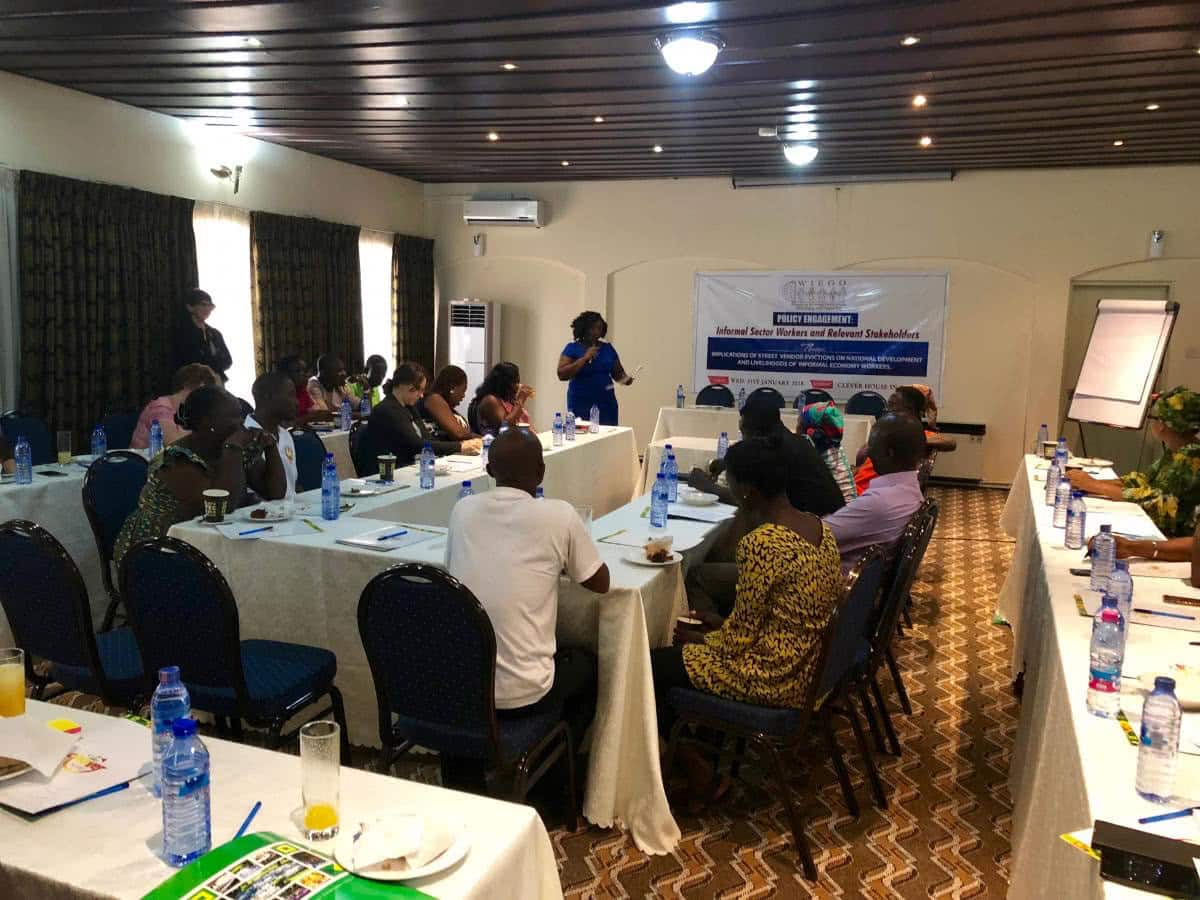 "Concerning the evictions we know we are a part of Accra, we pay taxes, some of us keep our receipts, we are doing our best but with evictions our policy makers don't include us, they make their decisions without us and then come and chase us out. You will see 'remove' written on your booth. We are pleading, we are all playing a part in building our mother Ghana, just find us a place where we can go before evictions take place. Most of us take loans before we start trading, but then when evictions take place we cannot pay. Where are we going to sell? And where will we make the income to settle our debts?"
- Vida, Vice President of Informal Hawkers and Vendors Association of Ghana (IHVAG)
On January 31, 2018, WIEGO, together with the Informal Hawkers and Vendors Association of Ghana (IHVAG) hosted a multi-stakeholder dialogue on the recent evictions of street vendors from public space in Accra's city center. The consultation brought together street vendor representatives and public officials from different areas of local and national government – including the Accra Metropolitan Assembly and the Ministry of Gender, among others. The consultation marked the first opportunity for vendors and government officials to engage in dialogue since a "decongestion exercise" was initiated in early January, where street vendors were forcibly removed from sidewalks, pavements and footbridges. 
The consultation provided an opportunity for key stakeholders to engage in dialogue about the inclusive management of public space in Accra. The consultation concluded with agreement on a set of key points including the need for:
A common definition on different types of vending in Accra.
Data on vending and taxes paid for vendors – to help in formulation of policies.
AMA to consult with proper vendor associations who will disseminate information to vendors. If vendors are not getting information and are not involved in dialogue, no solutions can be reached. 
Ensurance that all associations are properly registered so that they can be consulted. 
Review of policies and by-laws to update those that are outdated and don't fit the current reality. 
Common, united front among and within vendor associations.
Collaboration on how to keep the city clean – in the common interest of all.
Participatory values in all the work we do.
Dialogue to continue and to return with proposals for ways forward.
Learn more about WIEGO's Focal Cities Accra work
Read about WIEGO's perspective on inclusive urban development in Accra on our blog