Women's Economic Empowerment - Home-Based Workers
Organized Strength for Home-Based Workers was a research and advocacy collaboration between the WIEGO Network and HomeNet Thailand.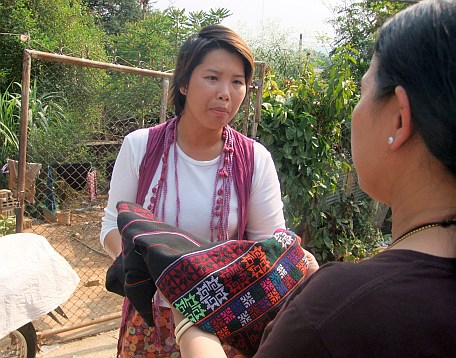 Launched in 2008, the project helped develop an Informal Sector Network in Thailand and broadened support for informal workers beyond home-based workers. Particular progress was achieved in moving toward a more membership-based organization (MBO) model from the existing NGO model. Collective organizing can lead to improved income, legal status, working conditions and livelihood security.
One of the intended results of the project was the improved legal status of informal workers in Thailand. HomeNet Thailand successfully campaigned for the enactment of a national law protecting homeworkers, ratified in 2010. The law provides for protection of wages – including equal pay for men and women doing the same job – as well as occupational health and safety and responsibilities of employers toward homeworkers. It also establishes a Committee for the Protection of Homeworkers on which both men and women will serve, ensuring women have a role in decision making. As many as 2 million workers are affected by this legislation. Read Winning Legal Rights for Thailand's Homeworkers.
Further evidence of the significant impact of this project is found in the increased ownership and commitment of HomeNet Thailand members. By project's end, more than 3,000 members were paying membership fees.
Training was provided in response to the identified needs of MBO members and delivered at two levels – for leaders and for members – and delivered by both academics and practical resource people. For example, HomeNet Thailand board members identified three training needs: MBO organization, OHS promotion and policy advocacy skills. The project team would then follow-up with trainees to see whether training affected behavior change. The approach to training was intended to promote sustainability.
Countries of Activity: Thailand for direct project activities; Laos, Cambodia and Vietnam for shared learning in relation to occupational health and safety
Description of Activities
Strengthening Informal Workers' Organizations
The Foundation for Labour and Employment Promotion(FLEP, the host organization of HomeNet Thailand and an affiliate of HomeNet South-East Asia.) and HomeNet Thailand have strengthened their networks by adopting the concept of membership-based organizations (MBOs) since this project's inception in 2008. This has had the support of UNIFEM and the Federation of Dutch Labour (FNV). In 2009, the focus of the projects was on strengthening informal workers' organizations, particularly those of home-based workers located in Thailand's northern, central, northeastern and southern regions. FLEP also supported meetings, workshops and development of informal workers' leaders. Training sessions were held for 184 leaders and members of the networks from all regions to improve their knowledge and capacities in understanding MBOs, legal and policy advocacy, gender issues, access to public resources, group management, and coordination with support organizations at the local and provincial levels.
Throughout 2009 and 2010, strategic meetings were held at the regional and national levels. The focus was on membership recruitment, campaign for the provision of legal protection of home-based workers and Section 40-oriented social security, old age pension and the networks' management.
In March of 2010, six representatives from Thailand were able to take part in a trip to India to learn from the Self-Employed Women's Association (SEWA). Since 2010, an Informal Workers Newsletter has been produced quarterly to keep members informed of project activities. Also, the informal workers' website has been improved to enable members and the interested public to monitor Network activities.  
The project was granted an extension by the funder, the Dutch Government, in 2011 to continue compiling lessons learned for dissemination. Plans have been made to create published material in both English and Thai to increase the impact of the project by reaching key target audiences globally. In addition, the project identified new government opportunities and will continue advocacy efforts regarding policy on social security for informal workers and the Home-workers Protection Act. These opportunities can strengthen MBOs of home-based workers while increasing their access to social protection.
Building of Economic Capacity
In 2009, the Ministry of Labour conducted the seminar "Informal Workers: The Ministry of Labour's Next Step". HomeNet Thailand  presented suggestions, particularly the need of building economic capacity for home-based workers. The Ministry of Labour was also asked to coordinate with other government agencies to provide spaces for home-based workers' groups to market their products and grant the Networks' members consideration for government procurement of goods. Subsequently, HomeNet Thailand/Bangkok and FLEP coordinated with the Bureau of Policy and Strategy and the Ministry of Labour (Office of the Permanent Secretary) to provide areas where  Network's could sell their goods. Fifty-nine producer groups joined this activity.
These government agencies provided stall space:
Ministry of Commerce
Social Security Office
Department of Land Development
Ministries of Agriculture and Natural Resources and the Environment
The Network also organized capacity-building activities for its members:
HomeNet Thailand/Bangkok was commissioned to produce 5,000 bags to be given to the participants of the seminar held by the Office of the National Health Security.
HomeNet Thailand/Central Region organized a training session on book-keeping, and cash and inventory management for 15 members of the Ban Wang Loom Phong Weaving Group of Suphan Buri's Uthong district.
HomeNet Thailand/Southern Region organized a training session on group management and production for members of the veil embroidery and dressmaking groups of Narathiwat province. In addition, a seminar on the "Role of government agencies and local administrative organizations in supporting informal workers" was held for Network members in the southern region to discuss ways to get access to public resource.
Promoting Occupational Health and Safety (OHS)
FLEP and HomeNet Thailand continue a campaign for the promotion of OHS to address the problems that adversely affect informal workers' quality of life. Training sessions have provided informal workers' leaders with the knowledge and skills in occupational safety so that they can share lessons with their members. The project focuses on encouraging informal workers to change behaviors and improve their working environment. The objectives are to: monitor group's performance; assess worker's knowledge and skills; set up a code of conduct for reducing risks; produce tools to monitor the improvement in occupational safety, and provide training on OHS for new members. The outcomes were:
Eight model groups were selected from the networks located in the northern, central, northeastern and southern regions (two from each region). In each region, the network's leaders and Foundation's staff produced a plan on the development of knowledge and skills—including ways to improve the safety of working environments.
Occupational health train-the-trainer sessions were held for central and southern networks' leaders.
Members of different occupational groups were trained on occupational health. Women's well-being was also included in the sessions held in the southern region.
The northeastern network produced a set of rules to avoid health risks for members of 10 occupational groups.
The central and northern networks produced their tools for monitoring the improvement of behaviors and working environment.
The northern network provided training on occupational health for its members.
Legislative and Policy Advocacy
1. Campaign for the enactment of the draft Home-workers Protection Act B.E.
Since 2003, Home Net Thailand and the Foundation have carried out a campaign with the support of the International Labour Organization, HomeNet Southeast Asia, and the Federatie Nederlandse Vakbeweging (FNV, or the Federation of Dutch Labour), for the government's submission of the Home-workers Protection bill to parliament. In 2007, the government agreed to put the bill through. The bill went to the State Council for revisions, which were completed in 2009, and the revised bill was presented to parliament.
To facilitate the legislation's quick passage through parliament so  homeworkers in Thailand could receive the maximum benefit from its timely passage, the Foundation and HomeNet Thailand undertook advocacy activities:
organizing a seminar to compare contents of the bills proposed by the Council of State and HomeNet Thailand, and seeking ways to have them both considered by parliament
submitting the draft Home-workers Protection Act to Ms Rachadaporn Kaewsanit, a Democrat Party MP, to deliver to the government's whip and lobby for its support
sending letters that urged parliamentarians to support the bill from Mr Somkid Duang-ngern, HomeNet Thailand's chairperson, and 15 representatives from HomeNet Thailand's regional offices
On 2  September 2009, the bill was approved in principle by parliament by 268 votes to 0. An ad hoc committee set up to review the legislation had three  representatives of FLEP and HomeNet Thailand on it
In addition to running the national campaign, the southern branch of HomeNet Thailand also organized a seminar to update 25 regional leaders on the Home-workers Protection Bill.
2. Access to social security scheme
Another very important development during the life of the project element was the Thai government's introduction of a policy to pay 30 per cent of a contribution fee for a social security fund for informal workers, essentially making social security accessible to home-based and other informal workers. This development could assist as many as 24 million informal workers.
HomeNet Thailand worked with MBOs to ensure that members applied to the scheme.
3. Support for the organization of domestic workers in Thailand
Project activities have been coordinated with the Foundation for Child Development, Foundation for Women, State enterprise workers' relations confederation, Labour Congress of Thailand, ILO Sub-regional Office for East Asia, Friedrich Ebert Stiftung, and the Committee for Asian Women to encourage the organization of domestic workers in Thailand. In 2009, these parties disseminated the needs and concerns of domestic workers and presented their opinion to the Thai government so that it could respond to the ILO's questions on the establishment of protection standards for domestic workers. The ILO used the collected views of national governments as a database for the general meeting of the ILO in 2010 on a standard-setting framework for the future protection of domestic workers.
In addition, FLEP and its collaborating parties organized training sessions for domestic workers in Thailand.
Another important activity was held on Human rights Day, 10th  December 2009, when about 200 domestic workers staged a march to communicate to society why domestic workers should be protected. The marchers also submitted their petition to the National Human Rights Commission president and a representative of the Department of Labour Protection and Welfare in the Ministry of Labour, demanding that the introduction of the ministerial regulation on the protection of domestic workers in Thailand be sped up.  
4. Study of the impact of the fish-cage contract farming on the Middle Chi River
Project activities include a study on the situation of fish farms in Mahasarakham. The fish-cage contract farmers have been exploited and deprived of any protection from their contractors, who usually take advantage through unfair contracts. Moreover, the fish-cage farming has a negative effect on the river, a natural resource. The study findings were pointed out to farmers to raise awareness of their rights; the project also developed a database to campaign for the legal protection of contract farmers in the future.