For an estimated 260 million home-based workers around the world, their home doubles as their workplace. Homes are also used as work or storage spaces for groups of workers who work mainly outside the home, including street vendors and waste pickers, as well as carpenters and masons. The homes-cum-workplaces, especially of poorer workers, are often located in informal settlements, public housing complexes or low-income neighborhoods. The housing units tend to be small and crowded with little natural light and ventilation, limited or no access to water and sanitation, and poor construction and little or no security of tenure. The poor quality of habitat has a direct bearing on the productivity of home-based workers as well as the health and well-being of the workers and their families.
Under its Urban Policies Programme, WIEGO has commissioned two strands of work on home as workplace: first, a documentation of the work of the Mahila Housing SEWA Trust (MHT) in India through a home-workplace lens; and, second, a review of urban planning and design literatures to identify publications and designs focused on home-as-workplace. In addition, WIEGO's Focal City Delhi initiative has been working with partners to map and visualize how and where informal workers in Delhi use homes as workplaces, and what this means for planning and policy in the city. All of these resources are designed to support organizations/networks of home-based workers, and their allies, in advocacy and interventions related to home-as-workplace issues and to facilitate engagement with architects/urban designers/planners who are working or might work on this important topic.
---
# 1 – Documentation of Mahila Housing SEWA Trust's Work in India
The Mahila Housing SEWA Trust (MHT) has been working for more than 25 years to improve the quality of habitats in poor informal settlements in Indian cities. MHT's interventions range from promoting household access to water and sanitation at scale, improved design and layout of homes to accommodate specific work and storage needs, advocating for tenure in Delhi's resettlement colonies and, more recently, advocating for better and safer transport connectivity to poor settlements in Ahmedabad: all of which have wide ranging impacts on the wellbeing and economic productivity of home-based workers.
City Collab, an Ahmedabad-based consulting firm, has produced a set of resources to document MHT's work in this area. The documentation employs a three-pronged strategic framework to organize insights from MHT's vast and diverse portfolio, cutting across multiple sectors and scales. The framework presents three interlinked strategies for making home-based environments safer, healthier, and more productive. These are:
Improving the physical environment
Promoting energy efficiency & climate resilience
Incorporating the needs of the home-based workers in city plans and policies.
The final documentation outcome is in the form of nine thematic briefs categorized under three broad strategies. The thematic briefs are supported by two cross-sectoral case study briefs. These showcase MHT's sustained efforts with low-income communities over a long period of time, enabling their incremental progress. See below the link to each brief.
---
Document framework: A 3-pronged strategy for improving home-based work environments
Image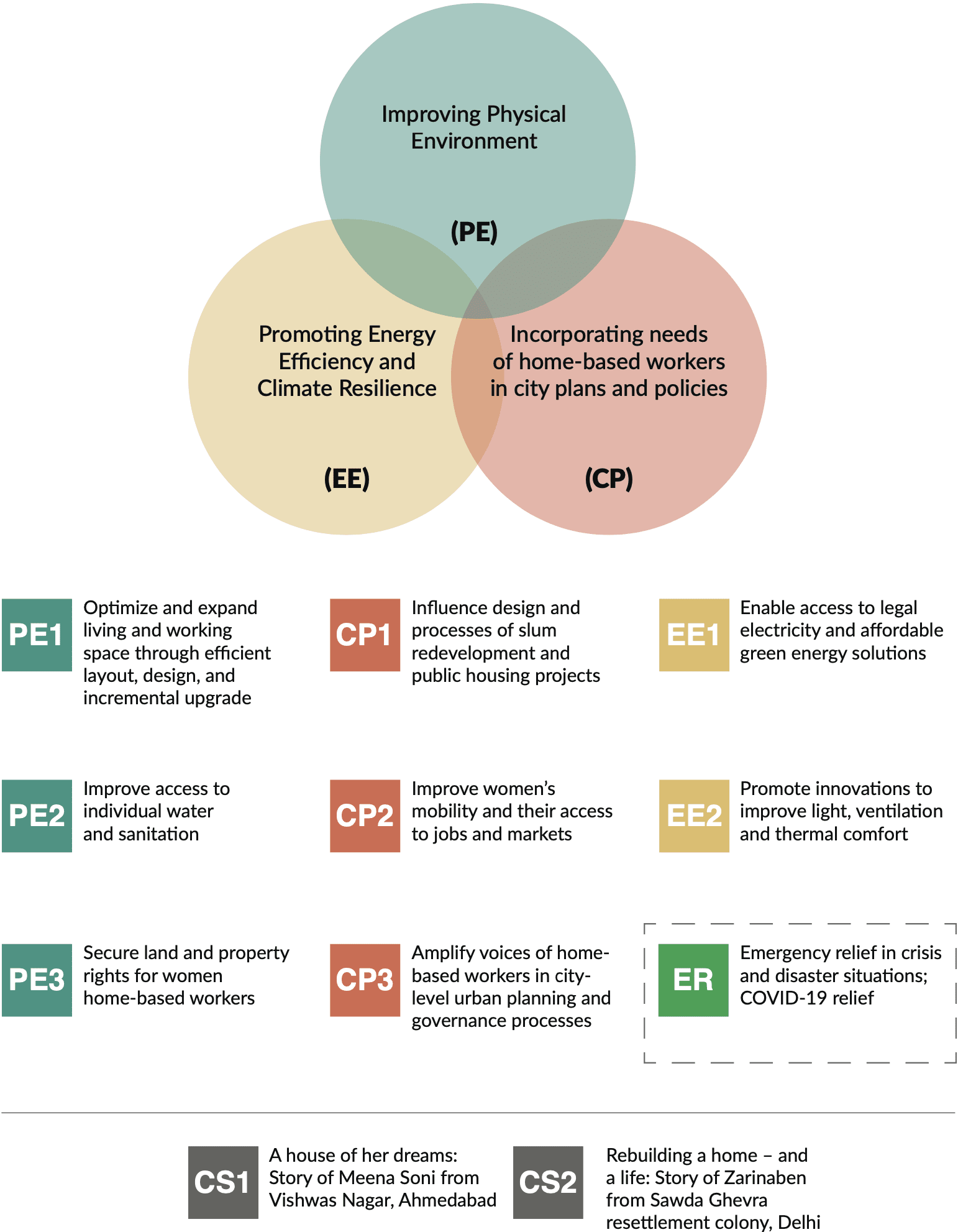 ---
Improving Physical Environment
- Optimize and expand living & working space through efficient layout, design, and incremental upgrade
- Improve access to individual water and sanitation
- Secure land and property rights for women home-based workers
Incorporating Needs of Home-Based Workers in City Plans and Policies
- Influence design and processes of slum redevelopment and public housing project
- Improve women's mobility and their access to jobs and markets
- Amplify voices of home-based workers in city-level urban planning and governance processes
Promoting Energy Efficiency and Climate Resilience
- Enable access to legal electricity and affordable green energy solutions
- Promote innovations to improve light, ventilation and thermal comfort
- Emergency relief in crisis and disaster situations; COVID-19 relief
Case Studies:
- A house of her dreams: Story of Meena Soni from Vishwas Nagar, Ahmedabad
- Rebuilding a home- and a life: Story of Zareenaben from Sawda Ghevra resettlement colony, Delhi
---
# 2 – Geography of Informal Work in Cities: Linking Homes and Sites of Work
An understanding of the geography or spatiality of where informal workers live and work in the city is critical for policy advocacy. Under its Focal Cities Project (Focal City Delhi, FCD), WIEGO's Delhi team has extensively documented how individual homes and the larger informal settlements where workers live also double up as their workspaces. Three products were recently developed by FCD with Social Design Collaborative highlighting different aspects of this.
Image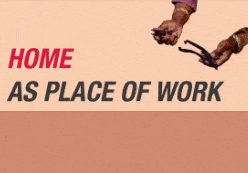 The first document maps clusters of home-based work across the city indicating the settlement typologies (slums and bastis, urban villages, resettlement colonies, unauthorized settlements), density of built form, and where the nearest suppliers and buyers (wholesale markets, industrial parks) are located. It also deep-dives to a micro-scale to show the travelling in of work at the neighbourhood level as well as the many issues that women workers face due to the small size and lack of basic services when they are working from their homes.
Image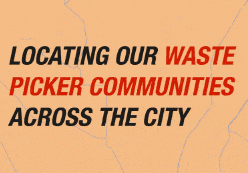 The second document maps waste picker settlements across the city, drawing on membership data of the Delhi Roundtable on Solid Waste Management, a city-level network of waste pickers. These communities are important sites of waste work in the city because, in the absence of formal spaces for waste sorting, waste pickers have no option but to bring it to their own homes and neighbourhoods for further sorting, storage and processing. Women waste pickers especially work from in and around their homes to sort the waste collected by men, their efforts often being invisible as family labour.
Image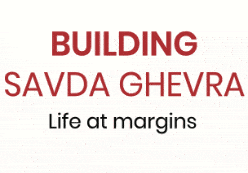 The third document maps the story of Savda Ghevra, a resettlement colony in the western edge of the city, and the livelihood challenges faced by the poor when they are evicted and shifted from the city's centre to the peripheries. A visual timeline graphic shows the incremental building up of the colony and arrival of services, while the illustration of the life-story of Savita ben, a woman worker, offers a close look at the impact of unjust urban policies on the working poor and their livelihoods.
---
# 3 – Review of Urban Planning and Design Literature
The Indian Institute for Human Settlements (IIHS) has undertaken a literature and design review of spatial characteristics of work-homes across the global South. The study examines the work-home boundary across scales of unit, neighbourhood and settlement, focusing on the complex agency exerted by users in engaging with and maneuvering this boundary. It also forefronts conceptual bases in planning as are central to work-homes. The study will be presented in two-parts. The first delves into the way the work-home boundary is shaped, with particular attention to the factors and actors that shape domestic and productive activities. The second, presents an inventory of spatial analysis of work-homes across industries, types and scales. Such a spatial investigation will be pertinent to implications of planning on work-homes, architectural design of housing, access to infrastructure, tenure-security, risk, and vulnerability.
- Home as Workplace: A spatial reading of workhomes - Part A
- Home as Workplace: A spatial reading of workhomes - Part B