Hero Image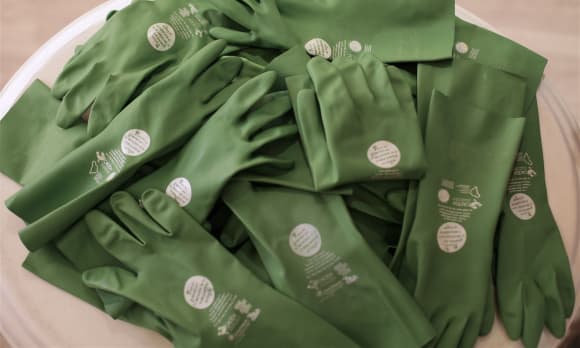 El próximo mes, sabremos si el conmovedor retrato del director Alfonso Cuarón Orozco sobre una trabajadora del hogar en México en los años 70, recibirá un Óscar de la Academia. Habiendo sido recientemente galardonada como "Mejor película" en los premios de la crítica, las expectativas son altas.
La película ha aportado una muy necesaria visibilidad a este trabajo en México, donde se ha producido un giro en la percepción pública y en las políticas que lo abordan (en inglés). El tribunal supremo anuló una decisión anterior y ha extendido la protección de seguridad social a los trabajadores del hogar.
Al mismo tiempo, el nuevo presidente de México, Andrés Manuel López Obrador, declaró que enviaría al senado el Convenio sobre trabajo decente para las trabajadoras y los trabajadores domésticos (C189) para su ratificación.
La líder mexicana de trabajadores del hogar Marcelina Bautista, que fue invitada a hablar durante la presentación de Roma en Ciudad de México, fue entrevistada en múltiples medios de comunicación, El Universal, La Jornada o The Guardian a raíz del éxito de la película. Según cuenta, la película esta "creando conciencia", y añade, "muchas trabajadoras del hogar se identifican realmente con la película".
Pero antes de que Roma llevara las vidas de las trabajadoras del hogar a la gran pantalla en todo el mundo, estas han estado organizándose y luchando por sus derechos, consiguiendo victorias en los más altos niveles. Estos logros se han producido gracias a un trabajo duro, determinación y persistencia.
Esta semana les ofrecemos una selección de artículos sobre la histórica victoria del C189, la situación de los trabajadores y trabajadoras en el Sur global, y el futuro del movimiento.
Trabajadoras del hogar celebrando el C189 en 2011 en la Conferencia Internacional del Trabajo en Ginebra, Suiza. Foto: Sofia Trevino
por Celia Mather
En 2011, las trabajadoras del hogar en el mundo consiguieron dar un gran paso extendiendo los derechos de trabajadores y derechos humanos a través del Convenio sobre trabajo decente para las trabajadoras y los trabajadores domésticas (C189) de la Organización Internacional del Trabajo y su Recomendación anexa (R201). En menos de una década, se consiguió unir fuerzas, y luego, sorprendentemente, una gran mayoría de gobiernos aprobó estos instrumentos internacionales.
Artículo completo.
por Leslie Vryenhoek
Roma nos introdujo en el mundo de las trabajadoras del hogar en México, y nuestra escritora Leslie Vryenhoek ha conseguido visitar a trabajadoras del hogar en Sudáfrica para conocer sus vidas y luchas diarias. Ella siguió de cerca a Anna Nkobele, que ha trabajado limpiando, lavando y cuidando de los hijos de Tineke Wulffers durante 20 años. En este artículo nos cuenta más sobre su vida como trabajadora del hogar.
Esta transmisión de audio forma parte de una serie de entrevistas dirigidas por la coordinadora de WIEGO de Ciudad Focal Delhi Shalini Sinha. En este episodio, examina el trabajo del hogar en los centros urbanos de India e investiga algunos de los desafíos particulares del país, y qué se debería hacer para mejorar las condiciones de trabajo de estas trabajadoras invisibles.
por Pablo Castaño
Esta Nota informativa de políticas explora las luchas de las trabajadoras del hogar en Bolivia. Se centra en derechos y políticas implementados por el gobierno de Evo Morales (del 2006 al presente) así como en las demandas no satisfechas del movimiento social de trabajadoras del hogar.
por Pamhidzai H. Bamu-Chipunza
A pesar de que el 16 de junio de 2011 fue un gran día para los y las trabajadoras del hogar, ¿ha tenido un impacto en el día a día de aquellas personas que trabajan duro cocinando o limpiando en casas privadas en el mundo? Este artículo, de una de nuestras expertas legales, mira de cerca cómo las expectativas de cambio se han plasmado en la realidad ‒y qué falta por hacer–.
Las trabajadoras del hogar en México han logrado victorias significativas y alzan su perfil a nivel global en diciembre de 2018. La Corte Suprema de México dio un paso sin precedentes hacia la extensión de la protección social a las trabajadoras del hogar en el país cuando declaró inconstitucional la exclusión de las trabajadoras del hogar dentro de régimen obligatorio de seguridad social. Felicitamos a todas las personas involucradas en este esfuerzo, incluyendo: Centro de Apoyo y Capacitación para Empleadas del Hogar (CACEH), Consejo Nacional para Prevenir la Discriminación (CONAPRED), Hogar Justo Hogar, Instituto de Liderazgo Simone de Beauvoir, Nostroxs, y Sindicato Nacional de Trabajadores y Trabajadoras del Hogar (SINACTRAHO).
El 30 de enero de 2019 el Instituto Mexicano del Seguro Social (IMSS) ha iniciado un programa piloto de incorporación a personas trabajadoras del hogar, con el que se dan pasos firmes para reconocer a los y las trabajadoras del hogar.
To read this article in English, see here.
Primera Foto: WIEGO
Related Posts
Informal Economy Topic

Occupational group

Region

Language
Wiego on Twitter