Hero Image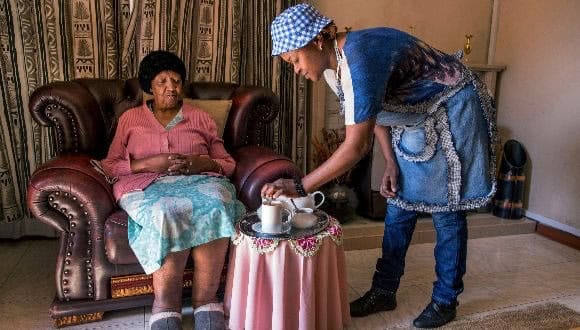 16 June 2011 was a momentous day for domestic workers around the globe. 
After a long, worker-led struggle, the International Labour Organization (ILO) finally adopted the Domestic Workers Convention 2011 (No. 189). Domestic workers celebrated their recognition as workers who are entitled to labour rights and protections by in the international community.
Among the groups of domestic workers at the International Labour Conference that day was Hester Stephens from South Africa. She was elated: "I feel like a baby is born that I gave birth to. Today, 16 June, is an emotional moment that freedom has at last come for domestic workers around the world."
Evaline Mulo of Kenya agreed: "The vote marked the beginning of social justice for domestic workers internationally … I have never felt so happy in my life. The Convention is the best thing to have happened to domestic workers in the world. It will change our lives."
"The Convention is the best thing to have happened to domestic workers in the world. It will change our lives."
But has C189 changed the lives of those who toil as cooks and cleaners in private-home workplaces in countries across the world? We will look closely at how the expectations for change have played out in reality — and what is left to do.
Read more about C189 Domestic Workers Convention 2011.
Why Domestic Workers Fought for Greater Legal Protection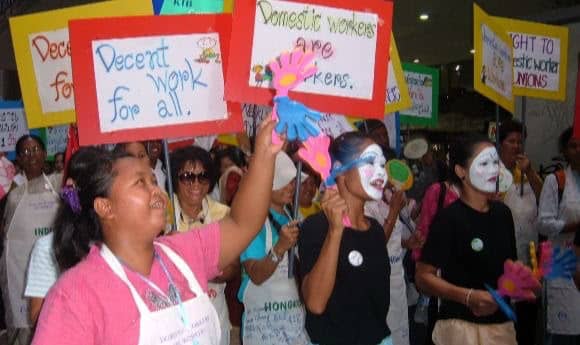 Domestic Workers in Thailand hold a demonstration demanding ratification of C189. Photo: C. Bonner
Domestic workers have been among the least protected workers worldwide. 
Labour laws in many countries either do not recognize domestic workers as workers entitled to labour rights, or, if they do, they exclude them from key protections, including limits on hours of work and social protection coverage. 
In some countries, labour laws include domestic workers in theory, but in reality, the provisions cannot be easily be adapted to the unique needs of this sector. And, migrant domestic workers are particularly vulnerable since, because of their migrant status they often lack legal recourse. Given this need to strengthen legal protections, domestic workers had high hopes for C189.
The Convention requires Member States to take legal, policy, and other measures to protect domestic workers.
The Convention requires Member States to take legal, policy, and other measures to protect domestic workers. It extends basic rights to domestic workers, including workplace safety, health and social protection, and protection against discrimination and forced labour. It also requires states to legislate that employers must provide domestic workers with employment contracts and extends protection to migrant domestic workers. Importantly, Member States must strike a balance between extending the same protections to domestic workers as to other workers on the one hand, and tailoring some interventions to suit the special characteristics of the sector on the other hand.
Read about domestic workers' lives in Johannesburg.
From the ILO to Back Home: Local Governments Need to Implement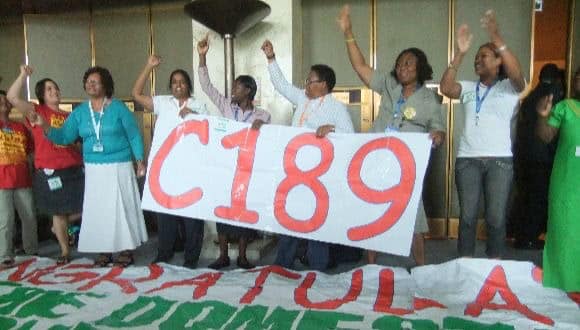 Domestic workers demonstrate at the International Labour Conference to demand for ratification of C189. Photo: WIEGO
When C189 was adopted, domestic workers at the Conference broke into song and unfurled a banner with a next-steps message: "C189 – Congratulations! Now comes the domestic work for governments: Ratify – Implement!" This message served as a reminder that with the victory in the international arena, the battle would now be fought on the national front.
25 ILO Member States have ratified C189.
ILO Member States commit to implementing the Convention by ratifying it. Member States that have not ratified the Convention are also free to adopt laws and policies and to take practical measures in line with it. 
Seven years on, 25 ILO Member States have ratified C189 and are at various stages of implementation. The Philippines was one of the first to enact reforms with its Domestic Workers Act, which extends rights to domestic workers, including the right to an employment contract, to minimum wages, and to health insurance. 
In addition, dozens of Member States that have not ratified the Convention have taken measures that have brought their laws and policies closer to the Convention. For example, in 2013, India passed the Sexual Harassment of Women at Workplace (Prevention, Prohibition and Redressal) Act, which expressly covers domestic workers. 
Listen to a WIEGO podcast on the significance of C189.
Are Legal Measures Alone Enough?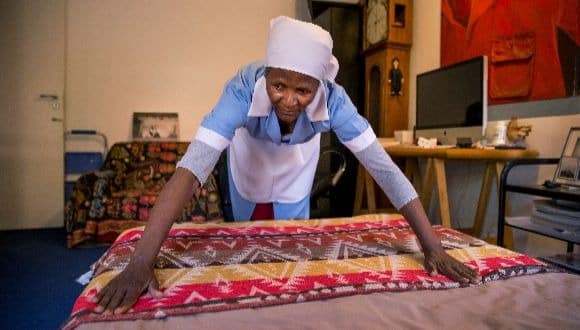 Their work is often dismissed as women's work. Photo: Jonathan Torgovnik/Getty Images Reportage
Undoubtedly, there is progress towards adopting laws and policies that improve and protect the rights of domestic workers, but are laws enough? Domestic workers face myriad social challenges that require more thoughtful and widespread change.
The legal system is intertwined with social and cultural beliefs and attitudes that have justified workers' legal exclusion.
There is a need to recognize that laws do not exist in a vacuum. They are embedded in social relations that reflect power dynamics. In many ways, the legal system is intertwined with social and cultural beliefs and attitudes that have justified workers' legal exclusion and, in turn, perpetuate their marginalization. Domestic work presents a special case because it takes place in a private home where a unique set of challenging dynamics exists. 
For domestic workers to enjoy decent work, these social and cultural norms must also be addressed. Because domestic workers work in private homes as opposed to a conventional workplaces, their work is often dismissed as women's work, because women have historically performed (and still do) unpaid domestic work in the family. 
Read "Domestic Workers are (Not) 'Like Family.'" 
In some contexts, cultural practices of fostering under-privileged children frame young domestic workers as "foster children," as opposed to employees. As a result, their work is undervalued and not perceived as "real work" that contributes to the economy. Also, their employers may have limited awareness of legal obligations and may resist the notion that domestic workers are employees with rights, as opposed to being "part of the family." 
Poverty and unemployment often forces women to accept any form of employment, even if it is exploitative and even physically and mentally abusive.
Four Ways to Strengthen Legal Protections 
Although there are many challenges to ensuring better legal protection for domestic workers, there are ways forward. Here are four ideas for workers' organizations and their allies:
1) Organize and build alliances to share promising ideas and strategies. New strategies are needed to organize workers, given the inaccessibility of their workplaces and their limited scope for bargaining with employers and employment agencies. In some countries, funding challenges make it difficult for unions to sustain their activities. 
Read about how domestic workers in Mexico organized and developed a political platform to voice their concerns. 
2) Build capacity to develop workers' agency. Workers must own and actively engage in their struggle for decent work, including in selecting and implementing the legal strategies used in advocacy. Workers need to be equipped with the knowledge and skills to conduct research, to speak with confidence, and to understand processes of engagement with lawmakers and other stakeholders. This ownership of their struggles helps in the sustainability of the movement.
3) Marry legal support with efforts to bring about normative change. The issues that domestic workers face may extend beyond problems with the law. Limited knowledge of the law and inadequate mechanisms to implement the law are also challenges. For example, reliance on inspections to ensure compliance is not appropriate for this sector. Even formal dispute resolution may be inappropriate, given the intimate nature of this work and domestic workers' relationship with their employers. It is also important to address power relations and normative challenges, including gender norms. Power dynamics within the employment relationship and society's norms about who and what work is valuable play a role in defining domestic workers' position. 
Read about the "My Fair Home" campaign in Peru to uphold the rights of domestic workers. Also, follow the campaign on Facebook to see how 5,000 domestic workers gained access to social security health benefits.
4) Build on and support existing initiatives. Collaborating with other like-minded stakeholders avoids duplication and strengthens activities that are designed to achieve the same goal. Workers' organizations must be strategic about how their activities contribute towards multiple objectives. For example, a campaign about minimum wages for domestic workers not only contributes towards improving the working lives of domestic workers in their country, but is a step towards implementing C189. In this way, organizations can see C189 as a tool to be mainstreamed into most activities because it regulates most of the issues that touch on their members' working lives.
Looking Ahead for Domestic Workers
Legal and policy changes are just one way to improve domestic workers' situation, but this can only come about in a context of broader social change. The challenge is that it is not simply a matter of addressing laws and policies and practical measures on the part of government; change will have to be widespread and come from all corners of society for real progress to happen in the lives of these workers.
See these lessons from five countries.
After years of successful organizing, domestic workers formed their own global union federation, the International Domestic Workers Federation. Read more about the IDWF and their ongoing efforts to ensure that C189 results in real change in the lives of domestic workers around the world.
Feature photo: JOHANNESBURG, SOUTH AFRICA: Lucy Mokheles physically demanding workday in a private home involves cleaning and cooking for her employer, Rose Hamilton, and other family members. A respectful and flexible employment relationship helps make the hard domestic work easier. Once ashamed of her occupation, she now says she feels proud to be earning an income and contributing to her community and country through domestic work. Photo: Jonathan Torgovnik/Getty Images Reportage
Related Posts
Informal Economy Topic

Occupational group

Region

Language
Wiego on Twitter