Hero Image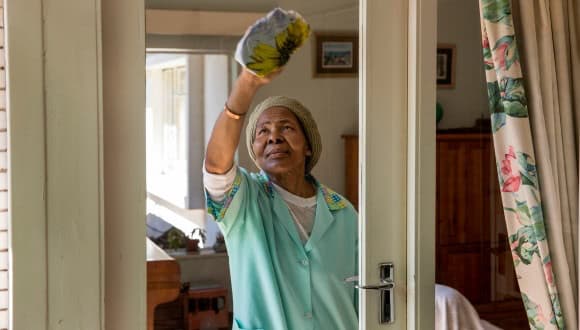 By Leslie Vryenhoek
Domestic workers represent a vast, hidden and essential workforce whose efforts inside private homes allow their employers to be more productive outside the home. In Johannesburg, South Africa, domestic work provides a major source of employment. But capturing the working lives of domestic workers is a difficult assignment—to see firsthand the workplace requires permission to enter a private home. Only employers who know they are fair will open the door to a camera and an interview.
Anna Nkobele [pictured above] is lucky enough to have such an employer. Nonetheless, the road is not always smooth and she likens domestic work to a marriage. "You can have a happy relationship," she says, "but it all depends on how you deal with the potholes." 
In the more than 20 years she has cleaned, laundered and provided child care for Tineke Wulffers, there have been many potholes to negotiate. And both women agree; the beginning of their relationship was difficult. 
"I had gone to a lot of effort to ensure I was hiring the right person," Tineke says. But the woman she'd hired did not show up, sending instead her cousin, Anna, to take care of the Wulffers house and newborn baby. "I wanted someone to make my life easier," Tineke candidly explains. "I didn't want to inherit someone else's problems."
And Anna did not come unencumbered. She had four daughters living back in QwaQwa. Fortunately, there was a willingness on the part of both employer and worker to negotiate. Independently, both women share the same description of how they resolved conflicts: "We would sit on the floor together until we had talked it out."
For her domestic service, Anna is paid 3,100 rand—the minimum wage set by the government's labour regulations. In addition, she receives accommodation and food. The Wulffers also set up a pension fund for Anna, which has "built up nicely" over the years, and which she can access when she decides to retire. Because she is now over 60, she also receives a small monthly government pension.
The baby that Anna came to help with has grown up. And through the years, tragically, all four of Anna's daughters have died. The youngest left her with two grandsons to raise. Those energetic boys, five and six years old, live with Anna in the room she occupies at the back of the Wulffer's suburban house, and Tineke is helping with their upbringing.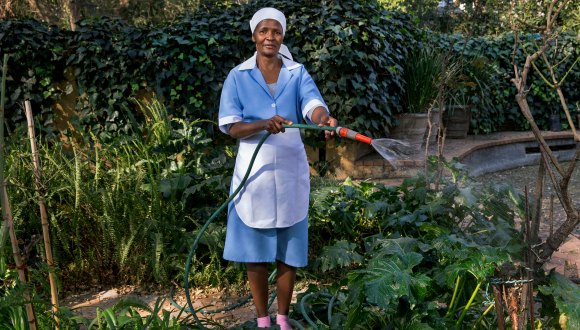 Photo: Jonathan Torgovnik/Getty Images Reportage.
Martha Mahlala has also established a long and respectful relationship with her employer over the 23 years she has worked in the suburban Johannesburg home of Elize Sonnenberg. When Elize's waking hours were consumed by work in the corporate clothing industry, Martha cared for Elize's two children. Martha cleans, does laundry and prepares the evening meal in the family's kitchen. But her great passion is gardening, and the results of her green thumb abound inside and out. 
Although her true home—one she owns and which her grown children look after—is several hours away, Martha has come to think of this as her home, too. "We are one family," she says.
But although Martha's working relationship with her employer is fair and good, this is not always the case. In fact, the International Domestic Workers' Federation (IDWF) cautions against the notion that domestic workers be considered "family," which can undermine labour standards and negate workers' rights. The IDWF supports national domestic workers' organizations in their push for the ratification of the Convention on the Rights of Domestic Workers (C189), adopted at the International Labour Conference in 2011. Just 19 countries, including South Africa, have ratified it in their legislatures to date.
Read "Domestic Workers are (Not) 'Like Family'"
The IDWF recently launched a campaign called My Fair Home, which invites employers to sign a commitment to fulfill the protections provided by C189. These include fair wages, formally negotiated terms of employment, reasonable work hours, free time that is truly "free", access to decent healthcare, and a work environment without abuse, harassment and violence.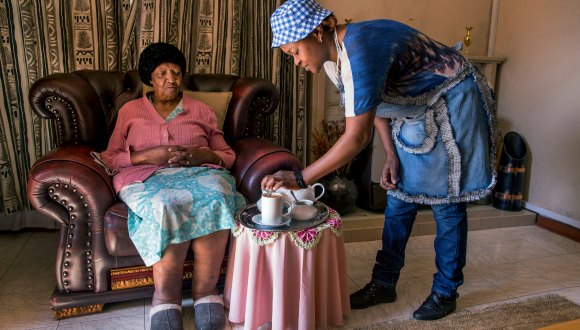 Photo: Jonathan Torgovnik/Getty Images Reportage.
Lucy Mokhele puts in a physically demanding day that begins just after 7 a.m., when she walks about 20 minutes to work. Her workplace is the private home of the Hamilton family. Much of Lucy's day revolves around caring for the elderly Rose Hamilton, a widow who lives with her daughter Sheri. Lucy prepares three meals and cleans the four-bedroom, two bathroom house. It means she is on her feet most of her day, though she says no one complains if she takes a rest in the spare room.
This is her first domestic position; previously she worked in a retail business. "I used to be ashamed to do this work, but now I am proud!" she says, adding that she thinks of herself as lucky to have the respect and trust of her employers.  
At 4 p.m., with the evening meal prepared and set aside, Lucy walks to where she lives. Home, for now, is an informal settlement about two kilometres away where corrugated containers and tarps crowd together. Her real home, however, is a long bus trip away in the Freelands, where her 14-year-old daughter and 9-year-old son live with her mother. Lucy visits there when she can, sometimes tacking an extra day onto a weekend to make the trip, and always heading home during the annual three-week leave that the South African labour laws grant, at least in principle, to all domestic workers.
Photo: Jonathan Torgovnik/Getty Images Reportage.
Stella Nicosi, who works part-time as a domestic worker, takes two taxis to travel from Soweto to the suburban Johannesburg home of her employer. The round trip costs 50 rand—about 13 per cent of her daily earnings of 370 rand. The 63-year-old domestic worker—who also receives a government pension—makes the trip twice each week, and says she is always glad to go to work.  
Twenty years ago, Stella lost her job as a clerk when the company she worked for left South Africa. She has earned her livelihood as a domestic worker ever since. Her employer, Jenny Grice, credits Stella's professional efficiency with keeping the home functional and harmonious, especially when the children were young and Jenny was working full time.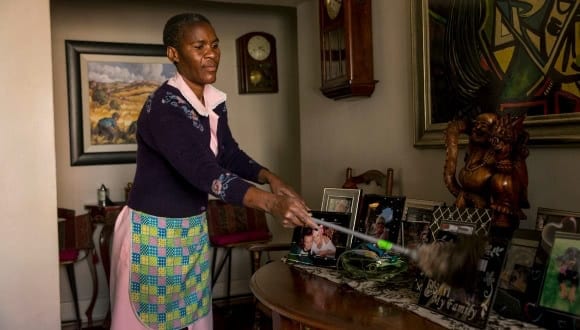 Photo: Jonathan Torgovnik/Getty Images Reportage.
Dorothy Knosana has an unusual employment situation. Unlike most domestic workers, her employer of nine years is a man. Dorothy rents a small residence near the affluent neighbourhood where she works. She walks to work, arriving by 8 a.m., and spends her days cleaning and doing laundry. The house is filled with art and collectibles, and there are two dogs she cleans up after outside (this isn't officially part of the job, but she dislikes the smell of their messes). 
Dorothy believes she has an easier job than many of her counterparts but adds, "Right now, all my money is going for the rent." She says she may look for work in Pretoria near a house she owns to solve the problem. "It's going to be hard for me if I take a job with a woman and have children to care for. Looking after the dogs is enough."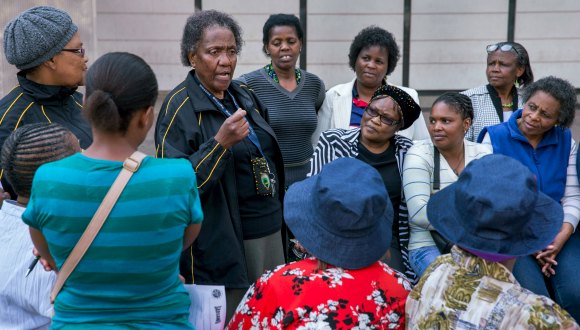 Photo: Jonathan Torgovnik/Getty Images Reportage.
The stories told by the workers whose employers were agreeable to allowing us into their homes stand in stark contrast to those of the women who gathered in August 2015 at the offices of the South African Domestic Service and Allied Workers Union (SADSAWU). Most had joined the union looking for help. At the meeting, they recounted problems with their employers, including underpayment, unpaid overtime and high charges for accommodations. A few said they were afraid their employers would learn they had joined the union. Another said her employer had found her union card when going through her things, creating anger on both sides.
SADSAWU has between 8-9,000 members. While that represents just a small fraction of those employed as domestic workers in South Africa, the union is growing. Organizing helps break through isolation, one of the greatest risks of this occupation. However, many domestic workers remain unregistered and vulnerable to exploitation—and this is especially true of the large number of immigrants doing this work.
Photo: Jonathan Torgovnik/Getty Images Reportage.
Eunice Dlada, Deputy Chair of SADSAWU, explains that although South African labour legislation has covered domestic workers for two decades, it is unevenly implemented and many employers refuse to comply. Eunice channels the pain she felt as an underpaid, overworked domestic worker into helping those who are unfairly treated. The union offers guidance, tries to negotiate with employers, and helps workers make complaints to the labour board.
That union support is crucial. Even in a country like South Africa, which has long included domestic workers in its labour laws and was among the first to ratify C189, domestic workers can be isolated, vulnerable and exploited. In the many countries where no protection has been conferred in legislation, the road to fair treatment will be much longer and more arduous.

See a list of countries that have ratified C189.
Originally published in the The Global Urbanist.
Top photo by Jonathan Torgovnik/Getty Images Reportage.
Related Posts
Informal Economy Topic

Occupational group

Region

Language
Wiego on Twitter