Hero Image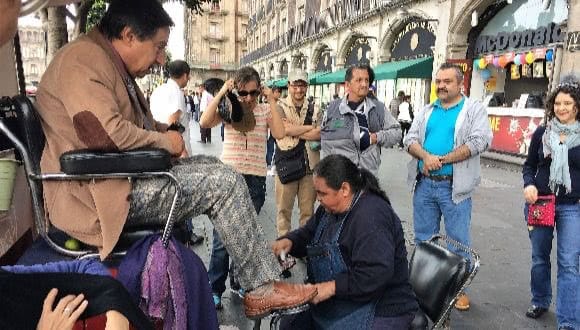 By Jenna Harvey & Tania Espinosa Sanchez
Mexico City's shoe shiners (aseadores de calzado) have been earning a living on the city's streets for over a century. The sector started to expand in the wake of the Mexican Revolution, when the city saw an influx of migrants in search of work. During this time, shoe shiners began to organize, and, in 1936, they formed the Mexico City Shoe Shiners Union (Unión de Aseadores de Calzado CDMX), which was formally recognized by the government over 70 years ago.
Despite their rich history as a union, and their economic and cultural contributions to city life, the shoe shiners have a tense relationship with the Mexico City government, who recently described their stands as "visual contamination" on the city streets, particularly in the historic centre. This is despite the fact that much of the publicity on the shoe shiners' stands promotes the city — advertising requested by the government.
A traditional occupation in a changing city
In a push to "modernize" the historic city centre, the government has limited the number of licences they grant to shoe shiners. Union member Juan Carlos describes the government's inequitable and illogical approach to preserving the character of the historic city centre, saying, "You can't set up a shoe shine stand, but you can put ten Oxxos (convenience store chain) in colonial zones."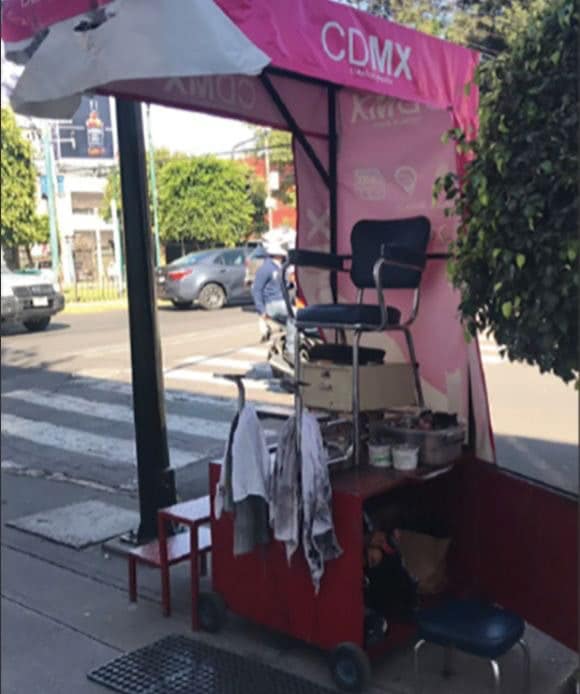 A shoe shiner's stand today, with publicity from the Mexico City government on display. Photo: Universidad Iberoamericana
At the same time, the shoe shiners are in a moment of crisis as a result of major economic and cultural shifts, including the importation of imitation leather shoes from China and the habits of a new generation of professionals who dress increasingly informally to go to work. One union member explained the change in customs, saying, "We will go to offices where before it was profitable, but it has changed; people go to the office now wearing tennis shoes. Before, we would be shoe shining from six in the morning on."
Designs that address shoe shiners' concerns
In this context, our Focal Cities node in Mexico City brought together the union with students from the Universidad Iberoamericana to explore design solutions to the shoe shiners' challenges — from health and safety to promotion for the union. The integral design class, taught by Mercedes Bosch Toca and Gerardo Murcio, brought together students from multiple areas of the design department, including graphic, fashion, and industrial design and architecture. The class' approach placed value on developing a holistic understanding of issues before proposing solutions, so the students divided into teams and spent several weeks learning from, and observing, shoe shiners at work. 
All of the teams conducted a comprehensive assessment of the shoe shiners' work and challenges and developed a suite of design interventions in response — including logos, new uniforms, new marketing strategies, and chair redesign, to name a few. We highlight a few key aspects of each team's proposed intervention below, but we invite you to explore each intervention in its entirety by clicking on the links below. 
Team 1 drew attention to the occupational health and safety hazards faced by shoe shiners, particularly their crouched position and exposure to elements and chemicals throughout the day. In response, they designed a chair that would give shoe shiners the option to work from a standing position, and they designed vests with high collars and durable material to protect against inclement weather and fumes. They embellished the vests with a new logo that has a silhouette of Mexico City's skyline.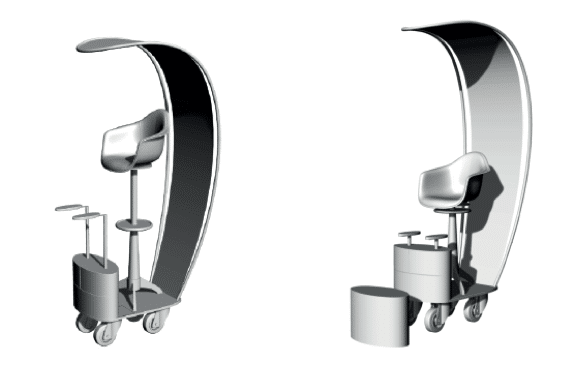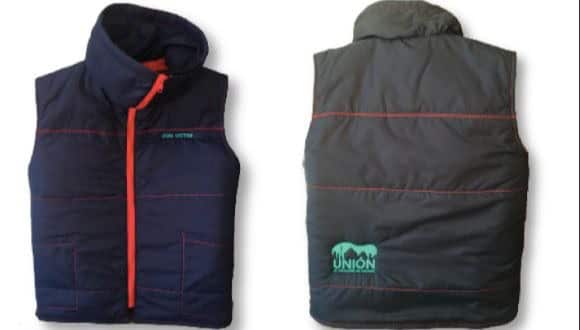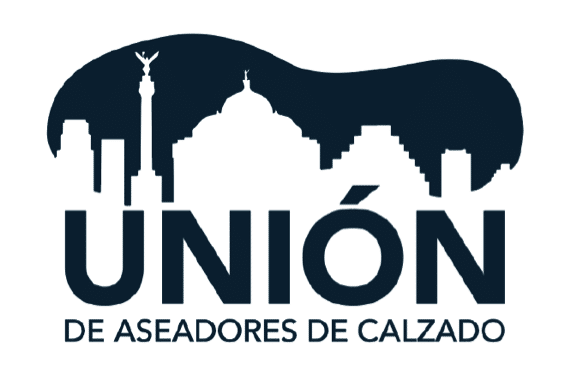 New concepts for Mexico City shoe shiners' chairs, vests, and logo, designed by the students of Universidad Iberoamericana.
See Team 1's full design intervention (en Español).
A major focus for Team 2 was how to capture a new market by creating a shoe shining "experience" that would appeal to millennials. To this end, one idea they had was the creation of a "menu" of shoe-shining services that customers could choose from, as well as an advertising campaign, with the hashtag #zapatitolimpio (clean little shoe).
Shoe shining services menu. Photo: Universidad Iberoamericana
See Team 2's full design intervention (en Español) and a brief summary (in English).
Team 3 also targeted their intervention to increasing the shoe shiners' appeal to a younger generation. To this end, they designed an app for users to find the shoe shiner closest to them, and designed their stand prototype to include urban art.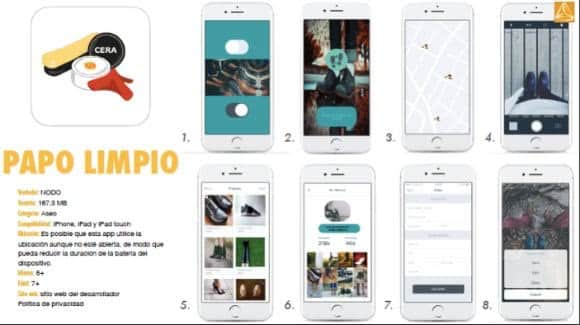 Screen capture of shoe shiner app for smartphones by the students of Universidad Iberoamericana.
See Team 3's full design intervention (en Español) and a brief summary (in English). 
Team 4 focused on marketing interventions that would both have wide appeal and preserve the union's identity and traditional character. To this end, they designed a vintage logo, and proposed the slogan, "Make Mexico Shine."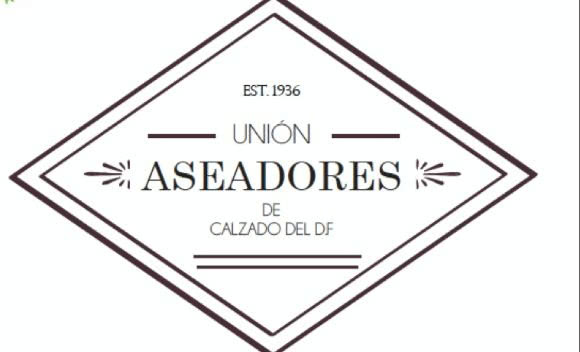 "Make Mexico shine" logo designed by the students of Universidad Iberoamericana.
See Team 4's full design intervention (en Español) and a brief summary (in English).
Keeping in mind the shoe shiners' need to display publicity on their stands for the union to collect revenue, Team 5 designed a new stand that would easily open and close, and that would allow for a more clear and modern display of publicity, city maps and more.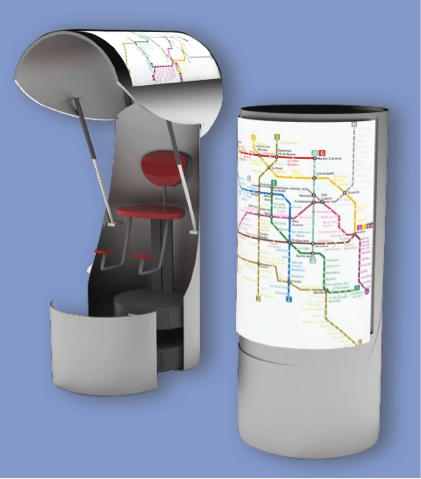 University students designed a shoe shiner's chair with space allocated for publicity.
See Team 5's full design intervention (en Español) and a brief summary (in English).
Team 6 focused on incorporating traditional Mexican designs into the aesthetics of the workspace. Specifically, they proposed seats for the shoe shiners that would be embedded with traditional Mexican textiles.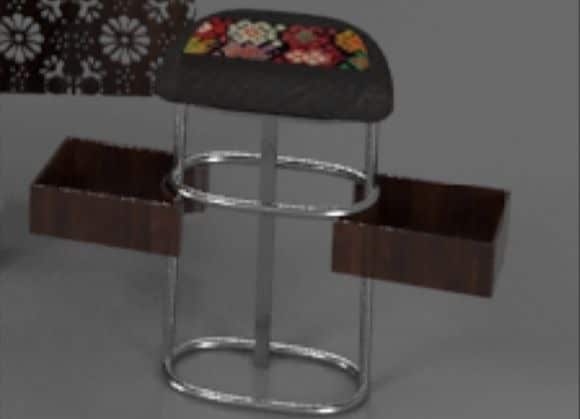 A shoe shiner's chair featuring traditional Mexican tile-work. Photo: Universidad Iberoamericana
See Team 6's full design intervention (en Español) and a brief summary (in English).
The students' designs were well received by the shoe shiners. They will be kept by the union and potentially used in future negotiations with the municipality over their continued presence in the historic city centre.
Top photo: O. Abizaid
Para leer este artículo en español, mirar aquí.
Related Posts
Informal Economy Topic

Region

Language
Wiego on Twitter