(Esta página también está disponible en español)
The United Nations Conference on Housing and Sustainable Urban Development, Habitat III, was a consultative process held every 20 years to reinvigorate the global commitment to sustainable development. All UN Member States and other relevant stakeholders are invited to participate. The WIEGO Network was active throughout the year-long Habitat III process, which culminated in the adoption of the New Urban Agenda (NUA) at the Habitat III summit in Quito, Ecuador in October 2016.
Throughout the Habitat III process, the WIEGO Network advocated for the recognition and integration of informal workers and their livelihoods into the NUA. WIEGO served as co-chair of the Grassroots Partners Constituency Group of the General Assembly or Partners, participated in policy units and a range of regional, thematic and preparatory meetings around the globe (described below).
The efforts of the WIEGO Network to make visible the contributions of urban informal workers to cities and to advocate for inclusive urban policies are reflected in the NUA document:
We commit to recognize the contribution of the working poor in the informal economy, particularly women, including the unpaid, domestic, and migrant workers to the urban economies, taking into account national circumstances. Their livelihoods, working conditions and income security, legal and social protection, access to skills, assets and other support services, and voice and representation should be enhanced. A progressive transition of workers and economic units to the formal economy will be developed by adopting a balanced approach, combining incentives and compliance measures, while promoting preservation and improvement of existing livelihoods.
- Excerpt from the New Urban Agenda (NUA), 2016
The Habitat III Summit in Quito, Ecuador
At the Habitat III summit in Quito, a twenty-four person WIEGO Network delegation made up of 14 WIEGO team members and 12 informal worker representatives hosted and participated in a range of events and dialogues, many of which were focused around implementation of the New Urban Agenda. The WIEGO delegation was well-positioned to speak to implementation, as prior to the summit, the WIEGO MBO Network developed a platform outlining how local and national governments should work towards implementing the NUA in a way that supports and includes urban informal workers. The WIEGO delegation, made up of representatives from organizations of street vendors, home-based workers and recyclers and representing eight countries, also addressed implementation through sharing examples from their work. Their contributions of concrete examples, strategies and experiences (in addition to those of other grassroots groups such as Slum/Shack Dwellers International and the Huairou Commission) provided a valuable counter-balance and complement to many of the policy-focused discussions at the conference.
The Zero Draft
Prior to the adoption of the New Urban Agenda, a Zero Draft (May 6 version) was released, containing several references to informal workers, informal livelihoods, and the informal economy. WIEGO issued a written response to that version.  WIEGO and Slum/Shack Dwellers International (SDI), as co-chairs of the Grassroots Partner Constituency Group of the General Assembly of Partners (GAP), also issued a joint response. Since UN member states issued the first revised version of the Zero Draft, WIEGO continued to provide feedback via the GAP.
Policy Units and Expert Groups
Habitat III Policy Unit Papers
Policy Units bring together experts in different fields of sustainable urban development in order to develop independent policy recommendations via Policy Papers, which are official inputs in the Habitat III process.
Martha Chen, International Coordinator; Sally Roever, Director of the Urban Policies Programme; Sonia Dias, Waste Picker Sector Specialist; and WIEGO consultant Alison Brown served as Habitat III Policy Unit members and contributed to the papers produced:
#1 Right to the City and Cities for All (Sally Roever and Alison Brown)
#2 Socio-Cultural Urban Frameworks (Sonia Dias)
#7 Urban Economic Development Strategies (Marty Chen)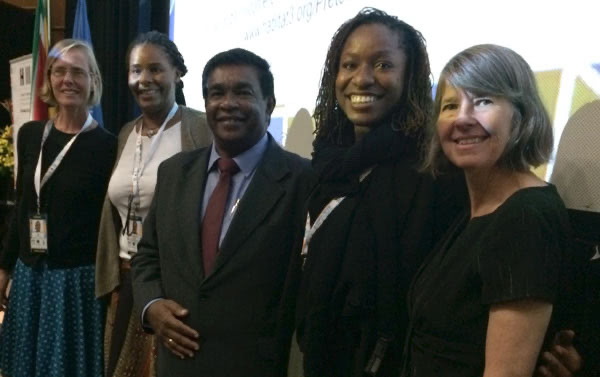 Informal hearings / Intersessional process (26 April) 
On 26 April, Sally Roever and Alison Brown participated in the Open-Ended Informal Consultative Meetings in New York City. Sally and Alison represented their Policy Unit on two panels.
On 6-7 June, Pilar Balbuena joined Rose Molokoane of Shack/Slum Dwellers International (SDI) to represent grassroots voices in response to the Zero Draft of the New Urban Agenda at the Informal hearings with stakeholders.
The World Urban Campaign and the General Assembly of Partners
WIEGO is a lead partner in the World Urban Campaign (WUC), part of WUC's Steering Committee and co-chair of WUC's Communications Subcommittee. We are also a member of the Grassroots Partner Constituency Group (PCG) of the General Assembly of Partners (GAP, a special initiative of WUC), along with Shack/Slum Dwellers International (SDI). 
Together with these partners, WIEGO has created space for informal workers to participate in the Habitat III process. The GAP supports stakeholder engagement and contributions from a wide range of constituencies to the Habitat III process. As co-chair of the Grassroots Partner Constituency Group (along with SDI), WIEGO has participated on Advisory Boards, presented stakeholder statements, and contributed inputs to the official declarations of Habitat III regional and thematic meetings. It has also contributed to Partnerships for the New Urban Agenda, a key advisory document proposing stakeholder involvement in the preparation, crafting, implementation, and monitoring and evaluation of the New Urban Agenda. Through engagement with WUC, WIEGO made sure that informal workers' priorities and needs were set out in the The City We Need—a manifesto for the collective vision of the Habitat III partners for sustainable cities.
Regional and Thematic Meetings
Side Events, Plenary Talks and Declarations at Regional and Thematic Meetings
In support of our partners, WIEGO regularly participated in the Habitat III regional and thematic meetings. Below, we share highlights of the Africa Regional Meeting, the Europe Regional Meeting, and the Informal Settlements Thematic Meeting.
It is about time that we informal economy workers are recognized and given the opportunity to speak to the issues ourselves and the opportunities to improve our livelihoods. … For instance, the ILO debate on transitioning from the informal to the formal economy shouldn't just be talk. We must be recognized as workers and visible in documentation. … No city can be inclusive, equitable and sustainable without the inputs from we informal workers. We feed, we clothe, we care.
- Juliana Afari Brown: PrepCom2 Nairobi, Kenya, April 2015
Africa Regional Meeting | 24-26 February 2016 | Abuja, Nigeria
The WIEGO delegation at the Africa Regional Meeting included representatives from the Federation of Informal Workers' Organizations of Nigeria (FIWON), a national federation of 110 informal workers' organizations operating across 17 states in Nigeria.
WIEGO participated as co-host to the Grassroots Stakeholder Forum, along with Huairou Commission, SDI, and FIWON, to represent the interests of informal workers. This grassroots-focused forum brought together women, informal settlement dwellers, and informal workers to share knowledge and experiences and identify shared priorities. We also co-hosted a panel with FIWON focusing on FIWON's activities in the context of urban economic frameworks and development.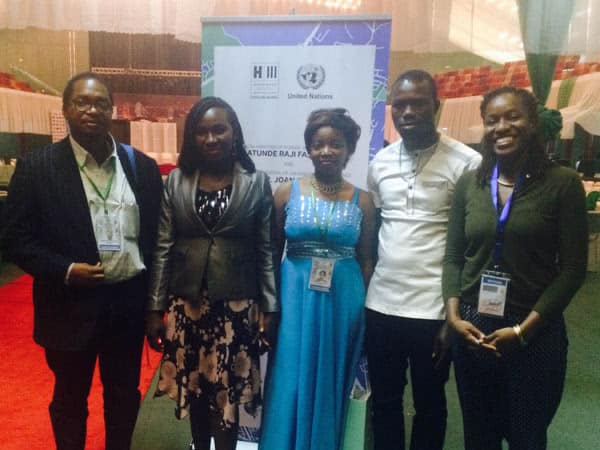 Here, at our Abuja stakeholder forums, grassroots women, informal settlement dwellers, and informal workers have joined forces to consolidate issues and priorities we feel are essential to address. Participants spoke to the suffering caused by unfettered privatization and arbitrary acquisition of the lands they occupy for real estate speculation and projects for private benefit. Others emphasized how women and the urban poor are generating income and contributing to the urban economy but often face arrest, harassment, criminal sanctions like fines and imprisonment – rather than business subsidies. Many outlined the urgent need to close gender and socioeconomic gaps and promote equity and inclusion in the New Urban Agenda.
- Huairou Commission/SDI/WIEGO joint statement: Africa Regional Meeting, Abuja, Nigeria, February 2016
Europe Regional Meeting | 16-18 March 2016 | Prague, Czech Republic
Along with the Huairou Commission and SDI, WIEGO hosted a side event during the Europe Regional Meeting entitled "Global Grassroots Lessons for Europe: Engaging Local Government for Participatory Governance and Inclusive Cities." Street vendor and informal workers' rights advocate Gloria Solorzano Espinoza of the National Self-Employed Workers' Union of Peru spoke at this event.
WIEGO's Victoria Okoye, along with representatives of partner organizations, also participated in a GAP joint side event called "The Straight Road to Habitat III: Part I. Decentralization and the New Urban Agenda." This side event discussed policy measures promoting sustainability, decentralization tools, and activities for the New Urban Agenda, and evaluated the effectiveness of the stakeholders from the point of view of the NUA.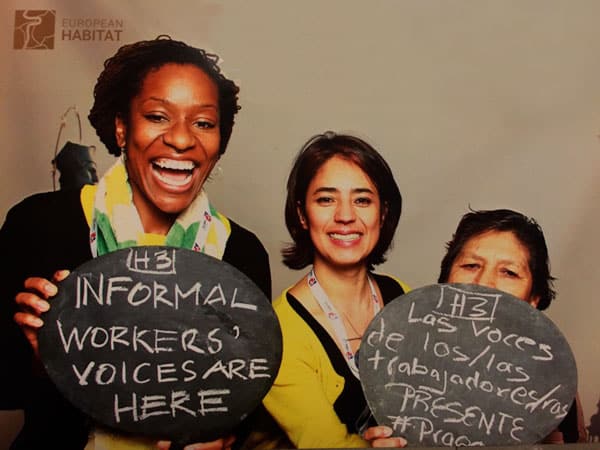 This is why we are in the Habitat III Process, because we believe that The City We Need must be economically and socially inclusive for the informal economy. But this can only be possible if the Habitat III Process takes us into account. This process will impact us, and we want to be included – in the dialogues, in the planning and in the implementation. We don't want a process that promotes the behaviour of the current city administration in Lima that went against the inclusion of us as stakeholders.
- Gloria Solorzano Espinoza: Europe Regional Meeting - Prague, Czech Republic, 17 March 2016
Public Spaces Thematic Meeting | 4-5 April 2016 | Barcelona, Spain
In Barcelona, Alison Brown, WIEGO advisor, was a speaker for the plenary session entitled "A New Urban Agenda for Combating Inequalities: Claiming for Public Spaces and a City for All." Her presentation on public space and livelihoods emphasized the need for inclusive policies for street vendors instead of harassment and evictions. Below is the Power Point of her presentation.
Learn more
Public Space and Livelihoods: View From the Street
Latin America & Caribbean Regional Meeting | April 18-20 | Toluca, Mexico 
WIEGO team members Sonia Dias (Waste Sector Specialist) and Tania Espinosa (Latin America Coordinator of WIEGO's Law Programme) participated in the Latin America and Caribbean Regional Meeting. Sonia spoke on the plenary session "Gender and Safe Cities for Women: Urban Interventions for the Prevention of Violence Dialogue."
Informal Settlements Thematic Meeting | 7-8 April | Pretoria, South Africa 
WIEGO's Victoria Okoye was a speaker for the plenary session on "Financing informal Settlement/Slum Upgrading Contributing to Sustainable Livelihoods and Inclusive Economic Growth" at the Informal Settlements Meeting. She discussed financing for urban slum upgrades—also noting that, as the home is also a workplace, this would also be a livelihood upgrade—and brought attention to successful strategies used by partner organizations that might be replicated.
Learn more: WIEGO Urban Policies Policy Brief #1 "Approached to Basic Service Delivery for the Working Poor: Assessing the Impact of Mahila Housing Trust's Parivartan Slum Upgrading Programme in Ahmedabad, India" by Sara Rusling (2010).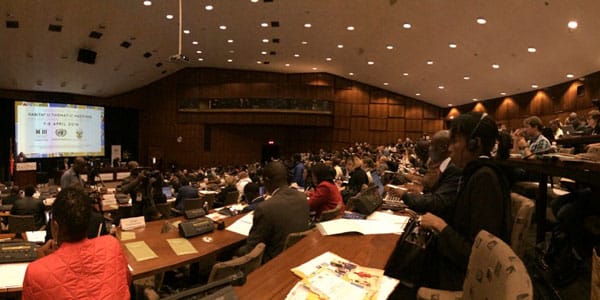 WIEGO/SDI/Huairou Commission Side Event
WIEGO, SDI, and the Huairou Commission jointly hosted the side event "Informal Settlements as Productive Centres of Resident Organizing and Livelihoods." The panellists included a representative from Huairou Commission, a waste picker and member of the South African Waste Pickers Association (part of the WIEGO network), and WIEGO's Urban Advocacy Specialist Victoria Okoye. Panelists discussed the everyday challenges of being home-based workers, such lack of space for storage of materials and accessing savings or loans, among others.
See Victoria's presentation, Informal Settlements, and excerpts from the panellists' statements below.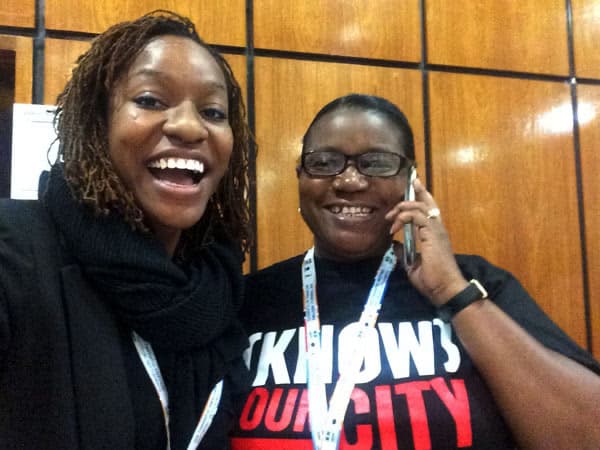 Stakeholder Statements from the Side Event
There is a power in savings to leverage resources for community and slum upgrading. SDI uses exchange programs between federations for sharing information and experiences. In situ informal settlements upgrading; in upgrading informal settlements, there is need for legislation to address the process. We must be self-reliant; government will start to listen to us. We aren't waiting for the government to do for us. We do and then government can meet us halfway.
- Rose Molokoane, SDI
Waste picking has given me a big opportunity. I have raised five kids; without recycling, I'm nothing. My mom raised us with recycling (there were nine of us at home); my father wasn't working. I dropped out of school at grade 11 because I had to raise my kids.
- Catherine Rapetswa, Waste Picker/South African Waste Pickers Association
We started a group loan with small-sized loans and you can pay back. These were house loans and water and sewer loans. Daily savings in the community facilitated the loans. We established an MOU with the community; without it, nothing can happen in the city.
- Sheila Magara, SDI/Zimbabwe
Civil society often comes to these places and platforms "fragmented" and "divided," but we are now working together, in the SDG process and now in the Habitat III process. Women are calling on partnership—to redefine what partnerships means. It involves them in planning, designing, implementing, monitoring. There must be someone to monitor the government and the New Urban Agenda. The New Urban Agenda should bring these voices together...We are talking about institutionalizing roles. Otherwise when structures change, we are always reintroducing ourselves with government changes. Instead we should still be there. It's a mandate to work with organized groups of communities. We are grassroots and we bring to the table experience, community data, and research.
- Violet Shivutse, Huairou Commission
Regional and Thematic Meeting Declarations 
WIEGO contributed to the final declarations from the regional and thematic meetings, which are considered official inputs to the Habitat III process:
Resources
Blog Posts and Backgrounders