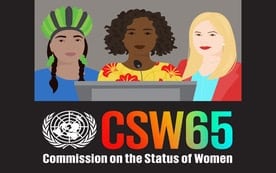 15 March 2021 - 26 March 2021
CSW65 Online Forum
UN Headquarters, New York
CSW65
The Commission on the Status of Women (CSW), a functional commission of the United Nations Economic and Social Council (ECOSOC), is a global policy-making body dedicated exclusively to promoting gender equality and the empowerment of women.
Representatives of UN Member States, civil society organizations and UN entities gather every year at the UN headquarters in New York. The 65th session of CSW took place from 15 to 26 March 2021. In light of the evolving COVID-19 situation, and taking into account the latest guidance from the United Nations Secretary-General and the World Health Organization (WHO), CSW65 took place in a hybrid format with mostly virtual meetings.
About the Event and WIEGO's Involvement
This year, the Commission addressed as its priority theme "Women's full and effective participation and decision-making in public life and the elimination of violence, for achieving gender equality and the empowerment of all women and girls".
WIEGO and the Global Networks representing workers in the informal economy raised their voices during the conference parallel events.
Notable Events
Tuesday 16 March: 6:30AM–8:00AM EDT
​​​​​​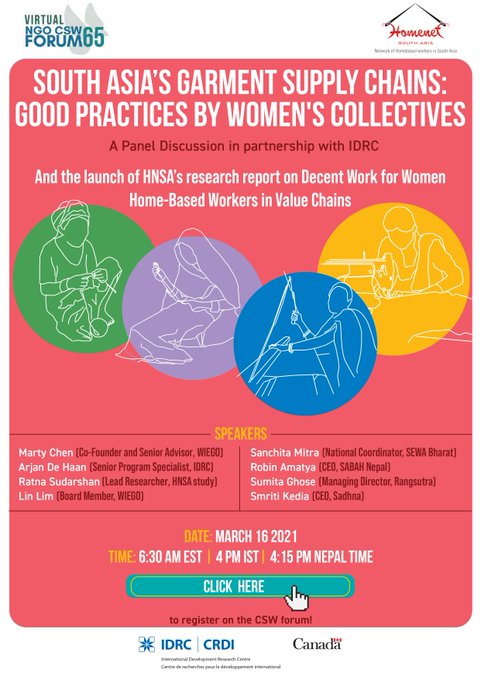 South Asia's Garment Supply Chains: Good Practices by Women's Collectives
A panel discussion organized by HomeNet South Asia (HNSA) in partnership with IDRC.
Panelists included academics, trade unionists, and founders/CEOs of social enterprises, who shed light on how organizations of South Asian women home-based workers have developed good practices to tackle the precarity of work in global garment supply chains.
During this session, HNSA launched the research report on "Promoting Decent Work for Women Home-Based Workers in Value Chains: Cases from India and Nepal".
Speakers
Marty Chen, International Coordinator Emeritus and Senior Advisor, WIEGO
Lin Lin, Board Member, WIEGO
Sanchita Mitra, National Coordinator, SEWA Bharat
Arjan De Haan, Senior Programme Specialist, IDRC
Ratna Sudarshan, Lead Researcher, HNSA Study
Robin Amatya, CEO, SABAH Nepal
Sumita Ghose, Managing Director, Rangsutra
Smriti Kedia, CEO, Sadhna
Interpretation will be available in Bangla, Nepali, Hindi and Urdu.
Tuesday 16 March: 8:00AM – 10:00AM EDT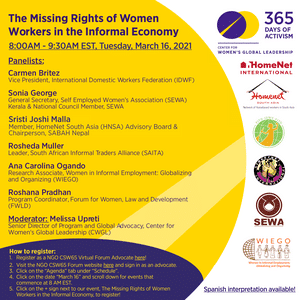 The Missing Rights of Women Workers in the Informal Economy
Organised by the Global 16 Days Campaign [coordinated by the Center of Women Global Leadership (CWGL)], the International Domestic Workers Federation (IDWF), HomeNet International (HNI) and WIEGO.
Speakers
Carmen Britez, Vice President, IDWF
Srishti Joshi Malla, HNSA Advisory Board and Chairperson of SABAH Nepal
Rosheda Muller, Leader, South African Informal Traders Alliance (SAITA), SNI Affiliate
Sonia George, General Secretary, SEWA-Kerala and the National Council Member
Ana Carolina Ogando, Research Associate, WIEGO
Roshana Pradhan, Program Coordinator, FWLD, Nepal
Interpretation will be available in Spanish.
Wednesday, 17 March: 8:00 am - 10:00 am EDT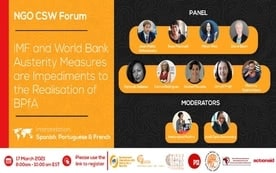 IMF and World Bank Austerity Measures are Impediments to the Realization of BPfA 
Organized by Action Aid International, Public Service International (PSI), Development Alternatives with Women for a New Era DAWN, Global Alliance Against Traffic in Women (GAATW), Asia Pacific Forum on Women, Law and Development (APWLD), and WIEGO.
Speakers
Rachel Moussié, Deputy Director, Social Protection Programme, WIEGO
Andi Cipta Asmawaty, Labour Program Officer, APWLD
Misun Woo, Regional Coordinator, APWLD
Diane Elson, Emeritus Professor, University of Esysex,
Rosa Pavenelli, General Secretar, PSI
Corina Rodriguez Enriquez, Executive Committee Member, DAWN
Neelanjana Mukhia, ActionAid International
Fatimah Kelleher, ActionAid International
Jarujit Prajit, Vice President, Nurses Union of Thailand
Memory Kachambwa, FEMNET
Friday, 19 March: 9:00 am –10:30 am EDT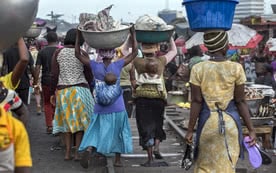 Photo Credit: Jonathan Torgovnik/Getty Images Reportage 
#InvestInCare: A driver of gender equality
Organized by the Global Union Federations about the Global Day of Action on Care.
Moderator
Speakers​​​​​​
Grace Papa, CSC A&S Belgium, Member of the Executive Committee, IDWF
Adriana Paz, Regional Coordinator for Latin America, IDWF
Marieke Koning, International Trade Union Organization (ITUC)
Chidi King, Director, Equality Department, ITUC
Maria Tsirantonaki, Project Cooordinator, ITUC 
Carmen Smenjaud, ITUC Assistant 
Michel Core, Public Services International
Hazel Ripoll, Public Services International
Kate Lappin, Public Services International
Veronica Montufar, Public Services International
Rebeca Sevilla, Coordinator, Education International 
Yamile Socolovsky, Secretary for Training Research, Projects and StatisticsCTA-T Argentina,
Bilan Arte, National Representative for Women and Human Rights, Canadian Labour Congress
Diane Elson, Chair, Women's Budget Group
Friday, 19 March: 9:00AM–11:00AM EDT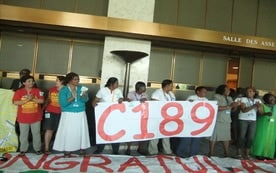 10 Years since C189: Domestic Workers' Need for Social Protection
Organized by the International Domestic Workers Federation (IDWF).
Moderator
Elizabeth Tang, General Secretary, IDWF
Speakers
Claire Hobden, International Labour Organization
Ida Le Blanc, National Union of Domestic Employees (NUDE), Trinidad and Tobago
Lita Anggrini, Jaringan Nasional Advokasi Pekerja Rumah Tangga (JALAPRT), Indonesia
Maria del Mar Ortolano
Mary Anne Abunda
Carmen Almeida
Nellie Dina Kahua
Tuesday, 23 March: 8:00AM - 9:30AM EDT
Tackling gender inequality through a care economy
CSW65 informal side event
The Pathfinders for Peaceful, Just and Inclusive Societies, in partnership with the International Trade Union Confederation (ITUC) and Women in Informal Employment: Globalizing and Organizing (WIEGO) hosted a discussion on the role of the care economy in future of work policy discussions, and opportunities within COVID-19 recovery efforts to better recognize and compensate the labor performed by care workers.
Speakers
Faiza Shaheen, Inequality and Exclusion Program Lead, Pathfinders for Peaceful, Just and Inclusive Societies
Chidi King, Director, Equality Department, ITUC
María Lucía Scuro, Social Affairs Officer, Division for Gender Affairs, Economic Commission for Latin America and the Caribbean (ECLAC)
Rachel Moussié, Deputy Director, WIEGO Social Protection Programme
Ian Goldin, Oxford University
TBD, Ministry of Foreign Affairs, Sweden
Wednesday, 24 March: 9:00AM - 11:00AM EDT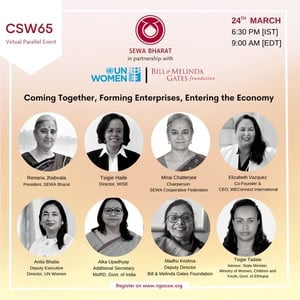 Coming Together, Forming Enterprises, Entering the Economy.
Organized by SEWA Bharat.
The session sought to highlight women's CSEs as a model for women's economic empowerment, discuss collective strength, representation and bargaining and allied benefits, and share stories of leadership from the ground. It looked to identify ways to support women's enterprises culminating in a set of recommendations and action points for relevant stakeholders.
Speakers
Renana Jhabvala, President, SEWA Bharat

Tsigie Haile, Director WISE

Mirai Chatterjee, Chairperson SEWA Cooperative Federation

Elizabeth Vazquez, Co-founder & CEO WEConnect International

Anita Bhatia, Deputy Executive Director, UN Women

Alka Upadhyay, Additional Secretary MoRD, Govt. of India

Madhu Krishna, Deputy Director Bill & Melinda Gates Foundation

Tsigie Tadale, Advisor, State Minister, Ministry of Women, Children and Youth, Govt. Of Ethiopia
If you have a problem registering on the NGO CSW virtual platform, the event also streamed live on SEWA Bharat's Facebook and YouTube channels.
More Information