Hero Image

Reports of brands cancelling orders and the impact on factory workers in Asia have grabbed headlines. But there are workers at the bottom of the garment supply chain who are even more vulnerable and easily forgotten. Subcontracted homeworkers — women who stitch from homes for some of the leading brands, often for pennies — have been left devastated by a lack of wages and lost payments for work already completed. Without brands taking responsibility, they are now left to fend for themselves.
Inside India's "T-shirt factory of the world"
In Tirupur, India, the "T-shirt factory of the world", over 200 international brands have their T-shirts produced, including Adidas, Marks & Spencer, Mothercare, Grays, Primark, Walmart, C&A, Levi's and H&M. The workforce in Tirupur includes over 40,000 homeworkers, mostly women, whose tasks include embroidery, stitching, making screen prints and appliques, inserting the tie into tracksuit pants, cutting lose threads, removing stains, and packaging.  
Small trucks deliver piles of T-shirts and track pants to the homeworkers. Factories also outsource to small workshops, which subcontract aspects of production to homeworkers. The owners of these mostly informal workshops are homeworkers' neighbours.  
Sridevi, a homeworker I interviewed two years ago, explained that the "contractor" comes two to three times a week "to give and take back the pieces and also pressures us in between to get the work done fast." The factories provide the fabric, but homeworkers buy thread, needles, and special scissors for thread-cutting, and machinists pay for electricity — a lot of overhead for little compensation.
Sridevi  manages to insert a tie into and trim the threads of 100 pairs of trackpants per day. She is paid Rs 1.10 (USD 0.01) per pair, so earns Rs110 (USD 1.43) per day. Her rent — for a room, a kitchen, and a bathroom that is shared with three other families – is Rs1600 (USD 20.89) per month.
Now, all of those earnings have come to a halt, and Sridevi is left with the burden of paying her monthly expenses without any income at all.
Brands neglecting homeworkers
According to Social Awareness and Voluntary Education (SAVE), an organization that has organized over 4,000 of the homeworkers in Tirupur, many homeworkers have not been paid for products that have already made and given to factories.
Like in Bangladesh, the work in Tirupur has been slow since January, owing to the lack of raw materials from China in the wake of the COVID-19 virus. With the lockdown in India since 24 March, work has ceased and homeworkers are without any income. Factories in the Indian state of Tamil Nadu, where Tirupur is located, were ordered to stay closed until mid-April, and now that stay-at-home order has been further extended. 
H&M makes important commitment
H&M is one of the few brands that has made a public commitment  to honour existing orders. This should be good news for some homeworkers, since the Global Framework Agreement between H&M and the Global Sector Union, IndustriALL, which is intended to regulate H&M's industrial relations in its global supply chains, arguably covers homeworkers.
Unfortunately, the agreement does not require H&M to oblige its suppliers and sub-contractors to disclose the details of its sub-contracting arrangements, including with homeworkers. In the absence of disclosure requirements and grievance procedures for homeworker organizations to lodge a complaint, and with no homeworker representatives on monitoring committees, these commitments have no means of reaching Rajeshwari, Sridevi and their fellow workers.
A global phenomenon
India
Homework is ubiquitous in India. It is estimated that five-million homeworkers are engaged in production for garment and textile supply chains. A recent survey of 340 garment factories in Delhi and Bengaluru showed that 58 per cent of surveyed factories outsource to homeworkers.  
Indeed, homework is prevalent in many Asian countries, including Nepal, Bangladesh, Pakistan, Cambodia, and Thailand. Even within the European Union, homeworkers can be found in a range of industries, including garments and footwear.
Bulgaria's homeworkers fight back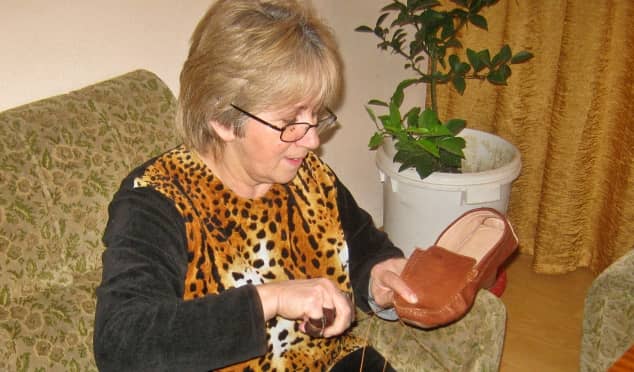 In Bulgaria, Katerina[1], who lives and works in Petrich, a town close to the Greek border, is contracted by a local factory (or workshop) to work from her home. She hand-sews heels and uppers onto men's leather shoes. Other Petrich homeworkers pack socks, do embroidery, or sew buttons and garments.
Factories deliver the raw materials to homeworkers' homes and collect the completed products. Katerina and her neighbours know that these shoes are destined for Italy, and even know the brands' names. It takes Katerina an hour to finish one pair of shoes, and she is paid BGN 2 (USD 1.11) per pair. She tries to complete ten pairs of shoes a day, for which she is paid just over ten dollars for an exhausting ten hours of work.
On average, homeworkers in Bulgaria earn one third of the national minimum wage of BGN 510 (USD 283) per month. In the wake of COVID-19, these homeworkers, too, are without work.
In 2009, Bulgaria ratified the ILO Convention 177 on Homework, which states that homeworkers must be treated on equal terms to other employees. Yet, despite a tripartite National Agreement (to which the Bulgarian Homeworkers Association was a signatory), Bulgaria's Labour Code still excludes homeworkers. 
In August 2018, when discussions with the Ministry of Labour and Social Policy failed, the Trade Union of Self-employed and Informal Workers (UNITY) lodged a report with the ILO Committee of Experts on the Applications of Conventions and Recommendations (CEACR) on its government's failure to implement Convention 177. Although the government has responded to some of the CEACR's requests, the Labour Code has not been amended. As a result, homeworkers are excluded from the social security system and from the Bulgarian government's COVID-19 support to firms' employees.
Similarly, India's social security system provides for 70 percent of employees' salary to be paid during sick leave. Homeworkers are not covered. They are not covered by other COVID-19 cash transfers either. According to HomeNet South Asia (HNSA), a regional network of organized homeworkers that has members in eight South Asian countries, the range of COVID-19 economic bailouts that have been proposed by the Indian and Pakistan governments (who are ahead of other governments in the region) have failed to include the 38 millon self-employed and subcontracted home-based workers in India and Pakistan.
The OECD Due Diligence Guidance for Responsible Supply Chains in the Garment and Footwear Sector
Governments' failure to legally recognize homework as disguised employment is responsible for homeworkers not being able to access social security or to access COVID-19 relief packages extended to businesses and their employees. Stories of homeworkers leaving their homes to beg for food (at risk of exposing themselves to both infection and police violence) or risking starvation are a brutal outcome of their legal exclusion.
Beyond governments, brands still responsible
However, governments' failure does not let brands and retailers off the hook. The 2016 International Labour Conference Conclusions recognized homeworkers as legitimate workers in global supply chains. Many brands have adopted homeworker policies, and the OECD Due Diligence Guidance for Responsible Supply Chains in the Garment and Footwear Sector ("The Guidance") has a module on homework. Forty-eight countries are signatories to the OECD instruments.
To be sure, the Guidance states that brands can choose whether or not to authorize its suppliers to contract homeworkers. The module on homework outlines how brands might comply with the UN Guiding Principles on Business and Human Rights should they authorize homework. For many brands, it is convenient not to authorize homework or to turn a blind eye.
It is well documented that suppliers' practice of subcontracting aspects of production to homeworkers is a direct result of brands and retailers' purchasing practices: their tight deadlines, fluctuating demand, and pressure to reduce production costs. An ILO survey of 1,454 suppliers to multi-national enterprises (MNEs) from 87 countries shows that MNEs continually pressure suppliers to drop their prices. Up to 52 per cent of suppliers that were surveyed sign contracts to produce goods at a loss. The primary reason they do so is to secure future orders.
Demanding unpaid overtime, keeping wages low, and outsourcing to homeworkers are the suppliers' primary tactics for keeping costs low. Suppliers also subcontract aspects of production, such as embroidery, that are too labour intensive for factories and require special skills.
Why homework is important to women and should be supported
Homeworkers make important arguments for why brands and retailers should support, rather than prohibit, homework. First, they argue that factories do not hire older workers. For example, Thai factories do not hire workers over 40 years of age, and Indonesian factories have forced people over 50 years of age to resign. The majority of homeworkers in Bulgaria are over 40 years old.
An interview with a labour relations expert in Bengaluru, India suggests that the work intensity in export factories means that by age 40, workers' bodies are finished:
One local labour relations expert in Bengaluru said that garment workers often told him:
'We are like sugarcane to them [the factory owners]. Once they squeeze out all the liquid, they throw us out.' He added that, because of the intense pace of the work, very few workers were able to work past the age of 40.
Prohibiting homework would therefore exclude men and women over 40 from the labour market. Second, women homeworkers argue that they need to work from home to fulfill their domestic and reproductive responsibilities — cooking, cleaning, collecting water and fuel, and caring for children, grandchildren and sick or disabled relatives. Third, homework enables women who are prevented by cultural and religious norms from working outside the home to participate in the labour market. Finally, homework enables women who live in villages outside of cities to access work, as the intermediaries bring raw materials to them and fetch finished products. For many, travelling is unaffordable and not possible on a daily basis.
The Guidance stresses that formalizing homework should not be equated with getting homeworkers to register and/or move out of their homes to centers. Rather, it places the responsibility on brands to ensure that homeworkers are formalized through requiring their suppliers to give them written contracts and through the provision of social security.
Indeed the Guidance exhorts brands to include provisions in their agreements that require suppliers, intermediaries or buyers to keep a record of homeworkers, including: the quantity of goods that homeworkers make and how much they are paid; records of how long it takes to make items to ensure that piece rates add up to the minimum wage; and records of any social security contributions. It states that brands should provide intermediaries with training and partner with local organizations concerned with formalizing homework. They also are encouraged to engage with local or national government to provide homeworkers with rights so that they are treated the same as other workers, including with respect to social security.
What brands need to do
Many organizations, trade unions, and academics are calling on brands to desist from invoking force majeure to avoid paying for existing orders, with some arguing that the brands are neither ethically nor legally justified to do so. And they are calling for a post-COVID-19 shift in brands' and retailers' procurement practices.
In HomeNet South Asia's Charter of Demands, its members call for governments to establish a Recovery Fund for informal workers, including women home-based workers. The Asia Floor Wage Alliance has called on brands to make a one-time- Supply Chain Relief contribution  "to mitigate the harmful impact of COVID-19 on supply chain workers, most of whom are women". 
South Africa has created a COVID-19 Solidarity Fund. The President, Cabinet, and individual mayors are committing one third of their salaries to this fund for the next three months. The CEOs of listed companies are following their example. 
The five top buyers in the fashion industry are Zara, C&A, Walmart, H&M, and Uniqlo. According to one research report, "the net wealth of the CEOs and owners of [these] five global buyers [exceeds] the value of all Indian garment exports, valued at USD 18 billion in 2016".  
Those of us who witness the devastating effects of factory and homeworkers left without any income call on these CEOs, together with the CEOs of Primark, Levi's, Marks & Spencer, and other brands to show similar solidarity with the factory and homeworkers in their supply chains during this crisis.
Such actions might well make the difference between life and death for the homeworkers and factory workers in their supply chains now — and help improve homeworkers' visibility in the future.
---
[1] Names have been changed.
Photo: Viboonsri Wongsangiym is a home-based worker in Bangkok, Thailand who must deal with constraints typical to informal workers, especially irregular orders and inconsistent income. She belongs to HomeNet Thailand to access more benefits for informal workers and to connect to new work opportunities. Photo by Paula Bronstein/Getty Images Reportage.
Related Posts
Informal Economy Theme

Informal Economy Topic

Occupational group

Language
Wiego on Twitter