The RWCC Project
Waste pickers worldwide contribute significantly in preventing ocean waste pollution by recycling and reusing materials that would otherwise end up in the environment. When better organized and formally integrated into recycling systems, waste pickers can increase their contribution to environmental protection.
The RWCC Project works to document and enhance the contribution of waste picker organizations in preventing ocean waste pollution.  It is improving the capacity of waste picker organizations to be formally integrated into solid waste management in their cities. The project, which began in 2018, reaches dozens of world cities and has global activities, but focuses primarily on four locations: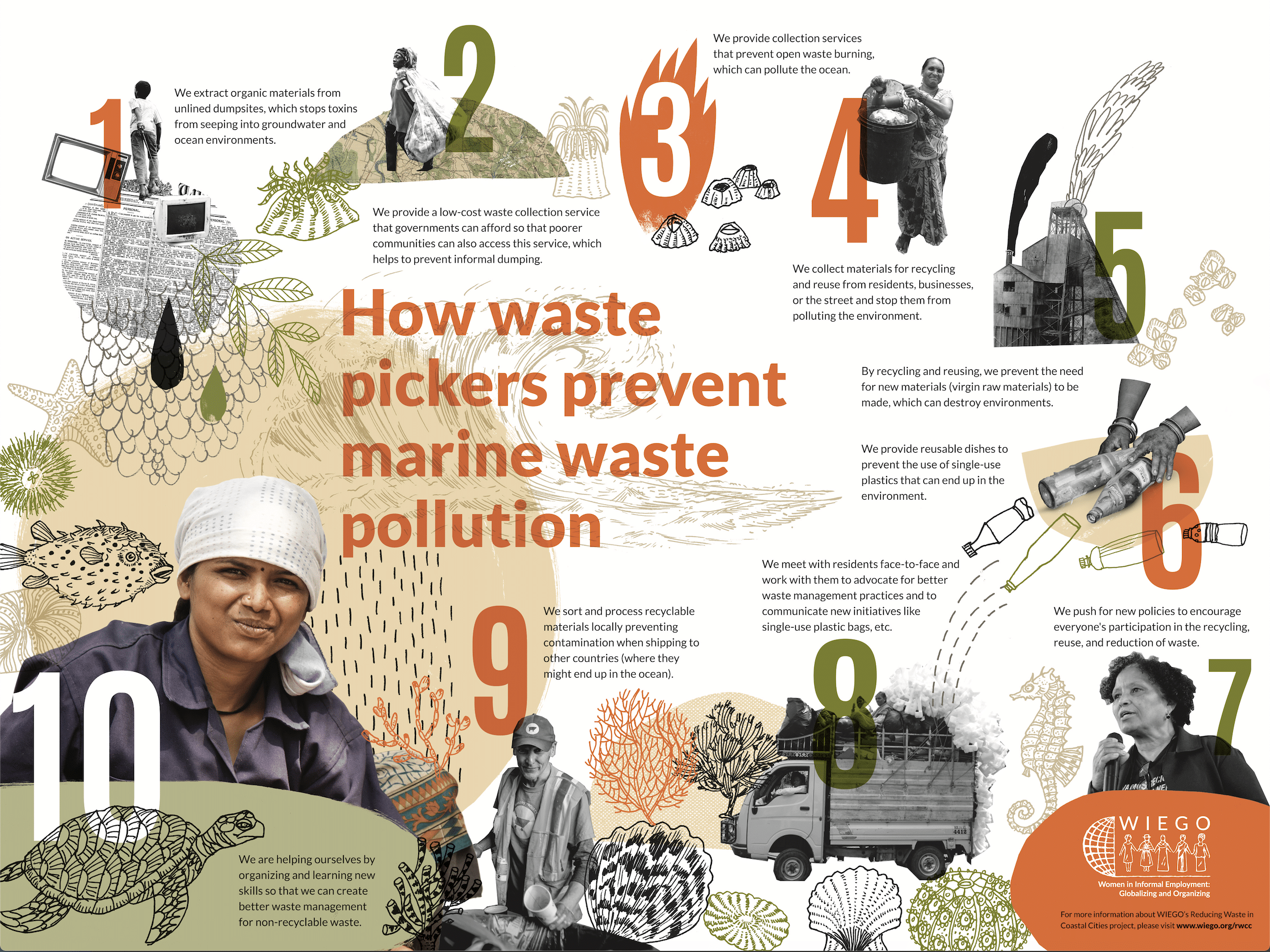 Progress in coastal cities
Accra, Ghana
To successfully integrate informal waste pickers into formal municipal solid waste management systems, waste picker groups must build their organizational and technical capabilities.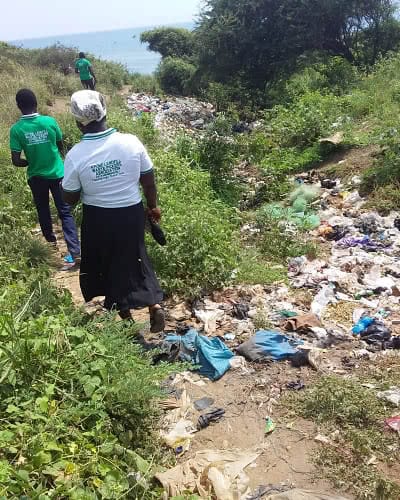 Despite the interruptions of two catastrophic landfill fires in 2019 and 2020, and the COVID-19 pandemic, members of the Kpone Landfill Waste Picker Association in Accra have been making remarkable gains. The Kpone waste pickers have successfully used their growing advocacy skills in meetings with key stakeholders including Ghana's Ministry of Environment, Science, Technology & Innovation (MESTI) and the World Bank's Greater Accra Resilient and Integrated Development (GARID) project. These engagements were aimed at supporting waste pickers to learn more about the prospective closure of the Kpone landfill on which they work, and also to articulate their demands on the new Ghana National Plastics Policy.
Kpone waste pickers have partnered with Advocates for Community Alternatives to understand their rights within the World Bank's livelihoods protection framework, and launched a multi-stakeholder process to strategize for inclusive waste management. Recently, the Kpone waste pickers began scoping livelihood alternatives outside of the landfill by identifying coastal communities with inadequate waste management and holding doorstep waste collection pilots in these communities. They are collecting data from these pilots to develop a proposal to be paid for these services.
WIEGO's increasingly visible work with waste pickers in Accra earned its Focal City Coordinator Dorcas Ansah and Technical Consultant Dr. Owusu Boampong seats on Ghana's National Plastic Action Partnership, which is developing policy and systems for improved plastic management in the country.
COVID-19 Crisis: When Ghana instituted a lockdown on March 29th, waste pickers suddenly had no place to sell materials and many families suffered from hunger and shortages of essential goods like medication. Being organized as an association has enabled the Kpone workers to attract and distribute emergency relief to their workers, emphasizing the importance of organizing to the resilience of vulnerable communities.  
In June, media in Accra reported that the Kpone landfill will be closed imminently. Despite government assurances that waste pickers' livelihoods would part of solutions, they were not consulted. JUNE 16 PRESS RELEASE: Ghana waste pickers say closure threatens survival and demand government support
Check out this video about the Kpone Landfill Association's work, the latest blog post about their work, and read Dr. Boampong's op-ed about waste pickers in Accra.
Buenos Aires, Argentina
Argentina's National Waste Picker Federation (FACCyR, Federación Argentina de Cartoneros, Carreros y Recicladores) is one of the world's best examples of inclusive waste management.  Their work in the RWCC project demonstrates that the more included waste pickers are in formal waste management systems, the more capable they are of preventing marine waste pollution.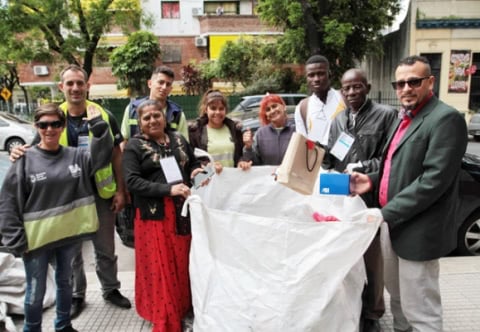 In 2019, FACCyR's Amanecer de los Cartoneros cooperative gave 2,000 waste pickers access to formal processing centers where residuals can be more responsibly managed, which prevents a whopping 8.5 tons of plastic per month from entering waterways. FACCyR has now secured processing facilities for seven additional cooperatives, and has developed a national strategy for inclusive waste management with ministerial funding to expand their model to 16 more cooperatives, seven of which are in coastal cities.
FACCyR strongly defends the principle that no environmental management policies will ever truly be successful without first acknowledging and including the waste pickers' already valuable work.
FACCyR also facilitated municipal contracts for two groups of "Environmental Guardians" to remove more than 39 tons of waste from shorelines each year and train the surrounding community on responsible waste management. 
FACCyR has made other environmental gains this year, including:
winning a court ruling on the unconstitutionality of waste incineration
securing the repeal of locked public trash cans (which prevent waste picking) from the streets of Buenos Aires
receiving an invitation from the Ministry of Environment to consult in the development of a proposal for an inclusive Extended Producer Responsibility (EPR) policy for packaging. 
"The RWCC project has been very important for us because it brought a new perspective to our work and helped reorient our work to the environmental issue of ocean waste.  It became a tool for organizing."   ~ Carolina Palacio, FACCyR organizer
Follow FACCyR's work on Facebook.
Dakar, Senegal
Organizing at the Mbeubeuss dump in Dakar, a source of income for more than 2,000 waste pickers, is no easy task. But with the World Bank-supported Senegalese State project to restructure Mbeubeuss—likely displacing the majority of these workers—organizing has become a necessity. 
Bokk Diom, the waste picker association, has been organizing since the 1990s, but the RWCC project has helped them to organize better and more quickly through capacity building and advocacy support. In 2019, Bokk Diom held its first democratic elections and began collecting membership fees and issuing ID cards. Women established their own committee to ensure that their needs are at the forefront. To build the capacity of the association more evenly, Bokk Diom launched informational tea sessions with the waste pickers throughout the dumpsite. Workers report improved mental and physical health as a result of these engagements.
During the COVID-19 crisis, Bokk Diom has supported members, including by distributing masks bought with the association's funds (shown in this Wolof language video).
With support from WIEGO, Bokk Diom is forging new partnerships with organizations like the Confédération Nationale des Travailleurs du Sénégal (CNTS), the Confédération des syndicats autonomes du Sénégal (CSA), and the International Labour Organization (ILO). A multi-stakeholder forum brought officials to the dumpsite to strategize on including waste pickers in formal waste management.
Their advocacy is paying off. Bokk Diom now has a seat at the table with the World Bank; the UCG (the state body that oversees waste management in Senegal); the Ministry of Environment and Sustainable Development; the Ministry of Urban Planning, Housing and Public Hygiene; the City of Dakar; and local municipalities to discuss how waste pickers can transition into sustainable livelihoods outside the Mbeubeuss dumpsite.
But in a country where more than 50% of the population lacks waste management services, Bokk Diom must build technical capacity to identify waste management gaps, and then advocate for the financial support to fill those gaps. Currently they are engaging fisherfolk to strategize how to provide waste management services in coastal communities where plastic pollution is damaging the fishing industry. 
Read the Dakar project's baseline report (in French) and Read Bokk Diom's 2020 statement (in French) for March 1st, International Waste Picker Day.
Mangalore, India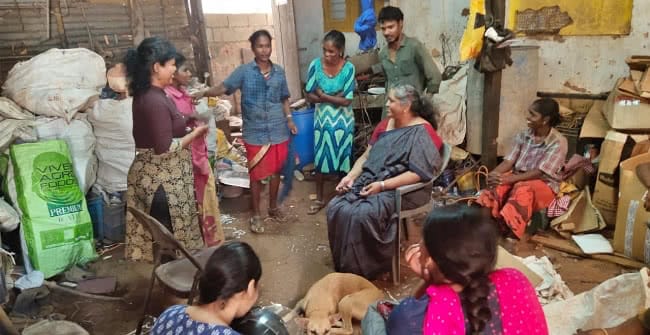 In 2019, Mangalore was added to the RWCC project as a site where the Bangalore-based waste picker organization Hasiru Dala is organizing waste pickers in Mangalore for the first time.
In partnership with local organization Anti-Pollution Drive, Hasiru Dala has leveraged their expertise and good reputation in inclusive waste management to secure municipal support and infrastructure for a Dry Waste Collection Center and employment opportunities for waste pickers in Mangalore and nearby city Ullala, which contributes waste to the Gurupura river. A Dry Waste Collection Center (DWCC) was established in Ullala and waste pickers are being trained to operate it.
The programme in Mangalore was established after extensive scoping and geo-mapping of marine waste hotspots to identify where waste management infrastructure is most needed to prevent marine waste pollution in the city. 
Hasiru Dala and Anti-Pollution Drive have also been engaging in public advocacy by training local residents on dry waste segregation as well as conducting public beach cleanings and other awareness-building activities like street theatre.
Read more about the Mangalore project and follow Hasiru Dala's work in both Bangalore and Mangalore on Facebook. 
Global activities
Inclusive EPR policies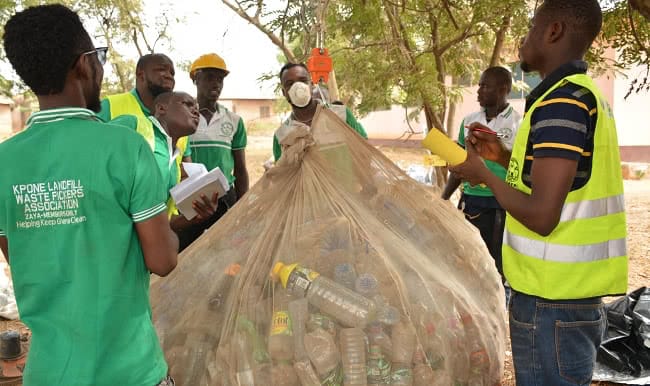 One of the key challenges in preventing marine waste pollution is finding the funds to afford complete waste collection. To fund waste management, many governments are turning to Extended Producer Responsibility (EPR) policies to hold producers and manufacturers responsible for funding waste management. Often, these policies are directed by producers themselves, disrupting waste management systems in ways that restricts waste pickers access to materials.
A key ongoing activity under the RWCC project has been the establishment of a global working group on EPR and the collection of case studies to help devise recommendations for "Inclusive EPR."  Stay tuned for more information. 
COVID19 crisis and response
COVID19 has dramatically impacted informal workers around the world, and waste pickers are particularly at risk. When the pandemic struck, WIEGO supported the Global Alliance of Waste Pickers to compile COVID19-related communications from waste picker groups and develop a COVID-19 recommendations document.  These recommendations helped waste picker groups and even government establish safer waste management protocols during COVID-19. 
The crisis has highlighted the importance of organizing. Among our partner associations, waste picker leaders have stepped in to help their members. In Accra, Kpone leadership provided information to members during the lockdown and purchased soap and hand sanitizer with personal funds.  In Dakar, Bokk Diom members used organization funds to provide their members with personal protective equipment.  In Buenos Aires, workers were able to secure government-funded income relief that has allowed most of them to remain home.
Greenhouse Gas Methodology and Climate Change
Promoting waste picker inclusion demands evidence as to why waste pickers are a good solution for cities- one of which being that they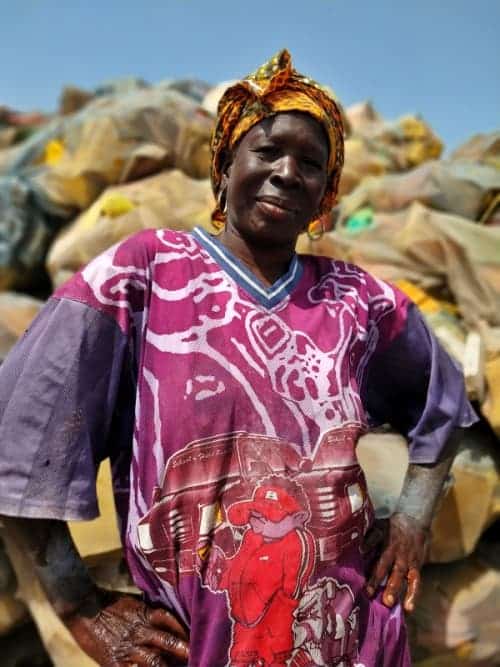 help prevent greenhouse gas emissions. Through the RWCC project, WIEGO developed the first ever methodology enabling the estimation of greenhouse gas emissions that waste pickers prevent through their work.
The methodology is currently being tested in several cities around the world, and then will be made available to the public. 
Global exchanges
Funded by Sweden's SIDA, the project is coordinated by Taylor Cass Talbott, who is supported by WIEGO's team of waste picker experts, while on the ground, dedicated local teams are at work in Accra, Dakar, Buenos Aires and Mangalore (Karim Saagbul, Maguette Diop el Hadji, Paula Basilico and Nalini Shekar). Net support coordination for global exchanges is provided by Carolina Palacio.
The project leverages synergies with other WIEGO work in the sector, including the SIDA Net Support Project globally and the Focal Cities projects in Accra and Dakar.