Subtitle: WIEGO Statistical Brief No. 10
This brief presents numbers and analysis of home-based workers in India from 1999-00 to 2011-12. It is based on data collected by the National Sample Survey Organisation (NSSO) through the Employment-Unemployment Surveys in 1999-00, 2004-05 and 2011-12.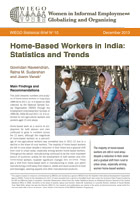 This brief is part of the WIEGO Publication Series.
View list of all WIEGO briefs.