Subtitle: WIEGO Statistical Brief No. 12
This brief presents estimates of home-based workers in Bangladesh based on two rounds of labour force surveys (nationally representative sample) conducted by the Bangladesh Bureau of Statistics (BBS) during 2005-06 and 2009-10.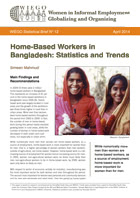 This brief is part of the WIEGO Publication Series.
View list of all WIEGO briefs.