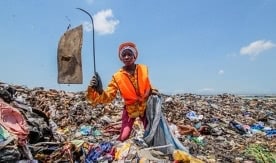 1 March 2020 - 5 March 2020
Accra, Ghana
In Accra, the events marking International Waste Pickers Day (March 1st) will last all week. Waste pickers will mark their day in their own way before coming together to hold a series of public activities that showcase their contributions.
Activities
March 3
7:00–9:30am: Waste Pickers Street carnival from Kpone through the landfill road to the to barrier of the Tema–Dawhenya highway.   
10:00am–12noon: Press conference and media engagement and tour of Kapone Landfill
12noon–4.00pm: Reception and a brief talk by an invited guest
March 5
Photo Exhibition and Video Showing at the Alisa Hotel in Accra: In 2019, renowned photographer/videographer Dean Saffron visited the Kpone landfill. His extraordinary photos and two short videos capture the daily work, contributions and realities of Accra's informal waste pickers Alisa Hotel in Accra.