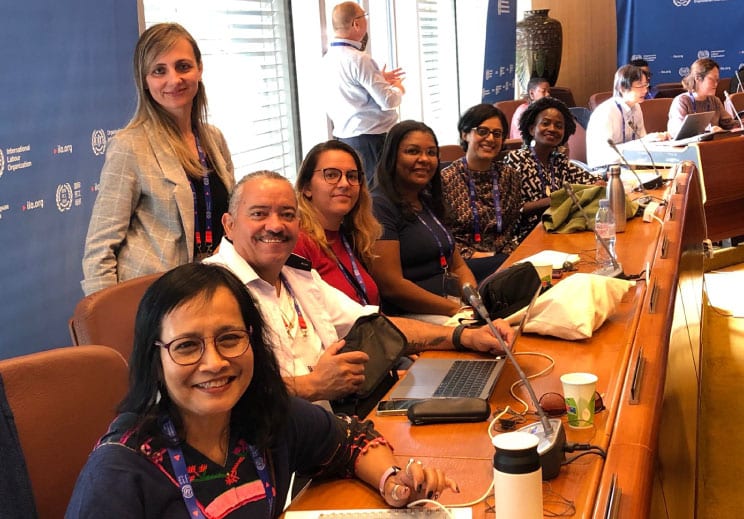 5 June 2023 - 16 June 2023
ILO Headquarters
Geneva
111th Session of the International Labour Conference: A just transition towards sustainable and inclusive economies, and labour protection
The 111th Session of the International Labour Conference (ILC) is being held at the ILO Headquarters in Geneva, Switzerland, in June 2023. One recurrent discussion on Building inclusive labour protection in an evolving world of work, and a general discussion on Achieving a just transition towards environmentally sustainable economies and societies for all will take place during the session.
A delegation of workers representing the International Alliance of Waste Pickers, the International Domestic Workers Federation (IDWF), HomeNet International, Self-Employed Women's Association of India (SEWA), StreetNet International and WIEGO will participate in the committee meetings, bringing the voices and experiences of the most marginalized workers to demand principles and practices that respond to their particular needs.
---
Global Networks' Position Papers
Together, organizations of workers in informal employment across the world are committed to leaving no one behind. For the International Networks of Workers in Informal Employment and WIEGO, this means applying and implementing international labour protection standards for ALL workers. A just transition means greening the economy in a way that is fair and inclusive and creating decent work opportunities. To fulfil these commitments, workers in informal employment – more than two billion workers who make up 61% of the global labour force – must be included in the conversation. 
---
How the ILC Works
Government officials, trade union representatives and employers' associations from 187 countries gather every year in Geneva for the International Labour Conference (ILC). This tripartite "parliament of labour" has been setting standards for the world of work since 1919—but only in the last 25 years have informal economy workers been part of the agenda. It's been an uphill battle, but with the help of WIEGO and our allies, workers in informal employment have raised their voices and gained recognition in this international forum.
During the 111th ILC two-week session, delegates (representing employers' organizations, trade unions and government officials of Member States) will gather to discuss international labour standards. Worker leaders and representatives from the domestic worker, home-based worker, street vendor and waste picker sectors will participate as observers and as part of the worker group to ensure that the voice of workers in informal employment is heard.
We believe the conclusion of the general discussions must build on the foundation of the draft outcome document of the committees referring to a just transition and labour protection in ways that include:
Recognition that an environmentally just transition and the transition from the informal to the formal economy must go hand in hand.
Inclusion of organizations of workers in informal employment through implementation of Recommendation 204, in social dialogue, collective negotiations and having a seat at the table in planning and decision-making processes on the issues that impact them.
Introduction of a mix of social protection measures, including social assistance and social insurance. These would function as adaptation mechanisms, enabling workers in informal employment to face disruption and transitions in the labour market.
Further integration of just transition into ILO activities at regional and national levels, including through Decent Work Country Programmes, development of cooperation projects, among others.
Broadening the scope of the right to collective bargaining for extending any labour rights coverage and effectiveness for workers in informal employment.
---
Notable events where WIEGO Partners were present
The leaders of informal workers' organizations took the stage at the International Labour Conference, seizing the opportunity to articulate the diverse set of challenges, expectations, and goals they encounter through their respective organizations. It was a platform for them to convey their perspectives and shed light on the realities faced by informal workers worldwide. Below, you will find some of these presentations.
Lorraine Sibanda, President of StreetNet International
Betty Lunkuse, Representative of HomeNet International
---
Past ILCs
---
More information
---
Media contacts