WIEGO's Child Care Initiative
Child care is vital. Families, especially in the poorest households, rely on the earnings of informal women workers. A lack of quality child care contributes to gender inequalities in labour force participation rates and earnings and exacerbates high levels of poverty among women informal workers.
In response to the demand from informal workers' organizations, the Social Protection Programme started the Child Care Initiative in 2014. Its aim is to encourage local and national governments to consider public child care as a key social protection measure that will reduce poverty and inequality.
Family benefits are one of nine core work-related contingencies covered under the ILO Convention on Social Security (C102) and the global social protection floors (R202). Alongside maternity entitlements and cash transfers for children, public provision of quality child care services can guarantee informal women workers' access to paid work and enable them to save for the future.
Child Care Initiative Research
Focus Groups with Women Informal Workers
WIEGO conducted focus group discussions with informal women workers in collaboration with:
Altimorjam Waste Picker Cooperative in Brazil
Ghana Association of Markets (GAMA)
Informal Hawkers and Vendors Association of Ghana (IHVAG)
Self-Employed Women's Association (SEWA) in India
South African Informal Workers Association (SAIWA)
HomeNet Thailand (HNT).
Participants in these focus groups—street and market vendors, waste pickers, domestic workers and home-based workers—described the child care challenges they face. Parents have limited and unsatisfactory options: they can take children with them to work, which can lower income and productivity while exposing children to unsafe environments; or they may leave them in informal child care arrangements, which can be expensive and of varying quality.
Many said relying on extended family is not always possible because workers have migrated, or because grandparents must also work.
Women informal workers want a quality child care service that is free or subsidized so it is affordable and open during their working hours. Finally, parents and child care workers must have a say in the running of a child care centre, because they know what is best for the children. This principle is demonstrated by SEWA's child care cooperatives.
We need to have rights and voice in the child care centre that takes care of our children. It's not like we take [our children] there and resign ourselves to whatever the government would provide for us…
~Home-based worker in Thailand
Child care workers (or domestic workers with child care responsibilities)are most likely to be women informal workers themselves. Their demands for a living wage, training and decent working conditions are central to the provision of quality child care services.
Read the full report from the focus group discussions with informal women workers from Brazil, Ghana, India, South Africa and Thailand available in English and Portuguese.
WIEGO's Child Care Initiative has produced several background papers, including a comprehensive literature review on child care and women's economic empowerment. The findings show that across different occupations from street and market vendors, waste pickers, domestic workers and home-based workers, the lack of access to child care means caregivers have limited and unsatisfactory child care options.
Advocacy and Tools: The Child Care Campaign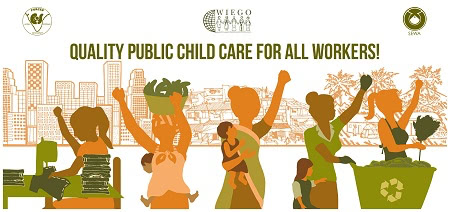 Women informal workers across the world are calling for quality public child care services, and WIEGO members and partners are starting to explore how child care can be integrated into their organizing efforts. To support these efforts, WIEGO has developed a global advocacy Child Care Campaign that provides tools and materials for informal workers and their organizations to download and use in seven languages.
Contact: childcare@wiego.org
Learn More