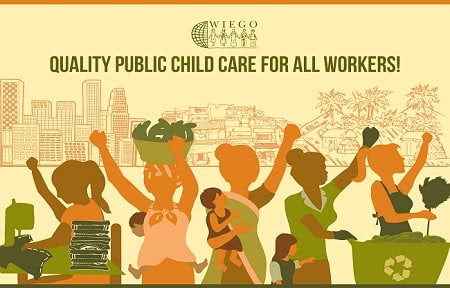 Informal workers organizations and trade unions unite to call for quality public child care services – READ FULL STATEMENT
Campaign pamphlets, posters and stickers in seven languages below! 
Having a young child to look after reduces a woman's working hours and lowers her earnings at a time in her life when she needs money most. Informal workplaces – public streets and markets, waste dumps, and private homes – are often unsafe spaces for infants and toddlers. Without government subsidies, quality private child care centres are too expensive for women informal workers. Access to quality public child care services protects women's earnings and ensures their children have an equal start in life.
In collaboration with informal workers' organizations, WIEGO developed campaign materials to support women informal workers demands:
Ensuring that child care is recognized as part of the national social protection system and, if it does not already exist, that a policy of provision for all workers, including informal workers, is developed and implemented.
Ratifying these relevant labour standards: ILO Convention 102 on Social Security, ILO Convention 156 on Workers with Family Responsibilities, and ILO Convention 183 on Maternity Protection. Implementing ILO Recommendation 202on Social Protection Floors and ILO Recommendation 204 on the Transition from the Informal to the Formal Economy by introducing national laws in support of universal maternity protections and quality public child care services.
Increasing municipal and national government spending for quality public child care services.
Ensuring that child care workers in public or private child care centres have decent work including a living wage, access to social protection and appropriate skills training.
Membership-based organizations (MBOs) can share their feedback and sign up to the campaign by sending  an email to childcare@wiego.org. Several MBOs have already affiliated to the campaign (see logos at the bottom of this page).
Campaign Materials to Download and Use
These pamphlets, posters and stickers are available in both web (for viewing) and print (for downloading and printing) versions to support campaigns worldwide.