By:
Jenna Harvey,
María Benitez,
Jenny Grice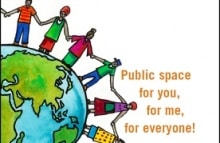 This document is for street vendors and their organizations. It is meant to help readers to: 
Think: Reflect about what it means to be a street vendor working in public space, the contributions you make and the challenges you face. 
Get informed: Learn more about the purpose of regulations, what arguments you can use to defend the right to work in public space, and what actions other street vendor organizations have taken. 
Act: Get organized. Join up with an existing organization or help organize a new one. When you are strong and ready, approach your local government and negotiate for the changes you want to see.