Subtitle: WIEGO Policy Brief (Social Protection) No 11
This policy brief draws out lessons from the Thai health reform process which are relevant to both policy makers and organizations of informal workers.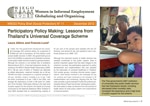 The Thai experience shows that informal worker organizations can gain much from creating alliances with other social movement as long as they retain their specific workers focus. It also argues that in order to be successful, participatory policy making processes need to foster inclusion from the start and maintain levels of participation after initial policy development.
This brief is part of the WIEGO Publication Series.
View list of all WIEGO briefs.