Citation: Bonnet, Florence, Françoise Carré, Joann Vanek and Martha A. Chen. 2021. Home-Based Workers in the World: A Statistical Profile. WIEGO.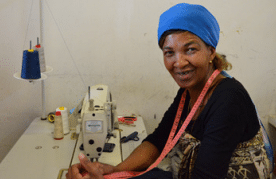 Globally, 260 million women and men produce goods or provide services from in or around their homes: 86% (>224 million) in developing and emerging countries and 14% (>35 million) in developed countries.
About 147 million (57%) are women, who must juggle their income-earning activities alongside childcare and domestic responsibilities. And almost two-thirds of the world's home-based workers are in Asia & the Pacific.
Based on data drawn from the ILOSTAT database of 118 countries that have a place of work question in their survey, this brief offers insight into where home-based workers are most prevalent, the sectors and industries in which they work, educational levels and average hours of work.