Subtitle: WIEGO Organizing Brief No. 8
This organizing brief, written for researchers and activists concerned about informal workers, aims to capture the full range of or­ganizational forms for voice and represen­tation of informal workers, from formal union structures, to associations, to cooperatives, to global networks and with goals ranging from collective bargaining to mutual aid/self help, and collective economic action. This brief also provides a framework for tackling case study research.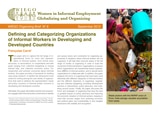 This brief is part of the WIEGO Publication Series.
View list of all WIEGO briefs.