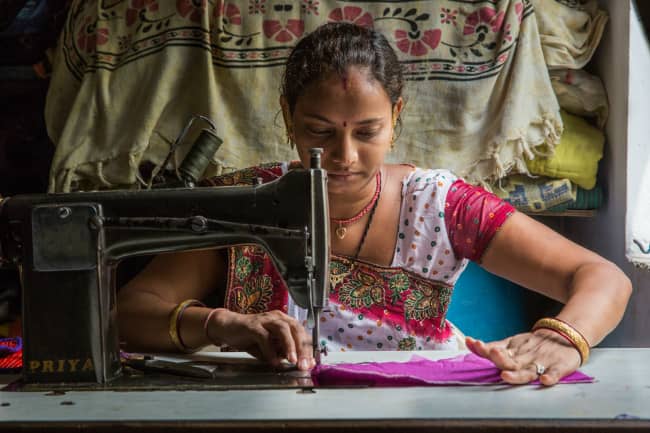 The Problem
It is widely assumed that informal workers, businesses and activities operate outside the reach of the law. However, in many countries, they are regulated in ways that are punitive.
Most often, informal workers and businesses are excluded from labour, employment and business legislation, and are therefore denied the rights and entitlements afforded to formal employees and businesses. At the same time, a complex range of national, sector-specific and city-level legislation regulates informal workers, businesses and activities. These are often punitive in their effect, with contravention of legislation frequently treated as a criminal offence, compromising informal workers' livelihoods and often violating their human rights.
How law is implemented or enforced also threatens informal workers' livelihoods. Police harassment of informal workers and denial of their due process protections under rule of law are ubiquitous.
In most countries, labour and employment legislation and policy focuses only on formal employment relationships. Policy for informal workers is either in the form of small business support (with an emphasis on supply-side interventions such as micro-finance and business training), or poverty-alleviation projects (particularly for women, who are over-represented in the most low-income sectors). Such programmes benefit individuals, but fail to challenge informal workers' structural exclusion from the economy, and from the broader social contract.
Law Programme Goals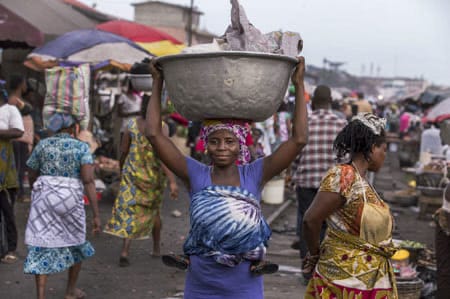 Ultimately, we strive to see a world in which:
international instruments, national and local laws and regulations recognize, include and protect the rights and work of informal workers;

informal workers use the law to fight for secure livelihoods and labour rights.
To advance these ultimate goals, we seek three mutually reinforcing outcomes at both global and national levels:
OUTCOME 1: Membership-based organizations of informal workers are better able to use the law (including international legal instruments and administrative justice) in their advocacy strategies. 
 
OUTCOME 2: Legal and civil society organizations support the recognition, inclusion and protection of informal employment in law and policy at local, international and global levels.
 
OUTCOME 3: Legal scholars and labour lawyers advocate for informal workers in their scholarship and in policy contexts.
Values that Guide our Work
Political struggle and law reform are inseparable: Progressive legislation on its own is seldom enough to extend entitlements and protect rights. In the absence of political will to implement and enforce legislation, strong organizations are needed to struggle for rights to be realized and legislation to be implemented and enforced. We therefore work closely with WIEGO'S Organization and Representation Programme and with membership-based organizations of informal workers.
Institutions (cultural, socio-economic, political and legal) determine how laws are interpreted, applied and enforced: Legal arguments or laws cannot be transferred wholesale from one context to another, since the political economy and institutions (including cultural, political and legal norms) fundamentally affect how law is interpreted and whether and how the law is enforced.
International law is important for advocacy at the national level: Recognition of informal workers at the global level can translate into effective advocacy at the national and local levels, and enforcement mechanisms such as the ILO and UN Reporting mechanisms, the Inter-American Commission for Human Rights and OECD National Contact Points can create pressure for national governments to come to recognize and engage with organizations of informal workers.
Effective enforcement mechanisms are as important as substantive rights: Even if legislation is progressive, enforcement is often ineffective, especially if the legislation is viewed as investor-unfriendly, or if the state is under-resourced, authoritarian, and/or controlled by elites. Paying attention to enforcement mechanisms is therefore as important as crafting substantive rights.
Our Pillars of Work
PILLAR 1: Using Administrative Justice to fight for access to public space
Many challenges that informal workers face are the result of decisions made by local government authorities, who control public space and access to waste and land. Known as administrative decisions, these have far-reaching impacts on workers' livelihoods. WIEGO's Administrative Justice Project aims to build the capacity of workers' organizations to use administrative law — the branch of law that requires government officials to respect due process — to challenge local authorities' decisions and actions.
We have partnered with associations of vendors and other informal workers working in the public space and waste pickers associations in South Africa (all provinces), Ghana (Accra), Senegal (Dakar) and Mexico (Mexico City). Our approach is multidimensional and includes:
A CONTEXTUAL ANALYSIS to analyze the priorities and challenges of informal worker organizations, as well as the legal and institutional context;

PARTICIPATORY WORKSHOPS with informal worker leaders to build their legal capacity to know the regulations that govern their work and to know and use administrative justice to challenge public officials' actions and decisions that undermine their livelihoods;

BUILDING RELATIONSHIPS with and securing commitments from lawyers to support informal worker organizations; and

ENGAGEMENTS between informal worker organizations and local authorities.
See more about the Administrative Justice Project.
PILLAR 2: Using International Instruments for National Advocacy
Many global instruments recognize the rights of informal workers and their role as essential economic actors. Examples are ILO Conventions No.189 on domestic work, No.190 on violence and harassment, No. 177 on homeworkers, and ILO Recommendation No. 204 on the transition from the informal to the formal economy. However, many countries fail to translate these rights at the national level. WIEGO's Law Programme supports informal workers to use international instruments for advocacy at the national level to realize their rights.
We carry out this work in partnership with international networks of informal workers associations and their local affiliates, across four occupational groups: domestic workers, home-based workers, waste pickers and street/market vendors.
Domestic Workers and ILO Conventions 189 and 190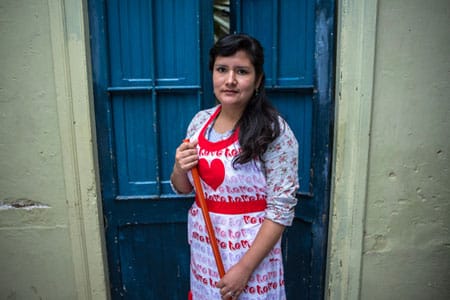 In 2011, the ILO adopted the Decent Work for Domestic Workers Convention (No. 189, known as C189) and its accompanying Recommendation (No. 201), which extends rights such as paid leave, minimum wages and employment contracts to domestic workers. This victory was achieved through a lengthy, concentrated campaign led by the International Domestic Workers' Network (IDWN, now the International Domestic Workers' Federation (IDWF). In 2019, the ILO adopted the Convention 190 (Violence and Harassment Convention).
WIEGO's Law Programme and our Organization and Representation Programme have partnered with the IDWF to build the capacity of the IDWF's affiliates to use these Conventions for national advocacy. See Making C189 Real.
Homeworkers in the Garment Sector
In 1996, after years of advocacy by the Self-Employed Women's Association (SEWA) and organizations of home-based workers, the International Labour Conference (ILC) adopted an international convention (C177) that recognizes homeworkers (i.e. sub-contracted home-based workers) as workers who are entitled to the same rights as other employees. See the text of C177.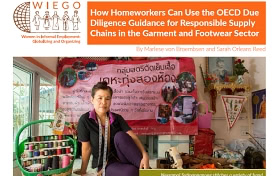 Since the garment sector is one of the most globalized sectors and employs large numbers of women under poor working conditions, garment workers were the first category of the global informal workforce that WIEGO focused on. In 2016, WIEGO and representatives of homeworker organizations participated in the General Discussion on Supply Chains, the Conclusions of which recognized that homeworkers are legitimate workers in supply chains. The OECD Guidance on Due Diligence and Transparent supply chains in the Garment and Footwear Sector, published in 2017, includes a module on homework.
Together with WIEGO's Organization and Representation Programme, we support homeworker organizations with:
research and materials on homeworkers and the law, including international law

building alliances with trans-national organizations and trade unions active in the garment and footwear sector. Learn more.
Waste Pickers and Human Rights Project
WIEGO's Law Programme and the Organization and Representation Programme are supporting waste pickers' organizations from six Latin American countries to frame their working conditions as human rights violations and to advocate for their labour rights as human rights. Our approach includes action-research, capacity building, coalition building, and engaging with the Inter-American Human Rights Standards (the Inter-American Commission for Human Rights and the jurisprudence of the Inter-American Court for Human Rights).
PILLAR 3: Engaging in Global Agenda-setting Processes and in Research
We aim to challenge mainstream assumptions about law and informal workers — that informal workers operate outside the law, or that their work is criminal — at multiple levels. We do this is by engaging in global agenda-setting processes and through research and publishing.
Engaging in Global Agenda-setting Processes
For example, in 2016, we participated in the United Nations Secretary General's High Level Panel (UN HLP) for Women's Economic Empowerment, which was created to define an actionable agenda for improving economic outcomes for women in the context of the 2030 Sustainable Development Goals. WIEGO's Law Programme produced a policy brief on Eliminating Legal Barriers from the Perspective of the Informal Economy, participated in roundtable discussions and regional consultations, and served on the working group on legal barriers. The World Bank's 2017 Law, Justice and Development week's 'key messages' included four key points from the UNHLP WEE working group on legal barriers, including:
create an enabling legal environment for informal (and agricultural) workers

extend workers' rights and entitlements

recognize rights to secure housing and land tenure

recognize rights to accessing public space, raw materials, natural resources, transport and basic infrastructures and services.
Researching and Publishing
Our aim is to push the boundaries of legal scholarship — labour law, human rights law, urban law and international law — to include informal employment. We research, publish and participate in book projects and panel discussions with other legal scholars.
We argue, for example, that labour law's institution of collective bargaining must be extended to self-employed informal workers with no notional employer, and the human right to work must include informal work.
We develop resources on law and informal workers for membership-based organizations, legal practitioners, academics, governments, and NGOs. Our publications contribute to:
WIEGO's Legal Briefs, which describe the legal environment facing informal workers and analyze legal strategies and precedent-setting cases that may lead to more secure livelihoods.

WIEGO's Legal Technical Briefs, which provide guides for both specialized and non-specialized audiences. These are designed to strengthen understanding and analysis of the situation of those working in the informal economy as well as of the policy environment and policy options.

WIEGO's Working Papers (Law), featuring research that makes either an empirical or theoretical contribution to existing knowledge about the informal economy. Particular attention is paid to policy-relevant research. This series includes statistical profiles of informal employment and critical analysis of data collection and classification methods. Methodological issues and innovations, as well as suggestions for future research, are considered.
We publish a semi-annual newsletter, Law & Informality Insights. Each issue focuses on a particular line of our work, and includes key developments in regulations, jurisprudence and scholarship.
We maintain a Law & Informality microsite that includes legal instruments by geographic region and occupational group.