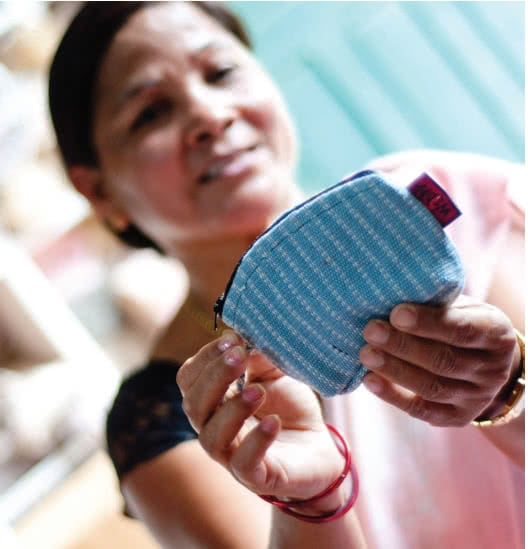 For 11 years, Sarita Adhikary has been working with the Women Skill Development Organization in Nepal. She still vividly remembers her first meeting with the organization's Executive Director, Mrs Ramkali Khadka—and remembers feeling so nervous she was practically trembling.
Sarita was in need of work and stability. Her life had been difficult. Her marriage was inter-caste and her in-laws had never accepted her into their house, so she and her husband lived as outcasts in a rented place. Eventually she had separated from her abusive husband and been plunged into an even more turbulent life. She had two young children, a son and a daughter.
At the WSDO, Ramkali had asked if she knew how to sew. Sarita answered yes—she had picked up this skill working in a garment factory. Next came the test: Ramkali asked Sarita to sew a small money bag from a cut piece of cloth, which Sarita skilfully accomplished, afraid that her skills would not be enough to get the work. But Ramkali and another lady weren't testing her—they were assessing her skill to see what training she might need. With the bag sewn up, it was clear that with little training Sarita could do good quality work.
"I could sense on the very first day that if I got to work with WSDO, my life would change," says Sarita.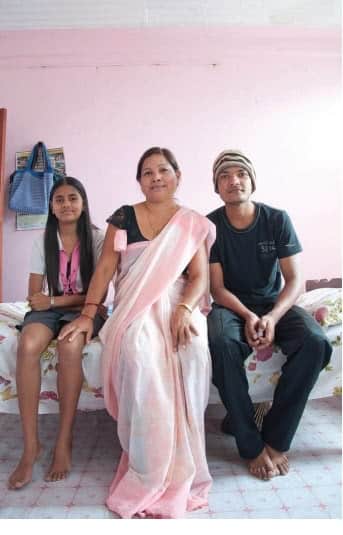 Soon, she was picking up cut pieces at WSDO and stitching up the bags at her own convenience. She soon also realized that she could do household chores and manage enough time to stitch as many bags as she wanted.
Previously at the garment factory she would earn 50 paisa (half a rupee) for doing a pair of shorts, which took half an hour. At WSDO, stitching one money bag fetched her 5 rupees or ten times as much—and the money bags could be sewn in 10 minutes.
The pay scale was better, and the harder she worked the more she earned!
Once Sarita began earning an income with WSDO, she promptly enrolled her children into school. She earned enough to feed all of them. Her greatest pride is that she has been able to raise her children.
The Women Skill Development Organization took part in the Women Organizing for Fair Trade project with WIEGO.