Stories of Change in Uganda
In Uganda, WIEGO had two fair trade partners that delivered Business & Leadership Skills training and support: the Gumutindo Coffee Cooperative, a farmers' cooperative, and the Ugandan Federation for Alternative Trade (UGAFAT), a network of membership-based fair trade handicraft organizations. 
Read: Confidence Soars for Nurturing Uganda's Women
Gumutindo Coffee Cooperative Project Activities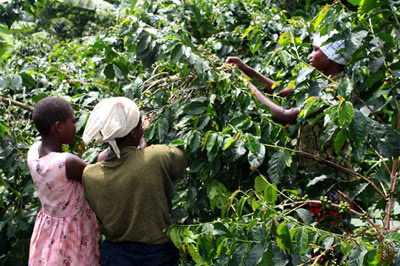 Gumutindo Coffee Cooperative has 16 primary societies representing over 10,000 coffee farmers. Ten of those societies took part in the project.
Consultative meetings were held with 757 women in the selected societies, and issues emerged. One significant issue was that only landowners can belong to the cooperative. Although women carry out nearly all of the work on coffee farms, men own most of the land and take most of the earnings from coffee production. At the outset of the project, women had little voice in Gumutindo and few people even knew women could own land.
Training
Forty-four women trained as facilitators. They returned to their communities to train others.
The first target was to train 80 women in each society. In 2013 alone, more than 800 women were trained. In subsequent years, increasing numbers of women were drawn to the groups. By the end of the project, more than 1,280 women had been reached.
Women's Membership & Leadership
At the outset of the project, women accounted for just 13 per cent of Gumutindo's membership. Through training, women learned that land can belong to them as well as their husbands. Gradually, women's names are being added to joint legal titles, or husbands have granted their wives some land to hold alone. Women's membership in Gumutindo has grown to over 21 per cent.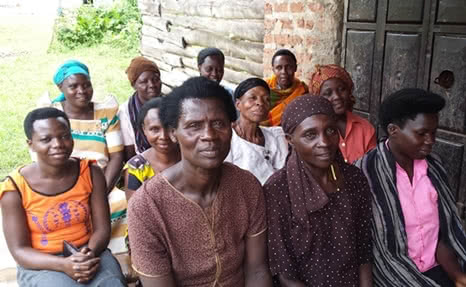 Women are now more likely to run for leadership positions on primary societies. Four primary societies are now chaired by women, while in some societies, women now make up two-thirds of the committee members, a major increase. Because even women who served on committees did not fully understand their role, training was undertaken to better equip these women with leadership skills. Some have participated in local councils. 
One strong indicator of the women's interest in playing an active role is that they respond to the call to come to meetings, and once there, they ask questions and share information. A marked increase in confidence is reported in how they express their views with the leadership.
More Secure Livelihoods
The training helped women understand that they could better secure their livelihoods by diversifying their incomes into other crops or enterprises. They are selling vegetables, kerosene and other products. Women who had no income to call their own before can now buy food or household items, and can pay school fees. For many, every evening brings economic activity.
Also, a culture of saving was introduced. Small group savings schemes have been started
by all groups, and their funds are accumulating. This has allowed women to build capital to start new small businesses, as well as provide for their households.
---

The home-based workers who belong to Nubian Crafts produce trays, bowls and baskets woven from papyrus or a local grass called dissi. They sell these locally themselves and to international buyers. Through the project, they improved quality, added new designs, and learned to price their handicrafts appropriately.
---
UGAFAT Activities
In 2013, UGAFAT began training community faciltators in business, marketing and leadership skills. In all, 39 women were trained as trainters, and spread their new knowledge and skills to women fair trade producers in 29 self-help groups throughout the country. By the project's conclusion, almost 900 women had been reached. UGAFAT's project goals included increasing capacity of member organizations and helping members gain effective market access, leading to an increase in sales. 
Strengthening Organizations and Livelihoods
 baseline survey in 2013 highlighted the needs of the members and their affiliated groups. At the project's inception,only 6 of 25 affiliated groups were formally registered as community-based organizations. By the end of  2015, 20 groups were formally registered at district level as community-based organizations, making it possible for them to be recognized and to have joint bank accounts.
Six participating groups saw significant increases in their membership, mainly because of the trainings. All groups report better attendance at  meetings, proper record keeping, and slow but steady increases in women's income. The groups have developed stronger links to international markets. For example, Ngalo women's group is working to fulfill an order of 200 bags at the end of 2015, while in 2014, Kyebaija Toboona completed an order of 100 bags, Chrisams designs completed 200 key holders and Nubian Crafts sent an order of 200 baskets.
Strengthening the Network
Strengthening the governance of the network was a key objective of the project. The UGAFAT Board received training in the roles and responsibilities of the network leadership. One Board member was elected to the regional World Fair Trade Organization Africa and Middle East Board.
UGAFAT reports that through the project, it experienced a dramatic rise in its national profile. This was also bolstered through a revamp of its website as part of the project. That led to recruitment of three new organizational members to the network.
During the project, UGAFAT developed and implemented a five-year marketing strategy that spells outa path toward improved production and increased reach to both local and international markets.
---
Read More
(2013) In a rural community on the outskirts of Jinja, Uganda, a group of women are creating—quite literally—a better future for themselves and their families. The 35 women of Kyebajja Tobona Women's Group have come together to learn, help one another, and innovate their way out of poverty. Read more.
(2015) Learn about the progress and change experienced by Nurturing Uganda's women.