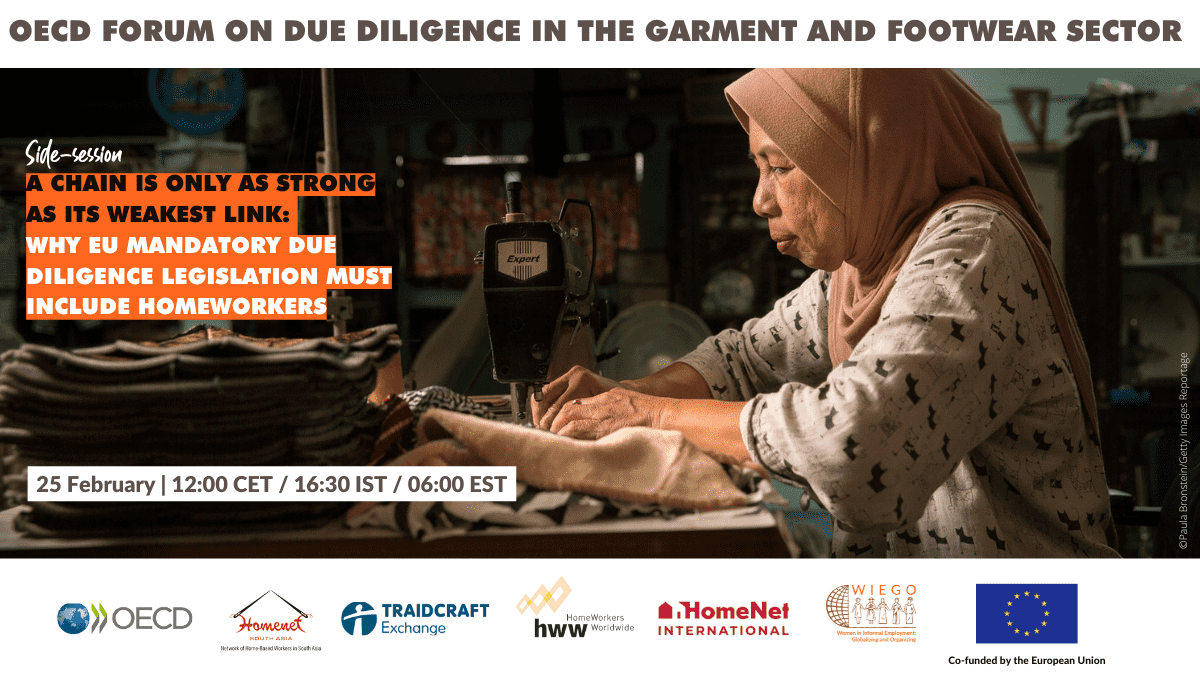 25 February 2022 - 25 February 2022
Online
On February 25, 2022, a panel discussion took place, which set out why EU mandatory due diligence legislation must include homeworkers.
 
---
About the side session
Subcontracting is ubiquitous in garment supply chains. Almost 90% of workers in garment supply chains in India work in workshops and from their homes. These millions of invisible, mainly female supply chain workers, are excluded from labour law protections and their human rights are routinely violated.
The EU legislation and corporate due diligence presents an opportunity for transformative change across the garment industry.
This 90-minute panel makes the case for homeworkers to be included in EU legislation and corporate due diligence. Panelists, including homeworkers and their representatives, organizers and researchers from across Asia and around the world, discuss:
Best practices by leading brands;

The demands that homeworker organizations are making of EU policy makers for inclusion in the proposed EU Mandatory Human Rights Due Diligence Directive; and

A toolkit to assist brands in protecting their supply chains from human rights violations.
This side session formed part of the OECD Forum on Due Diligence in the Garment and Footwear Sector and was co-hosted by organizations including WIEGO, HomeNet International, HomeNet South Asia, Homeworkers Worldwide, and Traidcraft Exchange.
---
Panelists
Janhavi Dave: International Coordinator, HomeNet International (India)

Mary Viyakula: Executive Director, SAVE - Social Awareness and Voluntary Education (India)

Zehra Khan: General Secretary, Home-based Women Workers Federation (Pakistan)

Marlese von Broembsen: Law Programme Director, WIEGO

Lucy Brill: Director, Homeworkers Worldwide (United Kingdom)
---
Useful Resources