Introduction: 
Delhi Diary highlights reflections, insights and notes from the field from the Focal City Delhi (FCD) team in their ongoing work with informal workers. We capture these on a regular basis in order to provide a dynamic picture of the ways in which informal workers in Delhi are consistently struggling, resisting and innovating against great odds. The views expressed here represent those of the FCD team.
Holistic Child Care: More than a dream
September 20, 2018 | by Avi Majithia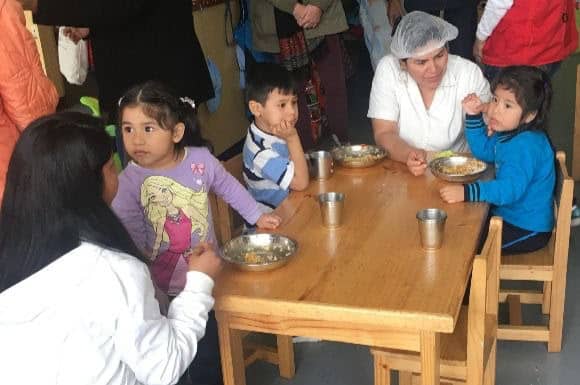 In the heart of downtown Lima, Peru, a quality daycare centre near the Central Market gives informal workers time to earn a living while knowing their children are well cared for and nearby. This offers lessons for Delhi.
Quality child care is an essential service for workers to secure their income and the well-being of their children. Without it, women are often forced to bring their children with them to work, which hinders the ability to work and can expose children to unsafe environments.
For informal workers, child care is needed near the place of work, not the home, due to the long hours that informal workers must put in to earn their livelihood. Informal workers have historically requested creches or daycare centres at or near the site of work (which could be a market, for example), that would enable them to work without wondering about the health and safety of their child.
In Delhi, the lack of child care facilities located close to centres of work limits women's choice of work. Women home-based workers living in the resettled colony of Savda Ghevda, for example, have asked for improved child care facilities that would enable them to seek better-paying work at the factories nearby.
On the other side of the globe, I recently saw an example of a daycare that works for women workers. In the heart of downtown Lima, amidst the bustling crowds of tourists and the art-nouveau houses, sits the Central Market, a formal market selling everything from meat to clothes. The area is also a lucrative site for street vendors, with more than 2,000 registered street vendors operating around the site, with actual numbers running up to 4,000 street vendors.

In the middle of the market is the one of the oldest child care centres in Lima. Operating for 50 years, it is a joint initiative between the Ministry of Education and the Municipality of Lima to provide holistic care and education to children between the ages of 3 and 5 years. The centre is open from 8 a.m. to 5 p.m.
The unique draw of the centre is that it is located near the parents' place of work as opposed to their homes; this is a central factor in child care decisions for informal workers. Due to the transient nature of their work, street vendors in the area especially are grateful to have their children nearby in a stable, protected environment.
The centre works to provide a holistic care programme for children, including services from education and nutrition, to medical care, psychological support, and language therapy. Children are provided with lunch, specialized classrooms, three helpers per classroom; and specialized projects (such as growing plants) for practical learning. Open, with lots of fresh air and sunlight, the centre showcases what is possible when the state makes quality, affordable child care available in locations convenient to informal workers.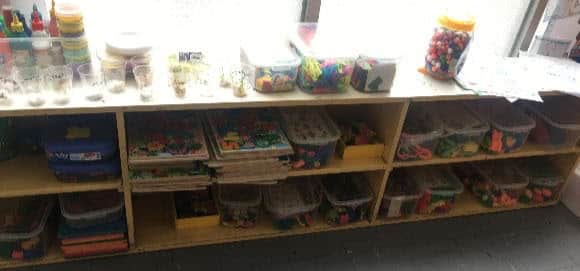 However, the centre consistently operates at its maximum capacity of 65 children. It is just one of three such centres in the city. As the long waiting list reveals, demand for this type of service far outweighs supply; additional investments are needed.
As Focal City Delhi builds a campaign for child care for all workers, best practices like this from across the world offer lessons that can address the needs and demands of informal workers in our city. Local and national governments must consider child care to be a key component of social protection and a critical tool for fighting poverty and inequality.
When all workers, including informal workers, are able to earn an income while their children receive the care they need, everyone benefits — individual workers, the next generation, and society as a whole.
Waste Samaritans: Revolutionizing Waste Digitally
August 31, 2018  |  by Avi Majithia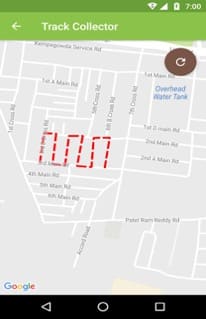 An inventive app is dramatically improving the way Bangalore residents treat their waste—and the people who collect it.The app's creator, Krishna, told us his inspiring tale at a recent WIEGO workshop on Urban Livelihoods and the Informal Economy.
Krishna is a waste collector from Bangalore and a member of Hasirudala. Coming from extremely humble beginnings – a family that picked bones from a slaughterhouse for work – he became a door-to-door waste picker at a young age. With support from organizations such as Hasirudala, he grew into being a waste collector, with a team of waste pickers that work under him. However, he was always determined to do more with his life. The opportunity came when he participated in a hackathon, ReimaginiNEWaste, in 2016. There, Krishna worked with a team to create the Waste Samaritans app to track waste segregation in households. 
Having been a waste picker, Krishna realized that in door-to-door collection, waste pickers face many troubles from irregular work to unsegregated waste to unclean and unsafe conditions. Perhaps worst of all, waste pickers are treated in a rude and demeaning way. 
Wanting to change not just his own situation but the perception of his profession, Krishna started in one Bangalore neighborhood where he manages a team of door-to-door waste pickers. His team went out and put the app to use.
The app has several features that aid the waste picker. Using the real-time location and route of the garbage collection van, the app shows the time of the pick-up; both for the household and the waste pickers. Each house has a QR Code that the waste collector scans as proof that he visited the house to collect waste.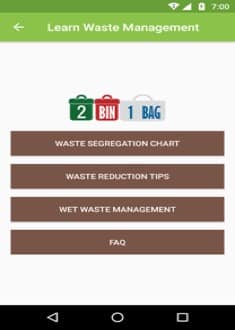 Additionally, the app enables the waste picker to take a photo of the waste collected, which Krishna uses to monitor waste segregation by households. He shows the house-owner a picture of the waste, pointing out non/poor segregation; and advises them on better segregation techniques. Within a few weeks of using the app, every single household in the neighbourhood was segregating waste nearly perfectly. 
For the first time, an app has given a waste picker the power to give feedback to households and help educate citizens on effective and efficient waste segregation at source. Currently, Krishna uses the app to cover more than 250 households. 
In the workshop, Krishna stood proudly in the middle of Lutyens' Delhi, speaking enthusiastically in his native Kannada, to an elite (and enamoured) audience.
"This app changed not just my work, but my life too," he said. Today the house owners often call me – to ask about segregation, to confirm if their waste has been picked up, and occasionally, offer me coffee too! We are still doing the same job, we're just treated better." 
Umbrellas offer shelter in more ways than one
August 15, 2018  |   by Avi Majithia
An Indian Daily, The Hindu, recently ran a photo of a street vendor, standing in the rain, selling the product of the hour in monsoon drenched India: umbrellas. Her child lay nearby in a makeshift hammock, protected from the buffeting rains by one of his mother's umbrellas on sale. 
That small snapshot spoke volumes. While the newspaper spoke of business as usual for street vendors, the photo revealed much more than that. As a street vendor, she was capitalizing on her sales by being out in the rain while everyone else sought shelter; knowing that there would be some stuck without umbrellas. As a mother, she was without any child care options so her infant child travelled with her, subject to rains and the cold weather. Look around Delhi and you'll see such a story every day. The entrepreneurial spirit that informal workers show in the face of adversity is present everywhere, as is the continuous struggle of parents to provide child care while striving to earn a living!
How many times have we seen children playing on the pavement, while their mothers helped with bricklaying nearby? We've walked past fruit sellers holding their children on their hips as they called out the rates of the day. We've glimpsed home-based workers in their homes, strap cutting or bead making with one eye trained on their children who play nearby. 
Child care is so widely absent for informal workers that when presented with visual proof, we praise the mother for working while looking after her child—instead of questioning why she must juggle all her responsibilities at once, earning her living while trying to keep her child safe and dry.  
Quality public child care is a right of all workers.
Seeing Delhi's informal economy with fresh eyes
August 1, 2018  |   by Shalini Sinha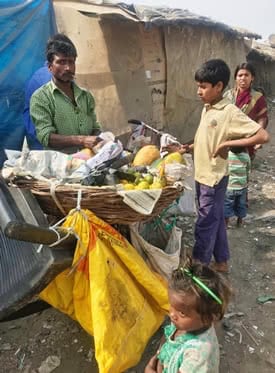 In the heartless heart of Delhi, there is a man with a remarkable surprise in his basket. 
I met him in a waste pickers' community, a hamlet of about 30 houses a few meters off the posh residential Vasant Kunj, the approach road lined with piles of waste. He was an ordinary vendor, or so I thought, but when I peeped into his basket, I was amazed to see what he was selling: fresh fruits! 
Waste pickers provide an integral service to the city. They collect waste, segregate the materials at home and resell them. In fact, about 20—25% of the 10,000 metric tonnes of waste that Delhi produces every day is recycled by these informal waste pickers.  This work helps the environment and, because it diverts so much from the landfill without needing transport, it saves the municipality a lot of money. 
Despite this, these workers' earnings remain very low. Neither residents nor the municipality are willing to pay for their service. They are often from the lowest caste and live like outcasts, even in the slum areas. Instead of being seen as environmental agents, their work is often stigmatized as marginal, filthy, and of little value. 
Yet when I looked around this small neighborhood, I saw a different reality. The living and cooking quarters of the waste pickers are immaculate, the cooking area kept spotlessly clean, even if the chulha is made of mud. Piles of PET bottles and waste papers were neatly segregated in the courtyard, accumulating because the price paid for recyclables is often dependent on volume.
As I approached the vendor, I saw that his cycle had several large jholas and bags hanging from it; and as I watched his transactions, the mystery unfolded.  His fruit could be bartered for waste—a kilo of oranges for 3 kilos of glass bottles or 5 kilos of waste paper. In this era of paper or electronic financial transactions, his business relied on an ancient, mutually sustainable system of community exchange. At the same time, his work as a waste picker links him directly to massive global supply chains in plastics and metals.     
Poor informal workers are easier to define on paper. Waste pickers sell recyclables, food vendors sell fruit. Yet this man was a waste picker and a street vendor—seamlessly transcending the occupational categories and typologies so necessary for labour economics and statistics, but too constricting for this reality. 
Another entrepreneurial spirit making a livelihood in this heartless city, defying stereotypes ascribed to him by society. Another way of seeing urban informality with fresh eyes. Another Delhi, waiting to be discovered—and recognized.